With the 2017 Spring Racing Carnival in progress, Sportsbet has launched "The Fold" for race betting, which enables you to bail out of your bet in the run.
Key details
The Fold enables you to cancel your Win bet mid-race. If your runner makes a poor start The Fold allows you to cancel the bet and get your full stake back.
The feature is free to use however you can only use The Fold once per day. If you have backed more than one horse in a race you can only Fold one selection.
The Fold is available on all mobile platforms.
Further details:
Members receive one Fold per day, which resets at midnight Darwin time (ACST)
It is available on single Win bets only
The Fold is available on eligible Australian and New Zealand thoroughbred races
How to use The Fold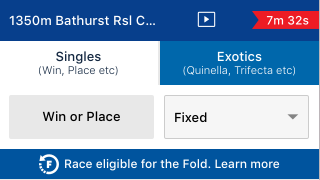 When you navigate to a Race Card, you can see if a Race is Fold eligible. Look for the 'F' symbol.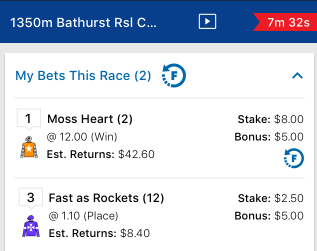 Once you've placed a bet on an eligible race, you'll see The Fold icon next to 'My Bets This Race'.
Expand 'My Bets This Race' to see your eligible bets.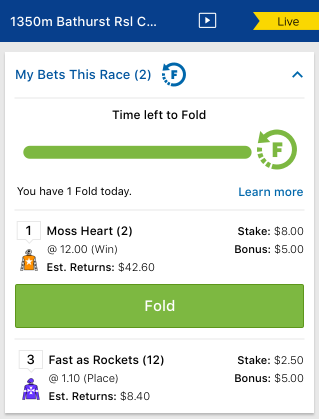 Once the race starts, you'll see the fold timer under 'My Bets this Race' with The Fold button next to each bet that you are eligible to Fold.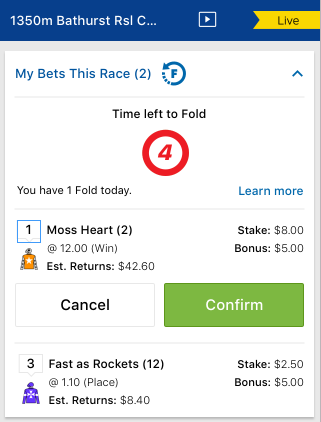 Once you press the fold button you then need to press the Confirm button. You have only a limited amount of time to do this.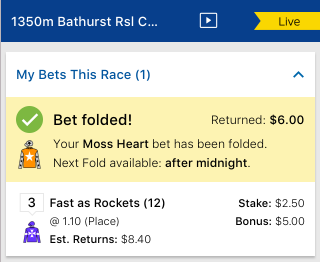 Once confirmed, you will see 'Bet Folded!' with your returned stake amount.
Your full stake will be returned to your account once the race has settled.
FAQs
How much time do I have to Fold?
You'll get a reasonable amount of time to fold. Keep an eye on The Fold timer to see how much longer you have.
Can I Fold more than one bet?
No. You get one Fold per day to use on eligible Australian/NZ thoroughbred races. You don't have to nominate which race you wish to have the option to Fold, you can wait until the race begins before deciding whether to use the feature.
When do I get my stake back?
You'll get your full stake back when the bets are settled for that race. Note that if the funds you used to Bet are non-withdrawable (due to pending turnover requirements on a recent deposit or bonus), the stake return you receive after using The Fold will also be non-withdrawable.
Why can't I Fold my Bet?
It could be for a number of reasons:
The fold is only available on single, win only bets
You may have already used your Fold for the day
The Fold may not be eligible on your selected race (you will see the fold icon on eligible races)
Which tracks are ineligible to use The Fold?
The following tracks are ineligible: Adelaide River, Atherton, Ayr, Beverley, Birdsville, Bong Bong, Cheltenham, Gisborne, Kingscote, Omoto, Riccarton Park, Southwell, Stratford, Tennantcreek, Timaru
Can I use a bonus bet with The Fold?
No, The Fold is not available for bets placed with bonus bets.
Can I Fold a bet where I used a Power Play?
Yes, however you won't get your Power Play back.
Can I use The Fold in a multi bet?
No, the Fold is only available for Single, Win only bets.
Can I use The Fold in a Punters Club?
No, the Fold is not available in Punters Club.