Introduction
The following is an in-depth review of the betting agency Ladbrokes. This review covers the history, features, interface, sports & racing markets, upsides and downsides of the service.
This review is part of our comprehensive Bookmaker Reviews section. The Betting Agencies page provides information and reviews for other sports betting agencies that are suitable for Australians. The following details are updated periodically to keep them up to date.
History, Location and Licence
Launched in September 2013, Ladbrokes.com.au is the Australian arm of the UK gaming giant Ladbrokes plc., whose origins date back to 1886. The company employs over 15,000 people across the UK, Ireland, Belgium, Spain and Australia. They also have a physical presence in Europe, with over 2,800 retail-betting shops. Ladbrokes.com.au is one of thirteen tailored betting websites operated by the parent company. Ladrbokes plc is publically listed and trades on the London Stock Exchange.
As a means of entering Australia, Ladbrokes purchased Bookmaker.com.au, a Brisbane-based bookmaker that was itself launched in February 2012. Bookmaker.com.au and Ladbrokes.com.au operate using identical markets and odds. The only differences are the template designs and sign up promotions. Both services are licensed and regulated in the Northern Territory.
One key point of difference between Ladbrokes and its numerous competitors is that Ladbrokes customers can opt in to receive a Ladbrokes EFTPOS Card. The card is linked to the member's betting account with winnings available to be withdrawn from an ATM somewhere between 20 and 40 seconds after a bet has been concluded. Customers can use the debit card to withdraw up to $1,000 cash per day from ATMs or complete EFTPOS transactions of up to $2,500 a day. One caveat is that to prevent money laundering, customers can only withdraw winnings. You can't transfer money into your betting account and then withdraw those funds straight away.
In April 2019 parent company Ladbrokes changed its name from Ladbrokes Digital Australia Pty Ltd to GVC Australia Pty Ltd with ABN 25 151 956 768.
Services and Features
| | |
| --- | --- |
| Deposit options | Visa, MasterCard, bank transfer, BPAY, POLi 2, Paypal |
| Withdrawal options | Bank transfer |
| Transaction fees | None, however fees may be charged if you attempt to deposit and withdraw funds without betting. |
| Currencies | AUD |
| Languages | English |
| Odds formats | Decimal |
| Minimum deposit | $10 |
| Minimum bet | $0.50 online, $20.00 by phone |
| Maximum payout | Between $10,000 and $50,000 per day, per sport. Learn more. For horse racing, the maximum daily win limit depends on the venue and bet type, and peaks at $100,000. Learn more. |
| Deposit turnover requirements | 1x |
| Bonus credit turnover requirements | 2x at odds of 1.50 or more within 90 days. Note that this applies to both the bonus credit and any winnings accrued from the bonus. For example, if you have a $25 bonus bet that you successfully wagered at 2.40 odds (for a $35 profit), then you must turn over 2*($25 + $35) = $120 at odds of 1.50 or more. |
| Bookmaker margin | 5.5%, which is above the median bookmaker margin of 5.2% in the latest bookmaker margin survey. From a punter's perspective, the lower the margin, the better. |
| Quantity of markets | Averaged 61 markets per fixture in the latest bookmaker markets survey. This equals the median score of 61 across the survey. |
| Credit facilities | Members may apply for a credit level between $200 and $5,000. |
| Forbidden Jurisdictions | United States of America. Racing and sports wagers will not be accepted if you are physically present in Hong Kong. Sports wagers will not be accepted from any residents of any countries other than Australia and New Zealand. |
| Mobile betting | A mobile version of the website is available |
| Identity checks | Australian residents can verify their identity online by entering details from sources such as a driver's license, Australian passport, Medicare card, tax file number and more. We found the process to be quick and easy. If you are unable to verify your identity online, you can send in certified copies of identification. If you make a deposit by credit card, you must provide a legible copy of both sides of the card. Learn more. |
| Dormant account fees | An account management fee of $25.00 may be debited from any account that is dormant (inactive for six months or more). |
Betting Interface and Website Layout
Ladbrokes uses the same interface as Bookmaker.com.au, which is one of the best we've reviewed. The website loads quickly and the numerous dynamic features make betting quick and easy.
Users of other agencies will find the interface intuitive. On the left is a sports navigation panel with the number of active markets displayed to the right of each sport. Quick links are provided at the top of the left panel. These provide convenient access to the most popular markets.
The markets and odds displays are intuitive. When you select a sport (i.e. soccer), the primary sub markets (i.e. various European leagues) are displayed in the left column, with a full list of sub markets (leagues and fixtures) displayed in the main column. When you select a specific fixture the odds are displayed in the main column with related sub categories displayed in the left column. This enables rapid navigation around the sporting markets.
The service boasts the provision of 'Quickbet', which is a 'betslip-skipping' feature that enables punters to swiftly bet a pre-configured amount with just three mouse clicks. Even without Quickbet pre-configured, whenever you click on the odds for a selection you have the option of instantly placing a wager or adding the selection to your betting slip. Quickbets can be made without clearing existing items in your betting slip.
The betting slip itself is feature-packed and dynamically displayed at the top of the screen when a selection is added. You can minimise and maximise the betting slip while browsing other markets. When entering a wager amount, you can either input a stake amount or input the amount you aim to win, with the stake amount automatically calculated. Where applicable, multi bet options are displayed at the bottom of the slip, featuring every combination of the selections in your slip.
One really nice feature of the interface is that for any selections with promotions attached, those promotions are displayed both alongside the odds and on the betting slip.
Overall, it's hard to find fault with the betting interface. The same goes for the account area and dashboard. The website has a very polished, professional look about it.
Sports Markets
The Ladbrokes sports betting selection is identical to Bookmaker.com.au. The depth of markets for the popular Australian sports is on par with the largest Australian bookmakers. In 2013 we observed up to 24 markets per Super Rugby fixture, up to 47 markets per NRL fixture and up to 142 markets per AFL fixture. The popular American codes are catered for, although not with the same depth of markets as the Australian codes. As seems to be the case with all bookmakers, football (soccer) is heavily covered, featuring numerous leagues around the globe. Tennis is also well catered for. A good selection of other sports, including cycling, golf, snooker, surfing, boxing and motor racing are also covered.
The selection is strong enough that Ladbrokes is suitable as a stand-alone bookmaker membership for casual punters.
Horse Racing
Ladbrokes offers a range of markets including best tote, top fluctuation and fixed price on all racing markets including thoroughbreds, harness and greyhounds.
Win, Place, Each Way, Quinella, Exacta, Trifecta, Quadrella and First Four wagers are available on most race days.
The interface is intuitive and looks great. Race betting beginners will appreciate the website's ease of use. One nice feature is that when you select a racecourse all upcoming races at that venue are displayed in the left column, with the time to run dynamically updated without the need for page reloads.
One interesting feature is a 'Pick Your Own Odds' option where you can choose a winning margin for the runner with the odds updated dynamically to reflect your selection. This enables you to opt for more risk by selecting a winning margin between 1/2 a length and 6+ lengths. The options are offered in 1/4 length increments.
Form guides are available for each race and racing wagers can be combined with sports wagers on the same betting slip.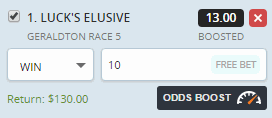 Odds Boost
In 2016 Ladbrokes added an Odds Boost feature for racing, which enables you to boost the fixed odds of a particular racing selection once a day. You can apply the boost to any runner of your choosing.
To apply the boost, add the selection to your betting slip and click on the Odds Boost icon below your selection.
The size of the boost depends on the fixed odds. From what we've observed, the higher the odds the higher the boost as a percentage of the original odds. Some examples are:
1.60 boosted to 1.85 (16% increase)
6.00 boosted to 7.50 (25% increase)
10.00 boosted to 13.00 (30% increase)
101.00 boosted to 151.00 (50% increase)
Live Sports Betting
Due to Australia's Interactive Gambling Act 1, live online betting is not available. Australian customers must phone in to bet live.
Ladbrokes does offer a QuickCall feature, which enables you to place live wagers using your computer's microphone. Ladbrokes doesn't record audio from your end. Instead the website digitally synthesizes your voice to place a live bet on your behalf.
Upsides
Good selection of deposit options, including POLi 2 and Paypal
Excellent betting promotions – arguably the best of any bookmaker
Easy sign up and verification process
Slick betting interface
Low $0.50 minimum online bet
Can split bonus credit into up to four bets
Good multi betting functionality
Members can opt in to receive a Ladbrokes prepaid VISA Card that is linked to their betting account
Innovative QuickCall feature for fast live betting
You can receive an Odds Boost for a racing selection of your choice once a day
Downsides
No live online betting (due to Australian law) 1
Dormant account fees
Higher than average bookmaker margins
Bottom Line
Ladbrokes represents the latest expansion of a UK betting giant into Australia. Rather than start from scratch, they have purchased Bookmaker.com.au and created the Australian Ladbrokes service using the same markets, odds and website back end. When it came to choosing an Australian bookmaker to amalgamate, they chose well. The website interface is state of the art, with excellent betting functionality and a well-designed account management area. The betting selection is strong, with an especially large range of markets for the popular Australian codes. We also like the fact that bonus credit can be split up into multiple wagers rather than forcefully wagered in one hit. Ladbrokes will pose yet more headaches for existing Australian bookmakers in what is becoming a very competitive space.
Notes and Sources
2 POLi facilitates online bank transfers that are acknowledged by the bookmaker instantly. This enables you to log into your banking provider, transfer money to the bookmaker, and place bets immediately.