Introduction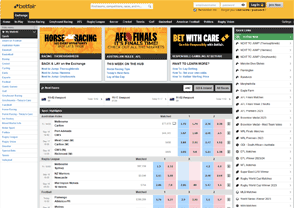 The following is an in-depth review of the betting exchange Betfair Australia. This review covers the history, features, interface, sports & racing markets, upsides and downsides of the service.
This review is part of our comprehensive Bookmaker Reviews section. The Betting Agencies page provides information and reviews for other sports betting agencies that are suitable for Australians. The following details are updated periodically to keep them up to date.
History, Location and Licence
Betfair Australia is a betting exchange that accepts customers from Australia and New Zealand. The service is the world's largest, and Australia's only, peer-to-peer wagering platform.
Betfair was launched in the United Kingdom in 2000. The service enjoyed a meteoric rise and in 2003 the company was a recipient of one of the Queen's Awards for Enterprise. In 2010 Betfair was floated on the London Stock Exchange.1
In 2005, Betfair Australia was launched with a Tasmanian Gaming Licence. The service was joint owned by Crown Resorts Limited and Betfair Group Plc.2
In 2014 Betfair Group Plc sold it's 50% stake in Betfair Australia to Crown Resorts, who now own 100% of the company.3. In 2016 the service switched to became licensed and regulated by the Northern Territory Government. Due to its acceptance of Australian and New Zealand customers, Crown Resorts has labeled the business Betfair Australasia.4
The operating company is Betfair Pty Limited (ABN 30 110 084 985), which has a registered business location in Victoria.5
Betfair Australia is an approved sports betting partner of the AFL, Cricket Australia, Racing Queensland, New Zealand Rugby, Tennis Australia and Football Federation Australia.
Betfair Australia's contact details are as follows:
Telephone Betting Australia: 132 BET (132 238)
Helpdesk Australia: 1300 BETFAIR (1300 238 324)
Telephone Betting NZ: 0800 835 238
Helpdesk NZ: 08 0023 8324
Email: service@betfair.com.au
What is a Betting Exchange?
A betting exchange is a marketplace where members can bet for or against specific outcomes in events. Rather than bet against a bookmaker, members bet against one another. Members set the odds for an event and others take up those odds. For every transaction, one member places a 'back' bet to play the role of the punter and the other places a 'lay' bet to play the role of the bookmaker.
Much like in a stock exchange, members can post odds and then wait and see if they're accepted by another member. The betting exchange earns income by charging small commissions on winning bets. Losing bets do not attract any fees.
Betfair is the largest betting exchange in the world and it is the only betting exchange that is licensed in Australia.
Learn more about betting exchanges.
A Betting Exchange Example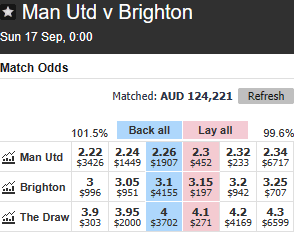 To provide an example, we will used the head-to-head market for an English Premier League fixture between Manchester United and Brighton. In this market there are three possible outcome: Man Utd to win, Brighton to win, and a draw.
A member who wants to play the role of the punter would look at the blue back odds. If they wanted to back Man Utd to win they could do so at 2.26 odds, with $1,907 is available to wager at that level. If the punter wanted to place a $3,000 bet on Manchester United, they would wager (match) $1,907 at 2.26 odds and the remaining $1,093 at 2.24 odds. Alternatively, the punter could enter higher odds, like 2.28, and wait and see if another member is willing to play the role of the bookmaker at those higher odds.
A member who wants to play the role of the bookmaker would look at the pink lay odds. If they wanted to bet against Man Utd, they could place a lay bet at $2.30 odds. If they wanted to lay $500 on United, then $452 would be wagered at 2.30 odds and the remaining $48 would be wagered at 2.32 odds. To illustrate how payouts work for lay wagers, for a lay bet stake of $100, the member would win $100 (less commission) if United did not win the match. If Man Utd did win the match, then they would lose $100 * 2.30 – $100 = $130.
For a back bet of $100, regardless of the odds, Betfair would set aside $100 from your account until the event has concluded. For a lay bet of $100, the amount that Betfair sets aside will depend on the odds. For odds less than 2.00 the amount will be less than the stake. For odds greater than 2.00 the amount will be greater than the stake.
Note that the lay odds are always greater than the back odds. Punters looking to place a back bet want the highest possible odds, while punters looking to place a lay bet want the lowest possible odds.
Why use a Betting Exchange?
There are two key reasons.
The first is because they enable punters to play the role of the bookmaker when they wish. Suppose you look at a horse race and aren't sure which runner will win, but you spot a runner you are convinced will NOT win, or at the very least you believe it should be at higher odds than what is available. A betting exchange enables you to place a lay bet and profit if any runner other than that horse wins. The same applies to sporting outcomes. You might look at the English Premier League futures and spot a team that you are convinced won't win, or you it feel represents terrible value. You can place a lay bet and profit if any team but that club wins the Premiership.
The second key benefit of an exchange is the odds are often more competitive than the offerings by bookmakers. This is particularly the case for popular events. It is also the case for markets with numerous possible outcomes, such as a horse race winner or the correct score for a football match. For markets with many possible outcomes bookmakers will employ higher bookmaker margins as they attempt to balance the books across all of the offered outcomes. A betting exchange, in contrast, effectively treats each outcome as its own market. Will the correct score be 2-1? Yes or no? Will the correct score be 2-2? Yes or no? Using the Man Utd vs. Brighton fixture again, below are the comparative odds for the correct scores between Betfair and a randomly chosen bookmaker. To make the comparison fair, we have adjusted Betfair's odds to account for the 5% commission paid on winning bets. Betfair's adjusted odds are listed first in bold, followed by the bookmaker's odds.
0-0: 23.80, 21.00
0-1: 19.05, 17.00
0-2: 23.80, 21.00
0-3: 45.65, 41.00
1-0: 15.73, 13.00
1-1: 9.36, 8.50
1-2: 13.35, 11.00
1-3: 24.75, 21.00
2-0: 17.63, 15.00
2-1: 10.03, 9.00
2-2: 12.40, 11.00
2-3: 26.65, 21.00
3-0: 27.60, 23.00
3-1: 17.15, 15.00
3-2: 21.90, 21.00
3-3: 39.95, 29.00
For every single correct score selection Betfair offered better odds, even after accounting for commission, compared to the bookmaker.
Services and Features
The following details pertain to Betfair Australia specifically, rather than the Betfair website provided to UK residents. All currency amounts are in AUD.
Deposit options
Credit/debit card, POLi6, Paypal, bank transfer, BPAY, Skrill, Neteller
Withdrawal options
Bank transfer, Paypal, Skrill, Neteller
Transaction fees
None
Accepted Jurisdictions
For Betfair Australia: Australia & New Zealand
Currencies
AUD, GBP, EUR, USD, DKK, SEK, HKD
Languages
English
Odds formats
Decimal
Minimum deposit
POLi: $5
BPAY, bank transfer: $30
Paypal: $15
Skrill: $15
NETeller: $25
Credit card: $10
Minimum bet
$1 for online exchange wagers and $50 for phone betting.
For SP betting, the minimum stake is $1 for back wagers and the minimum liability for lay wagers is $30.
Deposit turnover requirements
1x
Maximum payout
The maximum possible winnings for any bet depends on the popularity (liquidity) of the market. The lowest liquidity you will see is $0 for less popular markets a long way out from the event start. The liquidity for popular markets can be well over $100,000, and that is for just the best available odds, i.e., not including the next best tiers of available odds.
Bookmaker margin
The last time we included Betfair in a bookmaker margin survey, it averaged 5.0%, which was the best result of any Australian-licensed service. From a punter's perspective, the lower the margin, the better. Betfair's strength is its future markets, which consistently offer better value than bookmakers. It should be noted that Betfair's margins are highly erratic because they are heavily dependent on the level of participation in each market. Popular fixtures and fixtures shortly due to commence generally have the lowest margins.
Quantity of markets
Betfair offers a smaller range of markets per fixture than the leading bookmakers. The less popular markets have low liquidity levels. This effectively restricts the range of markets further. Closer to the event start the liquidity across the markets improves, but as an illustration, for an AFL Preliminary Finals game that was due to commence on Friday evening, Betfair offered 14 markets on Tuesday morning. Out of those 14 those markets, only 5 had odds with which you could immediately transact. This highlights the limitations of betting early in the week.
Fees and commissions
The majority of members will only be charged a commission fee on winning bets, but due to Racing NSW's race field fee approach, a Turnover Charge may be charged in a minority of cases. Customers will be contacted directly by Betfair and informed on the first occasion on which a Turnover Charge would have been payable.

Commission Charges: Betfair charges a commission on your net winnings for each market. If you have a net loss you do not pay a commission.
The commission rates are:
NRL: 10%
All other sports: 5%
International racing: 5%
QLD, NT, SA, TAS, VIC & WA racing: 7%
NSW racing: 7% for greyhounds, 10% for thoroughbreds & harness
ACT racing: 7% for harness, 10% for thoroughbreds

Suppose you wager $100 on an AFL game at 1.50 odds and your bet wins. Your net profit is $50, so the commission is $50 * 0.05 = $2.50 and the net profit after commission is $47.50. For odds of 1.50, the effective odds, accounting for commission, are 1.475.

Turnover Charge (for a minority of members):
Members who wager heavily on NSW thoroughbreds may be charged a turnover charge, which is explained here.


Mobile Betting
A mobile-friendly version of the website is available, along with Android and Apple apps. At the time of writing the Android app required Android 5.0 and up and had a 4.3 star rating from 634 reviews. The Apple app required iOS 13.0 or later and had a 4.6 star rating from 6.5K reviews.
Identity checks
If Betfair cannot verify your identity electronically, they will send you an SMS containing a link to complete their verification process via Scantek.7 This involves taking photos of a drivers licence or passport, as well as a series of selfies.
Dormant account fees
If you have not logged in to your Betfair account for over 13 consecutive months, your account is considered inactive. If your inactive account has a positive balance, Betfair will charge a $5 fee per month. Betfair will contact you each month via email as a notice that your account is about to be charged the inactive account fee in 30 days time. They will provide details of how to prevent the fee from being charged.
Betting Interface and Website Layout
This review will focus on the PC version of the Betfair Australia website. The mobile version uses a different layout.
Navigation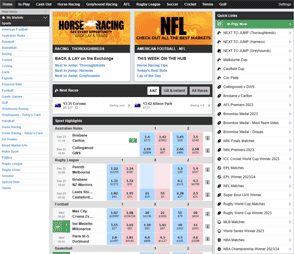 The primary navigation runs horizontally along the top of the page. This includes links to horse racing and greyhound racing, plus a link to the Cash Out page, where you can cash out of your open positions by taking opposite trades to your existing bets.
The right hand column of the homepage displays quick links to popular upcoming races and sporting events.
The left hand column displays a full list of sports. When you click on a sport the page is refreshed to show a list of leagues. When you select a league the page is refreshed to show a list of upcoming fixtures. When a fixture is selected the page is refreshed again to show the list of markets for that fixture. Displayed above the markets are breadcrumbs to navigate back to the fixture's league and sport.
Markets and Odds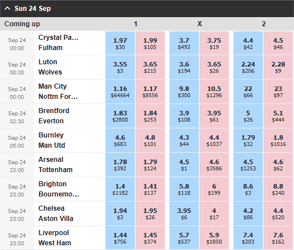 For a list of upcoming fixtures the headline odds are displayed. These represent the best available back and lay odds for each selection. Back odds are shown with a blue background and lay odds are shown with a pink background.
The amount of money ready to be matched at those odds are shown directly below. For example, in the Crystal Palace vs. Fulham fixture, $30 is available to be wagered on Crystal Palace at 1.97 odds, while $105 is available to bet against Crystal Palace (a lay bet, playing the role of the bookmaker) at 1.99 odds.

More detailed odds are provided when a fixture is selected. In the head-to-head market for Crystal Palace vs. Fulham we can now see the market depth three tiers deep. To back Crystal Palace, $30 is available at 1.97 odds, $332 is available at 1.96 odds and $2,586 is available at 1.95 odds.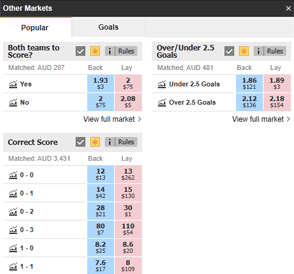 All other markets for that fixture are displayed in the condensed format, with just the best available back and lay odds shown. When you select one of those markets the market depth is displayed.
Exchange Betting Slip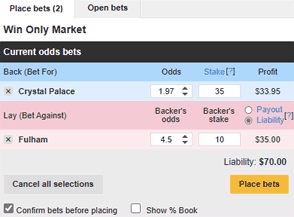 When you add selections to your betting slip they are colour-coded based on whether they are back wagers (blue) or lay wagers (pink). With back wagers your potential profit is displayed when you enter a stake amount. With lay wagers your potential liability is displayed when you enter a stake. As stakes are entered your net potential profit and loss are displayed next to each outcome in the odds area.
You don't have to input odds that are currently available in the market. The odds displayed simply represent what you can transact at immediately. You can instead input better odds to create an "unmatched" bet that may or may not be matched later by another member.
For example, you could enter 1.98 back odds for Crystal Palace. If other members chose to accept the 1.98 equivalent lay odds then your bet will be transacted, either in full or in part, depending on the stakes chosen by the other members. Any non-transacted funds are returned to you either if you cancel the unmatched bet or when the event starts. You can opt to keep the non-transacted funds active as the game goes in-play. For certain events you can opt to take the starting price (SP), which we will discuss shortly.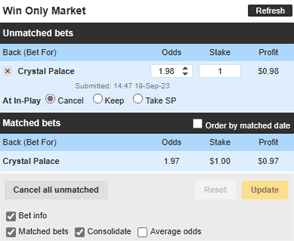 Once you have placed a wager you can view the 'Open Bets' tab to see a list of your matched and unmatched bets for that market.
You can amend or cancel your unmatched bets from this panel.
Sports Markets & Liquidity
According to Betfair, the three most popular sports are football, horse racing and tennis. A strong array of other sports are covered with varying levels of liquidity.
It should be noted that liquidity generally improves leading up to the start of an event. It should also be noted that the liquidity varies drastically between markets for a given event. Most money is wagered on the Match Odds (head-to-head) market. Markets such as Half Time/Full Time and First Scoring Play get a lot less attention.
The best way to assess the market depth for your needs is to navigate to the leagues and markets that interest you and then view how the depth evolves leading up to the event start. Popular events offer strong betting options early in the week, while less popular events and markets only offer reasonable odds closer to the event start.
Betfair Starting Price (SP)
Rather than trade at the current odds, punters can opt to transact using the Betfair Starting Price (SP).
This feature is available for racing as well as for popular markets such as English Premier League head-to-heads.
The same principle of matching bets on the exchange is maintained for SP bets. The backers are matched against the layers at a consensus price. In the case of Starting Price bets, Betfair are matching Starting Price backers (who have specified a stake) and exchange backers with Starting Price layers (who have specified a liability) and exchange layers. Matching takes place in the brief period between the event being suspended and it being turned in-play using a reconciliation process which determines the SP. The reconciliation process considers SP bets that have been placed on each selection, taking into account any price limits that have been specified, and unmatched exchange bets on that selection. The calculation determines the fairest price which will match the largest amount of money risked by backers and layers against each other.
Betfair API
For advanced sports betting enthusiasts, Betfair offers a developer program that enables you to use REST API & JSON-RPC to interface with the Betfair betting exchange.
Betfair also offers a historical data service, which provides time-stamped exchange data for purchase and download.
Horse Racing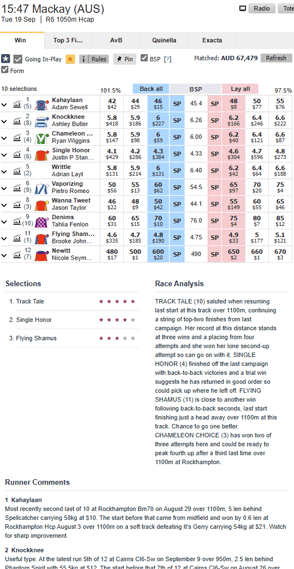 Betfair Australia offers a betting exchange environment for racing. The most common markets are Win and Top 3 Finish.
The commissions vary depending on the state, and in the case of NSW & ACT, the racing type. At the time of writing the racing commission rates are:
International: 5%
QLD, NT, SA, TAS, VIC & WA: 7%
NSW: 7% for greyhounds, 10% for thoroughbreds & harness
ACT: 7% for harness, 10% for thoroughbreds
The differences are due to the varying fees that Betfair has to pay to the Australian state racing bodies.
For less popular events, liquidity is lower leading up to the race, with the majority of the matched amounts transacted in the minutes leading up to the jump. We've seen matched amounts jump from $200 to $20,000 in the space of a minute prior to a race start.
The Betfair Starting Price (BSP) is offered on a range of thoroughbred, harness and greyhound races. Betfair boasts that BSP beat Best Tote by 12.5% on average between September 2016 and September 2023. You can turn on the display of the projected BSP odds in the Settings page (the link is in the top right hand corner). You can opt to display either the projected odds or the near/far odds.
For some races you can also use the exchange to wager on Quinella and Exacta markets. Each pair of runners is offered as a separate selection. The ten most popular Quinella pairings and twenty most popular Exacta pairings are available, plus an additional 'Any Other Result' selection.
A Tote button is displayed, however Tote wagering is not offered to Australian residents at the time of writing.
Upsides
Can bet both for and against outcomes
Easy cash out feature to limit your losses or lock in a profit when the odds move for or against you
The minimum stake is $1.00, down from $5.00 originally
Competitive odds on the popular markets as well as for futures, correct score and other markets with numerous selections
Betfair boasts that their Betfair Starting Price (BSP) offers 12.5% better returns than Best Tote
The only Australian licensed betting exchange
Developer API available
Downsides
Not as beginner friendly as a standard bookmaker
Complicated commission structure for Australian racing
Smaller range of markets per fixture compared to leading bookmakers
Low liquidity on less popular leagues and markets
Complicated turnover charge fee structure for punters who wager heavily on NSW thoroughbred racing
Bottom Line
Betfair stands out because it's the only betting exchange with a licence in Australia. A betting exchange has a steeper learning curve than a bookmaker but it's well worth the effort. The ability to bet both for and against outcomes makes hedging incredibly easy and the most popular markets frequently offer better value than bookmakers. Betfair is brilliant for futures betting because the back/lay feature enables you to easily lock in profits and limit losses as the season or tournament progresses. Betfair also offers consistently better value in numerous selection markets, such as correct scores for football. Due to lower liquidity on less popular leagues and markets, Betfair wouldn't work well as a standalone membership, but it's an absolute must have as a pairing with a traditional bookmaker. Novice punters will enjoy the competitive odds on the popular markets, while experienced punters will revel in the ability to play the role of both the punter and bookmaker. We highly recommend Betfair as a complement to your existing bookmaker memberships.
Notes and Sources