Introduction
The following is an in-depth Picklebet review. This review covers the history, features, interface, sports & racing markets, upsides and downsides of the service.
This review is part of our comprehensive Bookmaker Reviews section. The Betting Agencies page provides information and reviews for other sports betting agencies that are suitable for Australians. The following details are updated periodically to keep them up to date.
History, Location and Licence
Picklebet is an Australian-owned bookmaker that has a strong focus on esports betting. The company based in Queensland and employs a Northern Territory licence for its Australian users. The brand is owned and operated by Puntaa Pty Ltd (ABN 56 601 575 240), which has a registered office at 48-50 Smith St, Darwin City, NT, 0800. Puntaa has been a registered business name since 2014 while the Picklebet brand was registered in February 2020.1 Picklebet launched as an esports bookmaker in 2020, then added sports betting in early 2021 and fixed odds racing in 2022.2
Picklebet was founded by CEO Nick Heaney and Damon Oudejans. Two of the investors are the Sydney-based PAC Capital and the Sydney-based Tribeca Investment Partners.3
The Picklebet website employs the Oddin product suite as part of its esports offerings. According to CEO Nick Heaney, "Esports is the core of our business, as a next gen betting platform. We want to offer our customers the greatest depth and breadth of esports content to wager on, providing a best in class esports betting experience."4
Picklebet is looking to expand further internationally. The service is currently available to residents of Australia, New Zealand and Ontario, Canada.
Picklebet's contact details are:
Mailing address:
Picklebet Australia
PO Box 458
Fortitude Valley
QLD 4006
Australia
Support email : support@picklebet.com
Services and Features
| | |
| --- | --- |
| Deposit options | Visa, Mastercard, POLi5 |
| Withdrawal options | Electronic funds transfer |
| Transaction fees | None |
| Currencies | AUD, NZD, USD, EUR |
| Languages | English |
| Odds formats | Decimal, American, fractional |
| Minimum deposit | $10.00 |
| Minimum bet | $0.20 online, phone betting isn't supported |
| Deposit turnover requirements | 1x |
| Win limits | Unknown |
| Accepted countries | Australia, New Zealand and Ontario, Canada |
| Mobile betting | The website uses a responsive web design that tailors the display to the size of your device. Their iOS (Apple) app has a 4.3 star average review and their Android app has a 4.9 star average review. |
| Identity verification | Picklebet employs a third party service to verify your identity during the sign up process. |
| Dormant account fees | Picklebet reserves the right to charge a fee of $10 AUD, NZD, USD or €10 EUR, respectively per month and an additional $50 AUD, NZD, USD or €10 EUR, respectively at the end of each year to accounts that have been inactive for a period of 12 months or more. |
| Support | Email |
| Problem gamblers | Picklebet is particularly strong on its features for problem gamblers. They give the option to set a deposit limit during the sign up process and you can also set a 'Cooldown' period to take an enforced break from the website. We really like the fact that Picklebet offers convenient access to a link to close your account. |
Betting Interface and Website Layout
Picklebet employs a responsive web design that tailors the layout to the screen size of your device. This review will focus on the layout that is displayed to PC & laptop users.
Picklebet uses the ubiquitous three-column layout with sports listed on the left, leagues & odds in the centre and the betting slip on the right. The dark layout is easy on the eye, which should reduce fatigue if you're on the website for a long period of time.
Esports is clearly a main focus. The esports categories are listed in the navigation column above sports by default. In the Preferences section you can change your preferred betting category to sports, in which case the sports category will be displayed first.
The sports and esports tabs are contracted by default. To expand a list you click on the relevant category. If you click on sport the navigation column will display a list of sports with the number of fixtures/futures markets to the right of each respective sport. If you click on esports the top level categories are FIFA, CSGO, Dota2, League, King Of Glory, etc.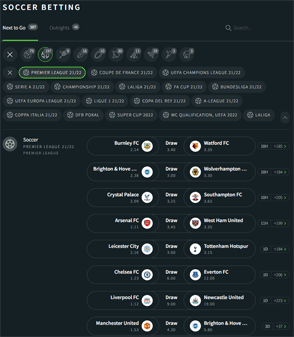 If you select a sport then upcoming fixtures are listed in the centre column along with a list of leagues above it. By default only one row of leagues is displayed so for a popular sport like soccer you will have to click in the drop down icon in the centre column to view a full list. A search feature is also available to find the league you're after. One neat feature is you can select (and de-select) multiple leagues. For example you can view lists of EPL and A-League fixtures at the same time.
The total number of markets is displayed next to each fixture. When you click on the number of markets the centre column is refreshed to show a list of market categories for that fixture The head-to-head market odds are shown by default but you have to click on the category headers (handicap, total, odd/even, first half…) to view the other markets. The tab approach highlights the responsive design of the website's template. PC users may find the quantity of tabs annoying but the approach likely had mobile users in mind.
One minor nuisance is there are no breadcrumbs to navigate back from a specific fixture to the list of upcoming games for that league. The fastest way is to click back on your browser.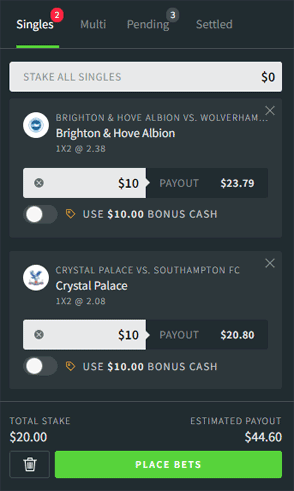 The betting slip is intuitive and easy to use. Tabs at the top of the slip enable you to switch between Singles and Multi options. One novel feature is your pending and recently settled bets can also be accessed from the slip. All of these options have numbers displayed to the right of them to indicate the associated number of bets.
Any item that is added to the slip is highlighted in the centre column. One notable feature missing from the Multi tab is the ability to place exotic multis (e.g. doubles, trebles, Yankee, Super Yankee, Heinz…).
Overall the interface works very well.
Bookmaker Margin
The bookmaker margin (overround) is a measure of the bookmaker's profit margin for an event and is a hidden transaction cost for punters. This profit is how bookmakers finance their services but bookmakers vary in the margins they apply. From a punter's perspective, the lower the margin, the better. Learn more about bookmaker margins.
Picklebet had not yet been reviewed at the time of our most recent bookmaker margins survey. Our initial impressions of the odds are very good. For numerous fixtures we found specific selections that were offered at higher odds than the leading Australian bookmakers. We observed NBA line odds of 4.993%, which equate to even lines of 1.905. English Premier League fixtures had 6% head-to-head margins, which is competitive for three-outcome markets. Overall it appears that Picklebet's competitive margins would make a valuable addition to a portfolio of bookmaker memberships for those who like to shop around for the best odds.
We will be able to elaborate more on Picklebet's odds competitiveness when we conduct the next margins survey.
Sports Markets
For the sports in season during the time of review we observed the following quantity of markets per league:
English Premier League: 221
Serie A: 187
Bundesliga: 175
La Liga: 175
A-League: 17
NBL: 34
NBA: 76
NHL: 27
NFL: 70
WTA: 32
Overall the quantity of markets is strong. The selection isn't as broad as the major overseas-owned brands but it is still very competitive for an Australian-owned bookmaker.
Horse Racing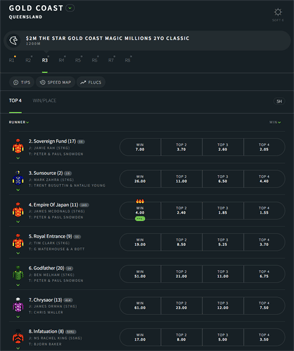 Picklebet offers fixed odds and SP markets for thoroughbreds and greyhounds. Harness racing is not yet supported. Both venues in Australia and abroad are covered.
SP (Starting Price) markets are offered in the days leading up to the race and fixed odds markets are offered on the day of the race.
The standout feature is rather than just offer win and place markets, Picklebet provides win, top 2, top 3 and top 4 fixed odds markets for every race. This provides the flexibility to back a runner in the top X market of your choosing, depending on the circumstances.
The interface employs a clean look by default. Buttons are provided to access additional features such as race previews with tips, fluctuations and speed maps.
Picklebet had not yet been reviewed at the time of our most recent bookmaker margins survey, but their fixed odds margins appear to be competitive. We frequently observed specific runners at better odds than were available at other big-name bookmakers. We will be able to elaborate more on Picklebet's fixed odds competitiveness when we conduct the next margins survey.
Exotics such as exacta and trifecta aren't supported, so this service wouldn't likely work as a standalone membership for racing enthusiasts, but the offering of top 2 and top 4 markets for every race makes Picklebet a fantastic complement to a traditional bookmaker membership.
Upsides
Picklebet is Australian-owned
Low $0.20 minimum stake
Competitive odds
Top 2, top 3 and top 4 markets for racing
Identity verification is done automatically during the sign up process
Fast, modern interface that isn't fatiguing on the eye
POLi5 is accepted as a deposit method
Can set a deposit limit during the sign up process
Free to enter weekly pick'em contests
Can tweak the display order of the betting categories in the Preferences section
Strong features to assist problem gamblers, including easy access to a link to close your account
Downsides
Same-game multi betting isn't supported
Exotic multi betting isn't supported
Racing exotics aren't supported
Dormant account fees
In-play phone betting isn't supported
Bottom Line
Picklebet was launched with a focus on esports but their sports betting service is excellent and their racing features are constantly growing. The odds are competitive and the range of markets per fixture is strong for an Australian-owned bookmaker. Some of the other highlights are the $0.20 minimum stake, the fast & modern interface and the fact that they verify your identity automatically during the sign up process. Racing enthusiasts will also appreciate the fixed odds top 2, top 3 and top 4 markets for every race.
Notes and Sources