Introduction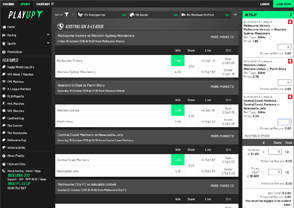 The following is an in-depth PlayUp review. This review covers the history, features, interface, sports & racing markets, upsides and downsides of the service.
This review is part of our comprehensive Bookmaker Reviews section. The Betting Agencies page provides information and reviews for other sports betting agencies that are suitable for Australians. The following details are updated periodically to keep them up to date.
History, Location and Licence
PlayUp is an Australian-owned bookmaker that is headquartered in Sydney and licensed in the Northern Territory. It was launched in October 2019 as the merged entity of ClassicBet3 and Mad Bookie4, two bookmakers that it had acquired between 2017 and 2018. BestBet and Betting.club had been previously merged into Mad Bookie earlier in 2019. PlayUp also owns TopBetta4 and plans to merge that service into PlayUp. The owning company is PlayUp Interactive Pty Ltd (ABN 79 602 262 644).1 PlayUp Interactive also owns and operates the daily fantasy sports service Draftstars.
PlayUp Australia Pty Limited is a wholly owned subsidiary of PlayUp's international entity, PlayUp Limited, which has offices in Sydney (HQ), Melbourne, Darwin and Hong Kong.6
PlayUp is an official partner of the Rabbitohs and Newscorp. It is an approved betting provider for the AFL, NRL, Tennis Australia, Cricket Australia, Football Federation Australia, Australian Rugby Union and PGA Australia.
At the time of writing PlayUp's contact details are:
PlayUp Interactive Pty Ltd
48 Epsom Road
Zetland NSW 2017
Support number: 1800 752 987 (1800 PLAYUP)
Phone betting: 1800 888 001
Email: support@playup.com.au
Services and Features
| | |
| --- | --- |
| Deposit options | Visa, Mastercard, electronic funds transfer, paysafecard, BPAY, POLi5 |
| Withdrawal options | Credit card, bank transfer. Credit card clients must return the equal amount of their credit card deposits previously paid into their PlayUp Account back to the same credit card, however, they may elect to have winnings surplus to those credit card deposits lodged to their own bank accounts. |
| Transaction fees | None that we're aware of |
| Currencies | AUD |
| Languages | English |
| Odds formats | Decimal |
| Minimum deposit | $10.00 |
| Minimum bet | $1.00 online, $50.00 over the phone |
| Deposit turnover requirements | 1x |
| Forbidden Jurisdictions | American Samoa, Belgium, Brazil, Canada, China, Czech Republic, Denmark, Dutch Antilles, France, French Guiana, French Guinea, French Polynesia, French Southern Territories, Germany, Hong Kong, Hungary, India, Indonesia, Iran, Ireland, Italy, Luxembourg, Malta, Netherlands, North Korea, Pakistan, Poland, Portugal, Russia, Singapore, South Korea, Spain, Taiwan, Turkey, United Arab Emirates, United States of America, US Virgin Islands, Vietnam |
| Mobile betting | iOS and Android apps are available. Unfortunately the web interface is not currently mobile-friendly. |
| Identity verification | PlayUp will attempt to verify your id electronically. PlayUp accepts 100 points of ID. Proof of ID can be emailed to PlayUp support. Should you have any difficulties a customer service rep can assist the process with an automatic verification check such as VEDA. |
| Dormant account fees | Your account is deemed to be dormant if there have been no transactions on your account for a period of twelve consecutive months. PlayUp will charge an administration fee of up to $10 per month to a dormant account until either a transaction is made, the account is closed, or until the account balance reaches $0. |
| Support | Email, phone (24 hours for phone betting and 7 AM – 11 PM AEST for support), online chat (7 AM – 11 PM AEST) |
Betting Interface and Website Layout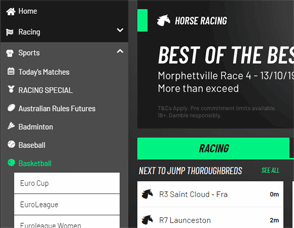 The PlayUp websites uses a practical, beginner-friendly layout. The design consists of three columns: a list of sports & leagues, the odds area and the betting slip. The interface is responsive, meaning it tailors the layout to your screen size. This reviews focuses on the layout that is displayed to PC & laptop users.
The left column defaults to displaying a list of popular leagues and feature races. The list is fairly long, which will save most punters from having to manually look for leagues. When you click on Sports an expandable list of all sports is displayed. The nested approach uses just two tiers, so if you select Soccer you see a full list of leagues, as opposed to countries then leagues.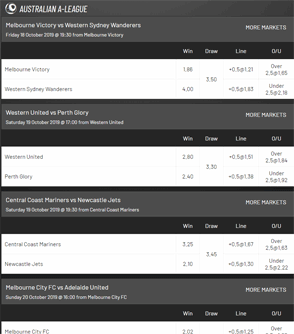 The markets and odds are displayed in a familiar manner for those who are familiar with other bookmakers.
A list of fixtures is provided along with odds for the most popular markets. A 'More Markets' button is displayed if more markets are available for a particular fixture. When this is selected a full list of markets is provided, but without the odds. When you select a market the relevant odds are then shown. This is all achieved without any page reloads. The approach works better than other bookmakers which use market categories that can actually slow down your search for a specific market.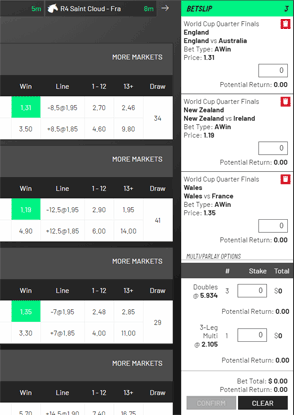 Like the rest of the interface, the betting slip is simple and intuitive.
When multiple selections are added you are offered multi selection boxes to create doubles, triples, etc., along with a multi that includes all selections. You can enter stakes into the various selection boxes to create customised exotic multis like Trixies, Yankees, etc. You can submit these wagers in addition to single selections without having to tab between any displays like you sometimes see with other bookmakers.
Overall the interface works very well. We just wish the odds are was displayed a bit more concisely.
Bookmaker Margin
The bookmaker margin (overround) is a measure of the bookmaker's profit margin for an event and is a hidden transaction cost for punters. This profit is how bookmakers finance their services but bookmakers vary in the margins they apply. From a punter's perspective, the lower the margin, the better.
PlayUp had an average margin of 5.6% in our latest bookmaker margin survey, which was below the 5.8% survey average. PlayUp offered the (joint) best odds on 26% of the surveyed selections. This means that PlayUp would be a useful addition to a portfolio of memberships for those who like to shop around for the best sports odds.
PlayUp were also reasonably competitive for racing. Their 28.7% average margin was the fourth best out of the nine bookmakers and below the survey average of 30.2%. PlayUp recorded the (joint) best odds for 18% of the surveyed runners.
View the full survey results
Learn more about bookmaker margins
Sports Markets
PlayUp have improved dramatically for their range of markets per fixture. They were always strong for the main Australian codes, but in our latest margins and markets survey, PlayUp offered 20+ markets for every league we surveyed. Overall they finished an impressive third for the total number of markets per fixture. PlayUp offered same-game multis for eight out of the eleven leagues in our survey.
Horse Racing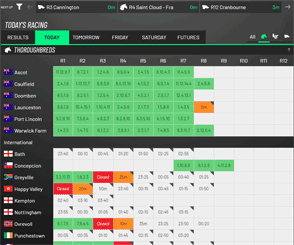 PlayUp offers tote betting on horse racing venues across Australia and New Zealand. We've also observed markets for venues in Hong Kong, the Philippines, Norway, Japan, South Africa, France, England and Ireland. Greyhounds and harness racing is also offered for Australia and New Zealand, along with selected overseas venues in the US, France and England.
Fixed odds betting is offered for all forms of racing in Australia and New Zealand. For typical horse racing events in Australia PlayUp offers Best Tote + SP Win for bets and Mid Tote for place wagers. For greyhounds and harness racing you typically get Mid Tote for win and place bets. PlayUp offers best of the best on all main metro venues every Wednesday and Saturday.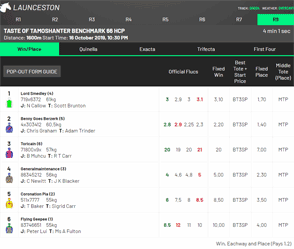 Win, Place, Each Way, Quinella, Exacta, Trifecta and First Four wagers are available for harness and greyhounds while Quadrellas are also offered for horse racing.
The venues interface is simple and intuitive, with a concise, colour-coded table showing the day's venues and races.
The race betting interface is easy to learn and works well. No race commentary is provided, unfortunately, however a detailed pop-up form guide is available for reach race.
Upsides
PlayUp is Australian-owned
The interface loads quickly, is beginner-friendly and easy to use
Both online chat and email support were efficient and friendly in response to our queries
Reasonably competitive sports and racing odds
Good range of markets per fixture
Same-game multis for a broad range of leagues
Downsides
At the time of writing to claim bonus bets through certain promotions customers must contact support
No details on stake or payout limits are available on the website
Dormant account fees
Bottom Line
PlayUp is one of a few Australian-owned bookmakers trying to mix it with the large foreign-owned services that are licensed in Australia. It replaces the merged ClassicBet, Mad Bookie and TopBetta, with the owning company also owning Draftstars. PlayUp's range of services is improving all the time. During the latest revision of this bookmaker review, we ended up deleting half of the listed downsides from the previous revision. PlayUp's services are now broad enough for it to work as a sole bookmaker membership. It would also make a good addition to the betting portfolio of anyone who likes to shop around for odds given its independence from other bookmakers.
Notes and Sources