Introduction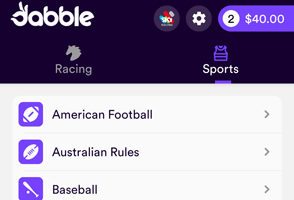 The following is an in-depth Dabble review. This review covers the history, features, interface, sports & racing markets, upsides and downsides of the service.
This review is part of our comprehensive Bookmaker Reviews section. The Betting Agencies page provides information and reviews for other sports betting agencies that are suitable for Australians. The following details are updated periodically to keep them up to date.
History, Location and Licence
Formed in 2020 and fully launched in 2022, Dabble is an Australian-owned and operated betting app. The service is licensed by the Northern Territory Racing Commission. The owning company is Dabble Sports Pty Ltd (ABN 26 641 982 425).1 In October 2022 Tabcorp acquired a 20 per cent stake in Dabble2 for $33 million and in February 2023 Dabble acquired rival bookmaking app Moneyball.3
Due to its strong social media feel and app-only betting interface, Dabble has appealed strongly to younger punters and at the time of review 80 per cent of their customer base is aged 18-35.3
Dabble operates from offices in Darwin, Melbourne, Brisbane, Adelaide and Albury. Their contact details are:
Email: support@dabble.com.au
Phone: 1800 DABBLE (1800 322 253)
Web: live chat and an online form
Standout Features
There are three features that make Dabble different to an old-fashioned bookmaker. While other services are currently scrambling to add "bet with mates" style functionality, Dabble had such features incorporated from the start and the website has a strong community feel as a result. Incredibly, almost half of all bets taken by Dabble are through their Copy Bet feature.3
Activity Feed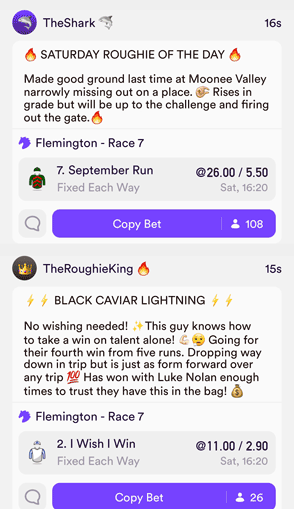 The first thing you see each time you open the Dabble app is an activity feed, which lists the bets and tips of members you are following.
When you sign up, Dabble will default your account to follow a few popular contributors, primarily as a way of showing how the feature works. These tips usually include the reasoning behind each bet.
Banter Channels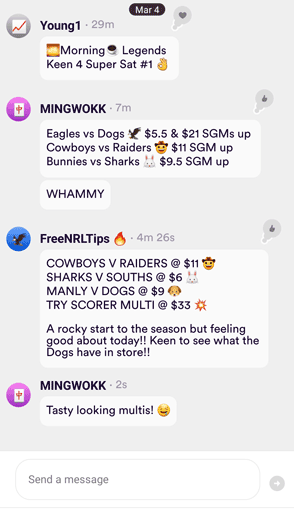 The banter channels are much like a forum environment where you can discuss tips, brag about your wins and vent about bad beats.
The channels are organised by topics, such as racing, AFL, NRL, tennis and so on.
Copy Bet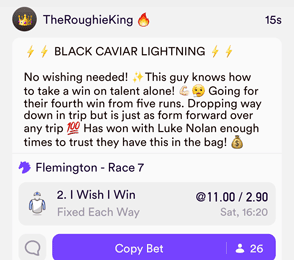 Dabble enables you to copy bets, including multis and same-game multis, of some other members. The possible bets to copy are shown both on the activity feed and for each betting market. For example, if you browse the odds for an NRL fixture and select Activity at the top of the screen, a list of member tips is provided.
You can opt to make your bets public so that people can copy your bets too. All eligible Dabble account holders receive $0.10 into their Dabble account for every 'Unique Copy' per bet that they received on their betting activity. To be eligible, your own bet must have a minimum stake of $1.00. Earnings are currently capped at $1,000 per week and payments are made each Thursday.
Incredibly, nearly half of all bets taken by Dabble are via Copy Bet.
Services and Features
Deposit options
Credit/debit card, PayID
Withdrawal options
Bank transfer to an Australian bank account
Transaction fees
None
Currencies
AUD
Languages
English
Odds formats
Decimal
Minimum deposit
$5.00
Minimum bet
Internet: $0.01 per bet and by telephone the minimum is a total of $20
Deposit turnover requirements
1x
Accepted countries
Australia
Mobile betting
No web-based wagering is currently available. All betting must be through their iOS and Android apps. At the time of review their iOS (Apple) app had a 4.5 star average review from 994 ratings and their Android app had a 4.4 star rating from 431 reviews. As of March 2023, the iOs App requires iOS 13.0 or later and the Android App requires Android 7.0 and up.
Identity verification
After you open your account, Dabble will use a third party service for the purpose of identity verification. If required, Dabble will request additional identification information.
Dormant account fees
Your account will be deemed inactive if you have not made a deposit or placed a bet for a period of more than 24 months. To keep an inactive account open you must pay an administration fee of $10 per month. This will be deducted from your account until your account balance is $0. To avoid the fee, you can either place a bet or withdraw your funds into your bank account.
Win limits
The maximum total payout across all bets in any 24-hour period is $1,000,000. The maximum payout on a fixed odds single or multi bet is $100,000. The maximum payout for a single, or multiple same-game multis with the exact same selections is $20,000. For racing the maximum win payouts are as follows:
Australian Metropolitan Thoroughbreds: $100,000
Australian Provincial & NZ Thoroughbreds: $50,000
Hong Kong, Singapore, UK & Irish Thoroughbreds: $25,000
All other International Thoroughbreds: $10,000
Australian Metropolitan Harness: $50,000
Australian Provincial & all NZ Harness: $25,000
All other Harness: $10,000
Australian Metropolitan Greyhounds: $50,000
Australian Provincial & all NZ Greyhounds: $25,000
All other Greyhounds: $10,000
Odds limits
The maximum odds for a same-game multi is 2,501. The maximum legs for a same-game multi is 25.
Support
Email, phone, online chat
Problem gamblers
Dabble provides facilities for customers to exclude themselves from being able to deposit or bet with their Dabble account either permanently or for a set period of time (options include 24 hours, 7 days, and 30 days). Dabble also provides pre-commitment facilities to help you control your spend which can be accessed via the Account section. This restricts the total level of deposits to a set amount for a specified rolling period (1 day, 7 days, 30 days).
Betting Interface and Website Layout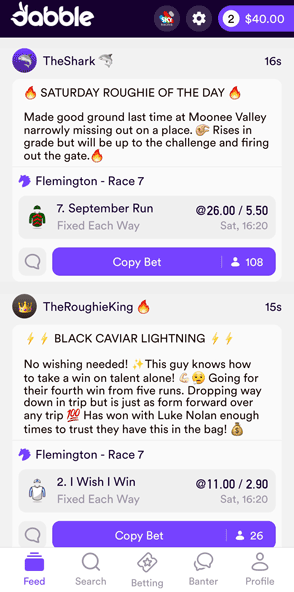 Wagering with Dabble is only offered through their Android and iOS Apps. This review will focus on our experience with the Android App. The version we used was 0.16.6.
Dabble is unusual because defaults to displaying the tipster activity feed each time you launch the app. This will list upcoming tips that you can copy from the members that you currently follow. By default when you open an account they will set your account to follow 8 or so tipsters.
Your account balance is shown in the top right hand corner. When you tap on this your bet slip, pending bets and resulted bets can be viewed, along with a deposit link.
The settings icon next to your account balance enables you to manage your account settings, read the rules and view the help centre. Deposit, withdrawal and account statement links are also provided.
Tapping on the Sky racing logo next to the settings icon takes you to the racing section with the Sky Racing feed displayed at the top.
At the bottom of the screen are five links:
Feed – view tips from the members you follow
Search – search for people on Dabble. A list of the most followed members is listed below the search box.
Betting – browse sports and racing markets and place your bets
Banter – a forum to discuss betting with other members
Profile – if you have set your account to public you can choose which bets are publicly displayed and add comments to your bets.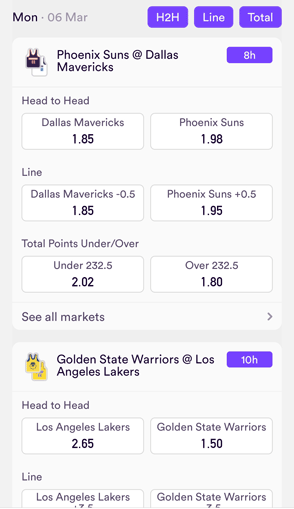 To view a market, you select Betting at the bottom of the screen and then select either Racing of Sports from the top of the ensuing display.
The sports are listed alphabetically when you select Sports. When you select a sport the leagues are displayed with the popular leagues listed first, followed by the rest of the leagues alphabetically.
When a league is selected the upcoming fixtures are listed in order of kick-off. By default the head-to-head odds are shown for each game but you can toggle on and off the head-to-head, line (if applicable) and total score markets for the upcoming fixtures. This last feature is excellent because it enables you to view up to three popular markets without having to click on each fixture in turn.
A 'See All Markets' link is displayed below each fixture. This will list all available markets for that game in tab format, with the main markets displayed by default. A SGM (same-game multi) link is provided at the top of the screen if same-game multis are available for that fixture. Also listed is an Activity button, which displays other members' bets on that game, along with Copy Bet links.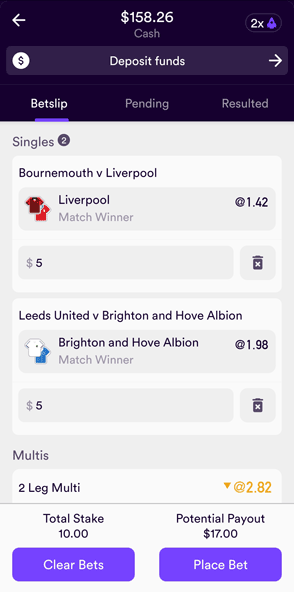 When a selection is added to the betting slip it is highlighted in the centre column. When there are multiple selections in the slip you can't set one stake to apply to every selection. You must instead input a unique stake for each bet. When stakes are inputted the potential payouts are displayed at the bottom of the screen. The same applies if you input a stake for the all-up multi.
Only an all-up multi bet option is provided when there are two or more items in the betting slip. One-click exotic multis like Yankee, Super Yankee and Heinz aren't supported and neither are 'doubles', 'trebles', 'four picks', etc., options.
Overall the navigation and odds display are excellent, while the betting slip is a little lacking in functionality.
Bookmaker Margin
The bookmaker margin (overround) is a measure of the bookmaker's profit margin for an event and is a hidden transaction cost for punters. This profit is how bookmakers finance their services but bookmakers vary in the margins they apply. From a punter's perspective, the lower the margin, the better. Learn more about bookmaker margins.
For sports margins, Dabble finished third out of eight bookmakers in our latest bookmaker margins survey. Their average margin of 5.6% was lower than the surveyed average of 5.8%. Dabble was recorded as offering the (joint) best odds on 25% of the surveyed sports selections.
Dabble also offer reasonably competitive fixed racing odds. They recorded the (joint) best odds on 18% of the surveyed runners in our latest survey.
Sports Leagues and Markets
The range of leagues isn't as deep as the largest bookmakers but the popular leagues are well catered for. Using soccer as an example, the top four divisions of English football were available midweek but the Conference league and below were not. The major leagues from across Europe were covered but not the more obscure leagues such as the Egyptian Premier League. Only those with very specific interests in minor markets will fail to find what they're looking for.
A strong range of markets is offered per fixture for the popular leagues. Same-game multis are offered for a good range of leagues as well. The leagues for which same-game multis are offered include the NRL, AFL, EPL, A-League, Bundesliga, UEFA Champions League. Some markets that don't offer this functionality include Serie A, A-League Women, J-League, Scottish Premier League and the Europa League.
One strength of Dabble is same-game multis. They offered same-game multis for eight of the eleven leagues in our latest margins and markets survey. This was the third best out of the eight surveyed bookmakers.
At the time of writing Dabble does not offer in-play phone betting.
Dabble isn't as fast as some bookmakers for uploading markets for the less popular leagues. For example Super Rugby Pacific odds weren't yet available on a Tuesday afternoon.
Overall, the casual punter will find most of what they need.
Horse Racing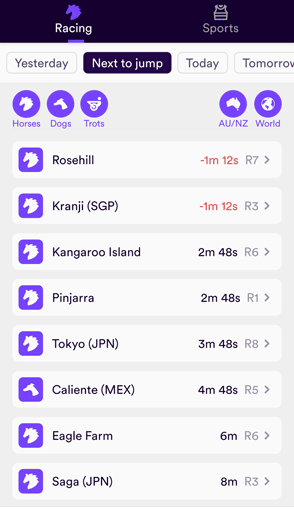 The Dabble interface is easy to use. A list of venues is provided in order of the next race to jump. Icons at the top of the screen enable you to toggle on and off the display of the thoroughbred, harness and greyhounds venues. You can also toggle on and off the display of Australian and international venues.
A wide range of overseas thoroughbred venues are covered in addition to the Australian and New Zealand racecards. Overseas greyhounds and harness racing are also offered.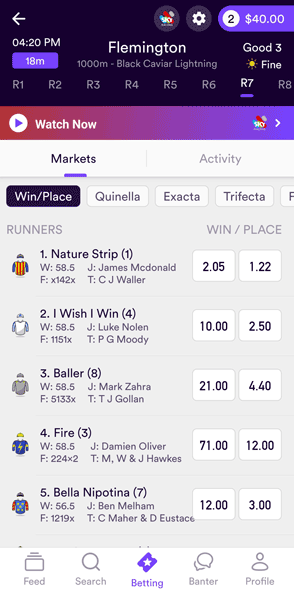 Dabble primarily offers fixed odds wagering for win and place markets. For upcoming markets with no fixed odds yet provided, Dabble Starting Price is offered, which is paid out based on the Victorian TAB dividend.
Exotics (Quinella, Exacta, Trifecta and First Four) are paid out using DabbleDiv, which employs an in-house formula. A minimum of 6 runners are required for DabbleDiv to be offered. Over a six month period Dabble reported that DabbleDiv beat the Victorian TAB (used by many bookmakers) for 72% of bets. On average the DabbleDiv dividend was 14% higher than the Victorian Tote Dividend.
Just as with the sports betting, the activity of other members is readily available for each race under the Activity tab.
When a runner is selected a detailed form guide is provided.
Fractional betting is available for racing exotics.
The fixed odds are competitive. It didn't take long for us to find midweek markets with certain selections at higher odds than other bookmakers.
Upsides
Strong community feel and excellent copy bet features. These features enable you to copy other members' bets and earn money when other members copy yours (if you make them public).
Low $0.01 minimum bet
Low $5.00 minimum deposit
Competitive sports odds
Same-game multis for a broad range of leagues
Customer service was quick to respond to our queries
Excellent odds display
DabbleDiv for racing exotics pays out 14% more than the Victorian Tote on average
Fractional betting is available for exotics
Australian-owned
Detailed help centre
Live chat support
Downsides
The service is available as an app only. They do not offer website-based wagering.
Only two deposit options are offered. BPAY and POLi4 weren't offered at the time of review.
No in-play phone betting was available at the time of review
Exotic multis are not supported in the betting slip
Dormant account fees
Bottom Line
Dabble is a unique bookmaker due to its strong community focus. The copy bet feature, which enables you to copy the bets of other members, is at the core of the service – so much so that nearly half of all bets taken by Dabble are via copy bet. While other bookmakers are now scrambling to create "copy your mates"-style functionality, Dabble built this feature into their service from day one. Its app-only and social media-style approach highlights Dabble's focus on the younger market and this shows through in the demographics: eighty per cent of Dabble's members are aged 18-35. Dabble appears to be going from strength to strength, as evident by Tabcorp's 20 per cent equity purchase for $33 million and Dabble's recent acquisition of former competitor Moneyball. Importantly, we didn't have to look far to find selections where Dabble offered better odds than other leading bookmakers, so the service would work well for odds shoppers. Dabble is seriously worth checking out, so long as you don't mind downloading an app to place a bet.
Notes and Sources