Introduction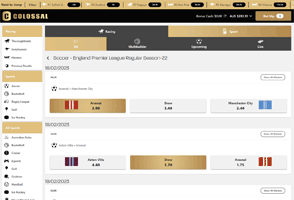 The following is an in-depth Colossalbet review. This review covers the history, features, interface, sports & racing markets, upsides and downsides of the service.
This review is part of our comprehensive Bookmaker Reviews section. The Betting Agencies page provides information and reviews for other sports betting agencies that are suitable for Australians. The following details are updated periodically to keep them up to date.
History, Location and Licence
Launched in 2021, Colossalbet is an Australian-owned and operated bookmaker. The service is licensed in New South Wales by Racing NSW and the NSW Office of Liquor, Gaming and Racing. The owning company is Ryman Racing Pty Ltd (ABN 53 644 755 171).1
Colossalbet is an approved betting partner of the NRL, Football Federation Australia, AFL and Rugby AU.
Their address is:
Royal Randwick Racecourse,
Alison Road,
Randwick, NSW 2031
Australia
Colossalbet's contact details are:
Email : support@colossalbet.com.au
Phone: (02) 7202 7462
Web: live chat
Services and Features
Deposit options
Credit/debit card, PayID, BPAY, bank transfer, Blueshyft Cash-In
Withdrawal options
Credit/debit card, bank transfer, Colossalbet Mastercard purchases & ATM withdrawals (for those who apply for a card)
Transaction fees
None
Currencies
AUD
Languages
English
Odds formats
Decimal
Minimum deposit
$5.00 for credit/debit card, $10 for Blueshyft Cash-In
Minimum bet
Online: $0.50, phone: $10.00
Deposit turnover requirements
1x
Accepted countries
Australia
Mobile betting
The website uses a responsive web design that tailors the layout to the screen size of your device. iOS and Android apps are also available. At the time of review their iOS (Apple) app had a 4.0 star average review from 75 ratings and their Android app had a 3.9 star average review from 19 ratings.
Identity verification
Colossalbet will attempt to verify your identity automatically with an online identity verification company such as Green ID. If that process is unsuccessful, they may request that you email scanned copies of additional identification documents.
Dormant account fees
None that we're aware of
Win limits
Metropolitan Thoroughbreds Win/Place: $100,000
Metropolitan Thoroughbreds Exotics: $50,000
Provincial Thoroughbreds Win/Place: $50,000
Provincial Thoroughbreds Exotics: $20,000
Metropolitan Greyhounds/Harness Win/Place: $20,000
Metropolitan Greyhounds/Harness Exotics: $5,000
Provincial Greyhounds/Harness Win/Place: $20,000
Provincial Greyhounds/Harness Exotics: $5,000
International Thoroughbreds Win/Place: $20,000
International Greyhounds/Harness Win/Place: $5,000
International SP Derivative Exotics: $5,000
International Tote Derivative Exotics: $5,000
Racing Multi: $250,000
Sports Multi: $250,000
Racing & Sports Multi: $250,000
Same Race Multi: $250,000
Same Game Multi: $50,000
Odds limits
For racing exotics derived from the Colossalbet SP, the maximum odds are:
Exacta: 501.00
Quinella: 501.00
Trifecta: 2001.00
First Four: 250.00
Support
Email, phone, online chat
Problem gamblers
The Gambling Assist section enables you to set a deposit limit (value and period) as well as set an enforced break period (between 1 day and six months). Members can also deposit limit during the sign up process.
Betting Interface and Website Layout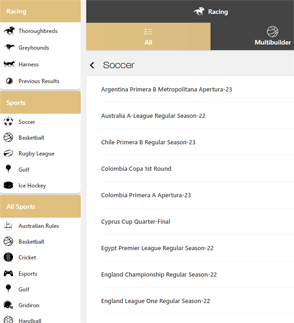 Colossalbet employs a responsive website design that tailors the layout to the screen size of your device. This review will focus on the layout that is displayed to PC & laptop users.
Colossalbet employs the ubiquitous three-column layout with main navigation displayed on the left, sports, leagues & odds in the centre and the betting slip on the right. Account details are accessed by clicking on the account balance at the top of the page.
Once a sport is selected the centre column displays a list of leagues alphabetically, followed by an alphabetical list of futures markets. The listing approach takes a bit of time to get used to. For example, to view English Premier League fixtures you select "England Premier League Regular Season-22." To view the futures market you would select "English Premier League 2022/23 – Winner."
For basketball the options include:
Australia NBL Finals
US NBA Regular Season-22
NBA 2023 – MVP
NBA 2023 – Rookie of the Year
NBA 2023 – Eastern Conference Winner
NBA 2023 – Western Conference Winner
NBL 2022/23 – Winner
We tripped up initially looking for the NBA fixtures, only to find they are listed as US NBA rather than NBA like the futures markets. Likewise NBL futures start with NBL while NBL fixtures are listed as Australia NBL.
While the occasional delay in finding the right league is only minor, the current display approach could do with improvements. With practice the lists become more intuitive, however, and the navigation becomes faster.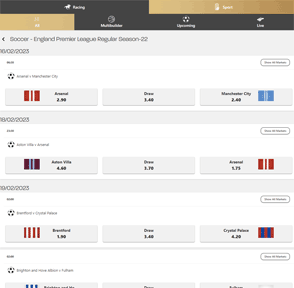 Once a league is selected either the head-to-head or line odds for the upcoming fixtures are listed in the centre column. 'Same Game Multi' links are listed for each fixture where same-game multi betting is supported. 'Show All Markets' links are provided for fixtures with additional markets, but the number of available markets is not listed.
The full list of markets for a fixture is displayed when you click 'Show All Markets'. To save on screen space, the head-to-head market is displayed with the odds shown, while the remaining market categories need to be clicked on to toggle on the display of the associated odds.
The block-like approach highlights the mobile-friendly thinking behind the design. While PC users would appreciate a more concise display of the odds, the upside is you can easily use the website on your mobile if you don't wish to download an app.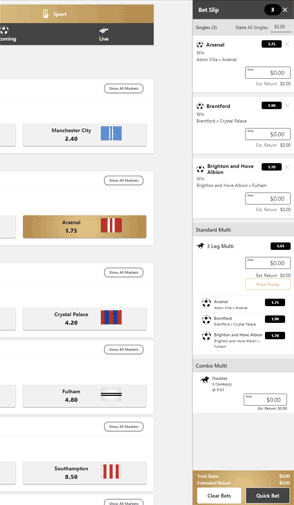 When a selection is added to the betting slip it is highlighted in the centre column. You can set one stake to apply to every selection or you can input a unique stake for each selection. When stakes are submitted the potential payouts are displayed.
Multi betting options are provided at the bottom of the slip. One-click exotic multis like Yankee, Super Yankee, Heinz aren't supported but you can manually create these by using the 'doubles', 'trebles', 'four picks', etc., options. This approach actually gives you greater flexibility because you can vary the stake levels between the leg numbers. For all-up multis, the potential payout is displayed once you input a stake.
One unusual feature is the bet slip defaults to quick bet, which means once you click submit the bet is processed without having to press a confirm button. You can opt to change this setting in the account area.
Overall the betting slip is intuitive and has all the features you need.
Bookmaker Margin
The bookmaker margin (overround) is a measure of the bookmaker's profit margin for an event and is a hidden transaction cost for punters. This profit is how bookmakers finance their services but bookmakers vary in the margins they apply. From a punter's perspective, the lower the margin, the better. Learn more about bookmaker margins.
Colossalbet recorded the best racing margins out of the nine bookmakers in our latest bookmaker margins survey. They topped each of our thoroughbreds, greyhounds and harness surveys. Colossalbet also topped the survey for offering the (joint) best available odds on 42% of the surveyed runners.
Colossalbet was less competitive in our sports margins survey, however they did offer the joint best observed odds for 16% of the surveyed selections.
Sports Leagues and Markets
The range of leagues is a deep as you could possibly ask for. Using soccer as an example, leagues from countries such as Kuwait, Mexico, Panama, Colombia, Qatar, Chile and Denmark are all covered. We observed that the leagues selection is stronger on the weekend than it is during the week. Using English soccer as an example, we observed the Premier League and Championship during the week but it wasn't until the weekend that we observed markets for League One, League Two, National League, National League North and National League South.
An excellent range of markets is offered per fixture. For example, we observed 100+ markets midweek for EPL & A-League fixtures, 40+ markets for the NBA and 30+ markets for the NBL.
Same-game multis are offered, but not for as wide a range of leagues as the largest bookmakers.
Unusually for a new entrant to the Australian bookmaking scene, Colossalbet does offer in-play betting.
Overall, the casual punter will find everything they need and the service is strong enough to work as a standalone membership.
Horse Racing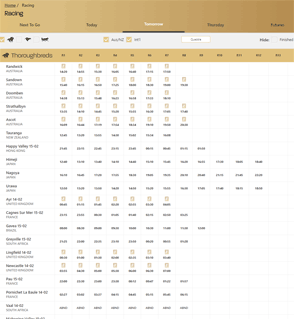 The Colossalbet interface is easy to use and the navigation is excellent. Icons are provided at the top of the centre column to toggle on and off the display of the thoroughbred, harness and greyhounds racecards. You can also toggle the display of Australian and international venues.
A wide range of overseas thoroughbred venues are covered in addition to the Australian and New Zealand racecards. Overseas greyhounds and harness racing are also offered.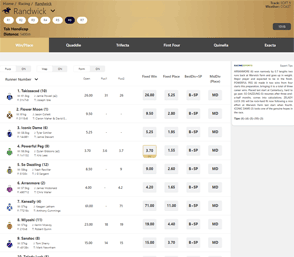 In addition to fixed odds wagering, the primary products for thoroughbreds are BestDiv + SP (win) and MidDiv (place).
Race comments and tips are provided for each race. Fluctuations and speed maps can be toggled on and off, along with detailed form guides for each runner.
Fractional betting is available for racing exotics.
The fixed odds are competitive. It didn't take long for us to find midweek markets that had lower margins (better odds) than well-known bookmakers. For example we observed the following odds for a midweek greyhound race:
Colossalbet: 2.60, 2.60, 126, 9.50, 3.20
Two major bookmakers: 2.50, 2.50, 101, 8.00, 3.20
Colossalbet also offers competitive fixed odds for thoroughbred racing. For the first midweek race we observed, Colossalbet offered the highest odds for three of the seven runners compared to a group of other surveyed bookmakers.
Fans of fixed odds wagering who like to shop around for the best odds should definitively consider adding Colossalbet to their portfolio of memberships.
Extra Features
Members can obtain a Colossalbet Mastercard. This provides instant access to the withdrawable balance of your Colossalbet account. The account funds can be spent wherever Mastercard is accepted, in both Australia and abroad. The balance can also be withdrawn as cash from ATMs.
Another noteworthy feature is Colossalbet IQ. This service generates tailored betting tips based on your previous interactions with Colossalbet. These take the forms of bet recommendations accompanied by the reasoning behind them. The very first tip we received turned out to be a winner at 11.00 odds. To access Colossalbet IQ, click on your account balance at the top of the page, select My Account and then click on the 'Colossalbet IQ' tab next to Overview.
Upsides
Highly competitive fixed racing odds
Strong selection of leagues and markets per fixture
Low minimum bet
Low minimum credit/debit card deposit
Members can apply for a Colossalbet Mastercard
Colossalbet IQ tips
Fractional betting is supported for racing exotics
In-play phone betting is supported
Australian-owned
Detailed help centre
Live chat support
Downsides
POLi2 wasn't offered as a deposit method at the time of review
Sporting leagues navigation could do with some refinement
Markets aren't made available for the more obscure leagues until later in the week
Bottom Line
Colossalbet is a well-rounded bookmaker that is good enough to work as a standalone membership for beginners, while seasoned punters will appreciate it for fixed odds racing shopping. The interface works well, a strong range of leagues and markets is offered, same-game multis are available on the popular leagues and in-play betting is available. Added bonuses are the Colossalbet Mastercard and Colossalbet IQ tips. The leagues navigation could be a littler easier but that's only a minor complaint. Colossalbet is worth checking out for novice and seasoned punters alike.
Notes and Sources