This page lists active sports betting, tipping and fantasy competitions. Scroll down the page or use the quick links below to view each promotion.
---
AFL & NRL Million Dollar Tipping Competitions
(
NOTE:
regulation prohibits the publishing of promotions or inducements in New South Wales. Based on your IP address it appears you are not in NSW so we can display the following competition details to you.)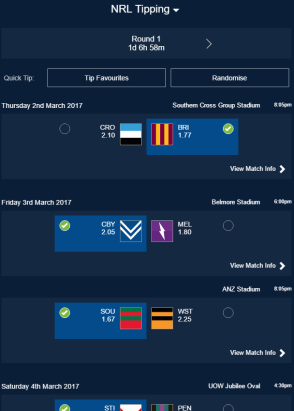 Sportsbet
has again launched its free
Million Dollar Tipping competition
for the 2020 NRL and AFL seasons. The NRL and AFL competitions combine for $1,000,000 in total cash and bonus bet prizes. The top tipsters for each code will win $20,000 at the end of the season, with the top 250 participants receiving a cash prize. In addition the top tipsters each round will receive $10,000. The competitions are open to all
Sportsbet
account holders and they are free to enter. You can sign up at anytime during the season. While this will make your chances of winning end of season prizes unlikely, you will still have as good a chance as anyone to win the weekly prizes. To participate, simply pick the match winners each round. Your ranking will depend on how many games you pick correctly. For a selected game each week you will also input your best guess for the winning margin. Your cumulative accuracy for the winning margins serves as a tie-breaking rule. The NRL and AFL competitions are separate, so you can join one or both.
Click here to learn more
Return to Top
---
NRL First Try Scorer – $1,000 prize each week
NOTE: regulation prohibits the publishing of promotions or inducements in New South Wales. Based on your IP address it appears you are not in NSW so we can display the following competition details to you.
Predict the 1st Try Scorer and the minute of the 1st try to win a share of $1,000 each week. Unibet will nominate a game each round. This promotion starts on 14/03/20 and will end on 04/10/20. Players who correctly predict the first try scorer as well as the minute of the first try will share the Jackpot. If there is more than one winner in a round, the Jackpot will be shared between all winners. Winners will be contacted within 2 business days of the game settling. To check the results, visit the My Picks section. If there is no winner, the Jackpot will not be paid out for this round. The Jackpot will roll over to the next round. If the successful 1st Try Scorer was not listed, the Jackpot will roll over to the next round. NSW Permit No. LTPS/20/42404.
Return to Top
---
NBA Instant Million Competition
NOTE: regulation prohibits the publishing of promotions or inducements in New South Wales. Based on your IP address it appears you are not in NSW so we can display the following competition details to you.

Win up to $1,000,000 in cash every day of the NBA season where there are at least 5 games through PointsBet's NBA Instant million competition.
HOW TO ENTER
Bet $25 or more on NBA to receive a token to play. Note that if games have already started that day, you will be entering for the following day. Go to the account side bar (top right of website/app) to enter. Select the winner and winning margin in 5 NBA games exactly: E.g. Lakers by 7, Bucks by 11… etc.
HOW TO WIN
Select 5/5 games correctly and you will be paid $1,000,000 AUD assuming you are the only PointsBet account holder with 5/5 correct entries that day. If multiple correct entries are made, the $1,000,000 will be divided amongst the winners. If you miss out on going 5/5 but get as least 2 selections correct you will be awarded a $50 bonus bet.
Return to Top
---
Draftstars Daily Fantasy Sports
Draftstars is the leading daily fantasy sports operator in Australia. It offers contests for the AFL, NRL, MLB, NBA, NFL, NHL, soccer, golf and cricket.
Daily fantasy sports (DFS) is a type of sports fantasy game where members pay an entry fee and compete in a contest against each other by building/drafting a squad for an upcoming fixture (or list of fixtures) whilst remaining under a salary cap. Points are earned based on the real-life performance of the selected players. As opposed to season-long competitions, daily fantasy sports games last for a short-period of time, such as one day of competition (e.g. Saturday AFL matches) or one specific fixture (e.g. Collingwood vs. Hawthorn). The winners receive a share of a pre-determined pot which is funded by the entry fees. A portion of the entry fees go to the DFS provider, which is how the service is funded. This fee is often called a rake.
Contest entry fees at Draftstars typically range between $2 and $50, with typical prize pools on the weekend ranging from $300 to $100,000. The number of participants to win a payout varies from contest to contest and largely depends on the number of participants.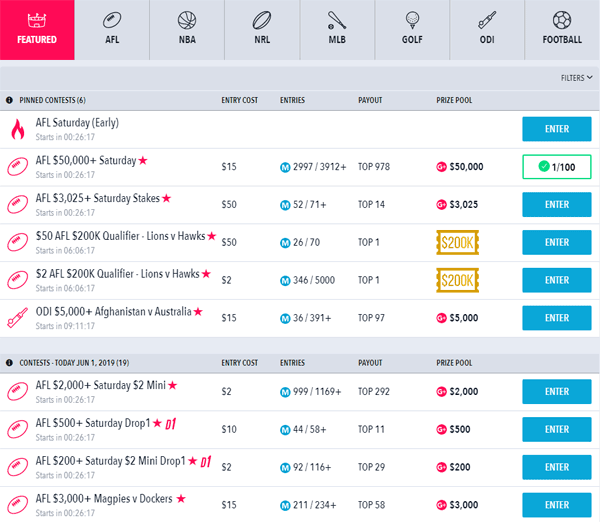 Below is a screenshot of the player selection area of an AFL game. For most sports you are required to select a certain number of players per position. Points scoring form data is provided for each player to help you make your selections. Your salary cap is displayed, along with the salary cap space remaining as you make your selections. For those who like to use spreadsheet software to help formulate their picks, form data for the players in each contest is available as a .csv file.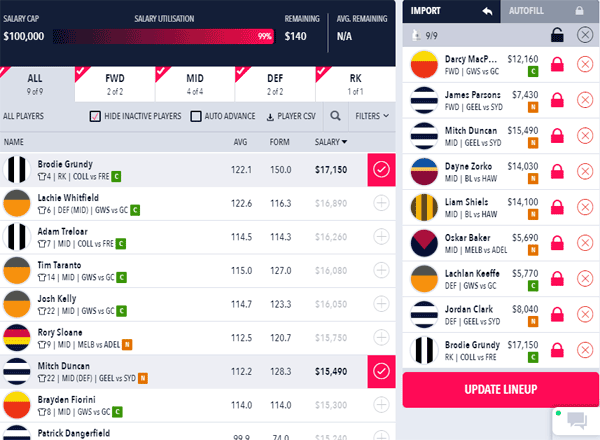 Return to Top
---
SportChamps Racing and Sports Tournaments
SportChamps offers betting competitions on Australian racing as well as popular sporting events.
For any given competition you are allocated virtual currency called ChampCash. Most tournaments give you $10,000 to spend, with the requirement that you spread those funds among at least 5 bets of $250 or more.
The profit you achieve from your virtual bets determines your place on competition the leaderboard. Your placing determines your competition winnings. The competition winnings are linked to your ladder standing only, not to your actual ChampCash profit amount.
Most tournaments have multiple places that are paid out. There are three types of payout structures:
Top % tournaments: These have a pre-determined percentage of participants that will be paid out some prize money. The two most common percentages are 25% and 40%. The higher your standing, the more prize money you will receive.
Double up Tournaments: In these tournaments, the top 45% of participants will receive double their entry fee as a payout. Everyone who receives a payout will receive the same amount.
Winner takes all: In these tournaments there is only one winner, who receives the entire prize pool of the completion minus the SportChamps commission.
Purchasing an entry to a tournament gains you one initial allocation of ChampCash. If you lose this ChampCash, and the tournament rules allow it, you can purchase a "rebuy" which gains you another allocation of ChampCash. To remain eligible for a payout, you must place a 5 bets per rebuy upon re-entry into the tournament. The number of times you can rebuy for any given tournament is determined on a tournament by tournament basis. These details are displayed on the competition info page.
You can purchase more than one entry into any given tournament. Each entry is treated separately and is displayed with a number next to your name in the leaderboard. For example: your first entry would be "username", your second entry would be "Username (2)", etc.
There is also a social element to the competitions where tournament participants can communicate with each via chat and instant message. There is also the ability for a group of friends to create their own private tournaments.
SportChamps makes money by taking a cut of the stakes raised and distributes the rest as prize money.
In terms of scale, the paid competitions range from $2 entry fees to $100 fees. The prize pools range from $50 for free tournaments to $5,000 for the $100 competitions.
Return to Top