---
IMPORTANT UPDATE
As of March 12, 2018, Australian residents can no longer wager with Pinnacle.
---
Introduction
The following is an in-depth review of the betting agency Pinnacle, formerly called Pinnacle Sports. This review covers the history, features, interface, sports & racing markets, upsides and downsides of the service.
This review is part of our comprehensive Bookmaker Reviews section. The Betting Agencies page provides information and reviews for other sports betting agencies that are suitable for Australians. The following details are updated periodically to keep them up to date.
History, Location and Licence
Founded in 1998, originally under the name Pinnacle Sports, Pinnacle is located on the island of Curaçao in the Caribbean and is licensed by the Government of Curaçao. In March 2015 Pinnacle attained a Gaming Licence with the Malta Gaming Authority (MGA) in addition to its licence in Curaçao.4 The company is a truly global sportsbook, boasting customers from over 100 countries.1
The biggest draw card of Pinnacle is its odds. To the best of our knowledge it offers the lowest margins (best value odds) of any bookmaker. Pinnacle claims to offer 60% better odds than other bookmakers and our bookmaker margin surveys support this. For example, Pinnacle offers line odds between 1.95 and 1.96, while most bookmaker line odds range between 1.90 and 1.92. The Pinnacle business model is centred around low margins and high turnover.
Pinnacle also has a reputation for offering higher limits and accepting arbitrage betting3, which appeals to high-stakes punters. Crucially, it also has an explicit 'Winners Welcome' policy. Rather than ban winners, Pinnacle identifies successful punters (largely based on those who beat the closing line/odds) and shifts lines and odds based on those members' activity. We receive complaints from punters who have had their accounts suspended for winning at other bookmakers, but we have never received any complaints from Pinnacle members.
Services and Features
Deposit options
Australian customers: credit/debit card, bank transfer (to an Australian account), EntroPay, paysafecard, iDebit, ecoPayz
Withdrawal options
Australian customers: bank transfer (from an Australian bank account – no fees), EntroPay, paysafecard, iDebit, ecoPayz
Transaction fees
None for deposits, with the exception of paysafecard, which attracts a 3.45% fee. Members get one free withdrawal per calendar month. Additional withdrawals cost between $20 and $35. Note that failure to meet their deposit roll-over threshold (three times deposit amount) will incur a 3% processing fee on the deposit and any applicable withdrawal fee.
Currencies
AUD, CAD, RMB, CZK, DKK, EUR, GBP, HKD, JPY, MYR, NOK, NZD, PLN, SEK, SGD, THB, TWD, USD, BRL, COP
Languages
English, 简体中文, 繁體中文, Suomi, Français, Deutsch, עברית, Italiano, 日本語, Norsk, Polski, Português, Русский, Español, Svenska, ภาษาไทย
Odds formats
Decimal, American, Hong Kong
Minimum deposit
Skrill, bank transfer, Neteller: $15
Entropay: equivalent to EUR €20
Credit card: $25
Paysafecard: $20
Minimum withdrawal
Skrill, bank transfer, Neteller: $15
Entropay: equivalent to EUR €15
Paysafecard: $20
Minimum bet
$1 USD or the equivalent in your local currency (about AUD $1.33, but depends on exchange rate)
Maximum stake / payout
The maximum stake limits vary per league are clearly marked when you view the odds. Pinnacle claims to offer the highest maximum limits for Internet betting in the industry. The maximums also vary depending on the odds of the selections. Some sample stake limits (taken from January 2017) are:
Australian Open Tennis H2H: Andy Murray (1.028 odds): $116,156, Mischa Zverev (21.10 odds): $3,318
NFL Line (even odds): $41,186
EPL Handicap (even odds): $28,713, EPL O/U (even odds): $19,328
Deposit turnover requirements
3x to avoid a 3% processing fee
Bonus credit turnover requirements
N/A
Bookmaker margin
2.9%, which is the lowest of all surveyed bookmakers and is well below the median bookmaker margin of 5.2% in the latest bookmaker margin survey. From a punter's perspective, the lower the margin, the better.
Quantity of markets
Averaged 8 markets per fixture in the latest bookmaker markets survey. This is well below the median score of 61.
Credit facilities
None
Forbidden Jurisdictions
Australia, the USA and its territories, the French Republic and its territories, United Kingdom, Italy, the Netherlands (including Curacao and other countries and territories that form part of the Kingdom of Netherlands), Spain, the German state of Baden-Württemberg, Singapore, Democratic People's Republic of Korea and any other country which may prohibit the offering on online gambling to its residents or to any person within such country.
Mobile betting
A mobile version of the website is available
Identity checks
Pinnacle reserves the right to request valid proof of identification from all players. Valid proof of identification includes but is not limited to, a picture ID (copy of passport, driver's license or national ID card) and a recent utility bill listing your name and address as proof of residence.
Dormant account fees
An Inactive Account Fee of €5 (or currency equivalent) per calendar month applies if:
i. there has been no log in or log out recorded on your Account for twelve consecutive months or more; and
ii. your Account is in credit
You will be notified that we will start charging you the fees on the eleventh month of inactivity and you will always have the option to log-in and withdraw your funds.
Betting Interface and Website Layout
Pinnacle currently offers three interface versions, called "views", for its website. The Asian and Classic views are shown below: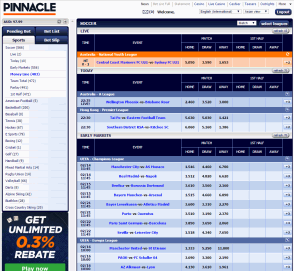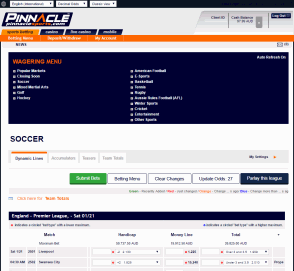 This review will focus on the "Beta view", which is shown by default to new visitors. We recommend the Beta view over the other two interfaces.
The website follows the ubiquitous three-column layout, with sports navigation on the left, markets and odds displayed in the centre and the betting slip on the right. The navigation menu doesn't feature nested links. Instead, when you click on a sport a table of leagues is displayed in the centre column above the odds. For popular sports like soccer, tabs are available to view the Featured Leagues or view all of the leagues. When you navigate to a particular event you can navigate back to the league or sport by clicking on the breadcrumbs links in the orange, horizontal panel at the top of the page.
When a league is selected the odds for all upcoming events are displayed in table format. To the right of each fixture a [+] link is available to view all markets for that game. When you click on the odds or white box to the right of a selection, the pick is loaded into the betting slip. You can enter the stake amount either to the right of the selection in the odds area or from within the betting slip.
The betting slip is somewhat unusual for those accustomed to Australian bookmakers because you have the option of entering either the stake or win amount. For example, if the selection's odds are 2.15 you could enter $10 into the stake box. This means you want to wager $10 to win a possible $11.50 profit. Alternatively you could enter $10 into the win box. The system will then calculate the stake that would win you a $10 profit, which in this case is a $8.70 stake. Be careful when entering bets for this reason!
At the top of the betting slip is a tab which enables you to toggle between viewing your betting slip and your active bets. This is highly convenient when you're entering numerous bets and
need to quickly see what your existing bets are. Below this is another tab which enables you to toggle between entering single bets and multi bets. If you enter three or more selections into the slip and switch to the multiples view, you can opt to wager combinations of lower quantities of legs. For example if you have four selections in your slip you can click on the available check marks to place one 4-leg bet, 4 3-leg bets and/or 6 2-leg bets.
One interesting feature is the "Accept Better Odds" tab. When you have enabled the feature, if your selected odds change in your favor with greater payout result, the betting slip automatically accept your wager at the higher odds without notifying you. If the feature is off it means that if your selected odds change, the betting slip will always notify you before accepting your wager.
Sports Markets
While it does offer betting on all of the popular sports, because Pinnacle is a high odds, high stakes service, it doesn't offer the same broad array of markets for each fixture that you would get with the other major bookmakers. For example, in an English Premier League football fixture, you will get a head-to-head market along with various half-time and full-time handicap and over/under markets. You won't anything else like player markets or a correct score markets.
Due to the lack of markets per fixture, we recommend using Pinnacle in conjunction with another membership.
Horse Racing
No racing is available. Pinnacle focuses purely on sports.
Live Sports Betting
Another major draw card of Pinnacle from an Australian perspective is it offers in-play betting. The range of sports and markets offered live isn't as strong as the likes of Betrally, but the odds are more competitive.
Other Features
Members can use an API to obtain Pinnacle odds and place wagers. This is a great feature for the technically minded punters who wish to set up betting applications. In order to access the Pinnacle API you must have a funded account. The Pinnacle API is a RESTful service that uses the JSON format.
Upsides
Excellent reputation in the betting community
Best odds (lowest bookmaker margins) of any bookmaker we've surveyed
Accepts arbitrage betting
Policy of not banning or limiting successful punters
Claims to offer the highest maximum limits for Internet betting in the industry.
Credit and debit card deposits are processed in Australian Dollars
Live online betting
API for odds and automated betting
New and improved Beta interface
Downsides
Limited betting selection for each event, with a focus on head-to-head, line and total score markets
Website sometimes slow
No horse racing markets
Instead of choosing a username, members are assigned a Client ID for logging in
Failure to meet their deposit roll-over threshold (three times deposit amount) will incur a 3% processing fee on the deposit and any applicable withdrawal fee.
---
IMPORTANT UPDATE
As of March 12, Australian residents can no longer wager with Pinnacle.
---
Bottom Line
Pinnacle offers by far the best value odds in the industry. For many punters, Pinnacle's biggest drawcard is its reputation for accepting high-stakes wagers and not banning successful punters. The new Beta view addresses our only previous gripe with the service, which was it's dated interface. If you wager with the genuine intent of winning money, then a Pinnacle membership is a must.
Notes and Sources