This page provides a one-stop reference for betting agencies that are suitable for Australians. The agencies listed here all offer Australian dollar accounts. Agencies fall into two categories: bookmakers and exchanges. Bookmakers are agencies that set the odds and you bet against the agency. With exchanges, the odds are determined by fellow users within a marketplace, so you bet against fellow users. Bookmakers are recommended for beginners, while an exchange membership is a must have for serious enthusiasts, because it enables you to bet against outcomes.
Some useful features and articles:
If margins are what drive you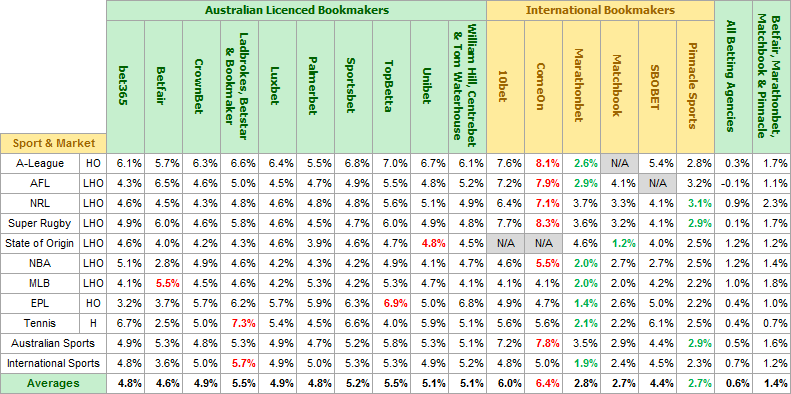 The margin is a measure of the bookmaker's profit for an event and can be regarded as a hidden transaction fee for punters. From a betting perspective, the lower the margin, the better.
The table on the right displays the fixture results from our latest bookmaker margin survey. The bookmaker with the lowest average margin for a given market is highlighted in green, while the bookmaker with the highest margin is highlighted in orange.
Pinnacle, Matchbook and Marathonbet were the standout performers, with average margins in the 2.7%-2.8% range.
Betfair was the strongest overall performer for futures betting, however Matchbook was highly competitive for the limited futures markets that it does offer.
Combining bookmaker memberships achieved an average margin of 0.6%.
View the complete bookmaker margin survey results.
Bookmakers that are suitable for Australians
Below is a short list of the best betting agencies that support Australian dollar accounts.
All new member sign up offers can be viewed here
Other overseas bookmakers that offer Australian dollar accounts are:
Notes and explanations of terms
Live betting – due to the Interactive Gambling Act, bookmakers licensed in Australia cannot offer live online betting to Australian residents. Australian customers must phone in to bet live.
Key deposit methods – other deposit methods such as cheques and Ukcash may be available, but only popular methods have been listed.
POLi – enables you to make online bank transfers that are acknowledged immediately by the bookmaker. This feature is only available for Australian bank accounts.