Introduction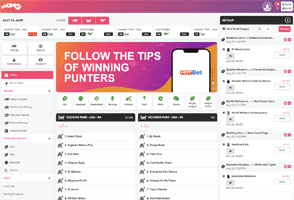 The following is an in-depth BoomBet review. This review covers the history, features, interface, sports & racing markets, upsides and downsides of the service.
This review is part of our comprehensive Bookmaker Reviews section. The Betting Agencies page provides information and reviews for other sports betting agencies that are suitable for Australians. The following details are updated periodically to keep them up to date.
History, Location and Licence
BoomBet is an Australian-owned bookmaker that is licensed in the Northern Territory. The service was originally founded as Sportsbetting.com.au back in 1998 before the bookmaker was re-branded as BoomBet in late 2021. The owning company is BoomBet Pty Ltd (ACN 141 712 665) and the registered office is in Brighton, Victoria.1
BoomBet is an approved betting partner for the AFL, NRL, Cricket Australia, FFA and Tennis Australia.
BoomBet's contact details are:
Email : support@boombet.com.au
Phone: +61(8) 8967 1609 or 1300 BOOKIE (266543)
Web: live chat on their website
Facebook Messager: m.me/boombetaus
Facebook: boombetaus
Twitter: boombetaus
Services and Features
| | |
| --- | --- |
| Deposit options | Credit/debit card, POLi2, BPAY, bank deposit |
| Withdrawal options | Credit/debit card, bank transfer |
| Transaction fees | None for Australian customers. For international customers, a telegraphic/wire transfer to an overseas bank account costs $30. |
| Currencies | AUD |
| Languages | English |
| Odds formats | Decimal |
| Minimum deposit | $10.00 |
| Minimum bet | $1.00 online |
| Deposit turnover requirements | 1x |
| Accepted countries | Australia, New Zealand |
| Mobile betting | The website uses a responsive web design that tailors the layout to the screen size of your device. At the time of review their iOS (Apple) app had a 4.4 star average review from 1,900 ratings and their Android app had a 2.6 star average review from 23 ratings. |
| Identity verification | BoomBet employs a third party service to verify your identity during the sign up process. If this process doesn't work then you can confirm your identity by emailing in scanned copies of ID. |
| Dormant account fees | Your Account will be charged an inactive fee if you have not made a deposit or placed a bet for a period of more than 12 months. In order to keep your account open, you may be charged $5 per month that the account remains dormant. Your account balance will not drop below $0.00 due to inactivity fees. Inactivity fees will be deducted automatically and without notice. |
| Support | Email |
| Problem gamblers | You can set a deposit limit during the sign up process and you can request self-exclusion by contacting support |
Betting Interface and Website Layout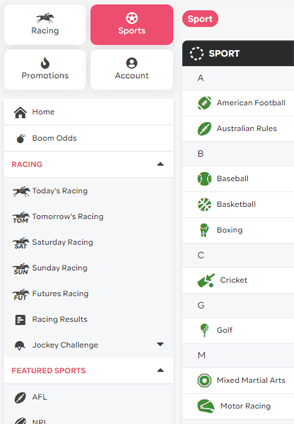 BoomBet employs a responsive web design that tailors the layout to the screen size of your device. This review will focus on the layout that is displayed to PC & laptop users.
BoomBet employs a three-column layout with main navigation displayed on the left, sports, leagues & odds in the centre and the betting slip on the right. Access to your account details is achieved by clicking on the account balance in the top right hand corner. A horizontal panel of upcoming events is displayed at the top of the page.
When you select Sports from the navigation column an alphabetical list of available sports is displayed in the centre. Throughout the website a shortlist of featured sports and quick links to popular racing pages are displayed in the left column. Breadcrumbs are provided at the top of the centre column to assist with navigation back to higher level categories.
If you select a popular sport like soccer the centre column displays a list of leagues alphabetically. For soccer in particular this can be a nuisance because you have to scroll through the lengthy list to reach popular leagues such as the EPL. Even when you get to the EPL you get the following list:
England Championship Regular Season-22
England League One Regular Season-22
England League Two Regular Season-22
England National League North North-22
England National League Regular Season-22
England National League South South-22
England Premier League Regular Season-22
English Premier League 2022/23 – Winner
"England Premier League Regular Season-22" is what you're after if you want upcoming fixtures. While the delay in finding the league is only minor, the display and league wording could be changed to make finding the key leagues easier, even if it simply means highlighting top league for each country in bold.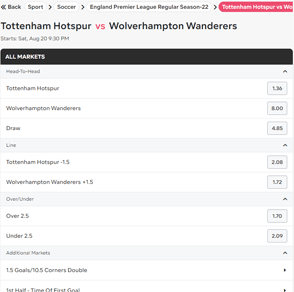 Once you select a league the head-to-head odds for the upcoming fixtures are listed in the centre column. When you click on the title of a fixture then the full list of markets for that fixture is displayed. To save on space, the main markets are displayed with the odds shown, while the remaining 'additional' markets need to be clicked on to toggle on the display of the associated odds.
The block-like approach highlights the mobile-friendly thinking behind the design. While PC users would appreciate a more concise display of the odds, the upside of the approach is you can easily use the website on your mobile rather than resort to downloading an app.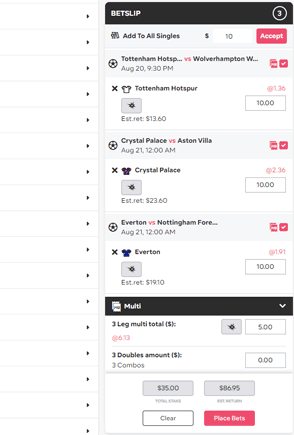 When a selection is added to the betting slip it is highlighted in the centre column. You can set one stake to apply to every selection or you can input a unique stake for each selection. When stakes are submitted the potential payouts for each bet are displayed. One excellent feature is if you add multiple selections for the same game, they are grouped together in the betting slip.
A pink 'MB' icon is shown if multi betting is available. One-click exotic multis like Yankee, Super Yankee, Heinz aren't supported but you can manually create these by using the 'doubles', 'trebles', 'four picks', etc. options. In fact, this approach gives you greater flexibility because you can vary the stake levels between the leg numbers. For the all-up multi option, the potential payout is displayed once you input a stake.
Overall the betting slip is highly functional and easy to use.
Bookmaker Margin
The bookmaker margin (overround) is a measure of the bookmaker's profit margin for an event and is a hidden transaction cost for punters. This profit is how bookmakers finance their services but bookmakers vary in the margins they apply. From a punter's perspective, the lower the margin, the better. Learn more about bookmaker margins.
The racing results for BoomBet in our most recent bookmaker margins survey were fascinating. Despite employing higher margins, BoomBet performed incredibly well when it came to offering the best odds on particular runners. They offered the best odds on 39% of the surveyed runners, which was the second best result in the survey. This highlights the fact that bookmaker margins tell only half the story. Margins can be heavily inflated if a bookmaker offers notably lower odds for a few selections, even if that bookmaker offers good value on the remaining runners. A bookmaker can employ higher margins but still be worth including in a portfolio of memberships if they frequently offer the best odds on certain selections. BoomBet is a classic example of this.
BoomBet's sports odds were less impressive, with an average margin of 6.3%, compared to the survey average of 5.8%.
Sports Leagues and Markets
The range of leagues on offer will suit most punters' needs. In addition to the main Australian codes, BoomBet covers countless soccer leagues around the world, including many lower division leagues. They even go down to the National League North & South in England. The various Australian NPL leagues are also covered. For tennis the ATP and WTA tours are covered, but ITF is not. The major American codes are offered but at the time of writing we couldn't see any NCAA leagues. For baseball the American MLB and Japanese NPB are covered, but other foreign leagues such as those in Korea, China and Mexico are not. Overall, the casual punter will find everything they need, while people with really obscure interests will need to look elsewhere.
For the popular leagues the range of markets per fixture is strong. We have observed 50+ markets for A-League and EPL fixtures, 24 markets for the AFL and NRL, 44 markets for the NHL and 22 markets for the MLB. For lower-interest sports like the NPC in New Zealand, there are 2-3 markets per game.
Same-game multis are available for a broad range of leagues.
Horse Racing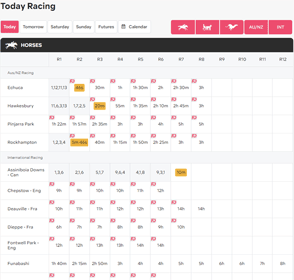 Anyone who has previously wagered on horse racing will find the BoomBet interface to be intuitive and easy to use. Quick links are provided in the left hand column as well as at the top of the centre column when racing is selected. Icons ara provided at the top of the centre column to toggle on and off the display of the thoroughbred, harness and greyhounds racecards. You can also toggle the display of Australian and international venues.
A range of overseas thoroughbred venues are covered in addition to the Australian and New Zealand racecards. Overseas harness racing is also offered.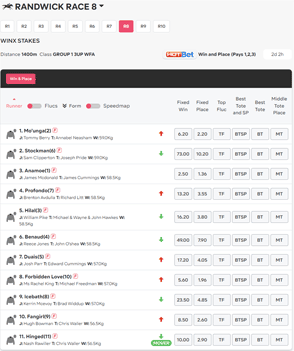 Some of the products on offer are Best Tote and SP, Best Tote (Supertab, NSW Tab, Unitab), Best of Two Totes (Supertab & NSW Tab) and Middle Tote (Supertab, NSW Tab, Unitab). BoomBet also offers TopFluc for metropolitan and provincial (domestic) thoroughbred meetings. "Best of the Best" (highest of the official Win dividends paid by Supertab, NSW Tab, Unitab and the Top Fluctuation) is available on selected metropolitan (domestic) thoroughbred meetings with a maximum stake of $500.
Form guides with runner comments as well as race previews with betting tips are provided for Australian thoroughbred and harness races.
HOT Bet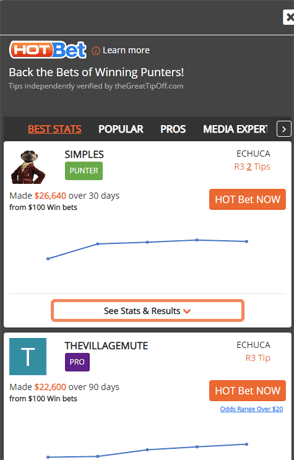 One feature that really sets BoomBet apart from the crowd is HOT Bet. This feature enables you to copy the bets of winning punters, professionals and media personalities. Rather than pay to see their tips, you enter a stake of $10 or greater for each tip and their selection is automatically processed through your betting slip. Only once you commit to employing a Hot Bet do you get to see what the selection is. Verified stats are provided to help you select a tip supplier. Prior to committing to the bet you can set a conditional rule for the acceptable odds range. You pick another runner to be selected instead if that condition isn't met.
All performance statistics for the HOT Bet suppliers are calculated using the highest tote for winning bets. When placing a HOT Bet, you can opt to either take fixed odds or use a tote product.
Punters can become tip suppliers themselves and earn commissions for HOT Bets acquired by other punters.
Upsides
Performed well in our latest bookmaker margins survey for the frequency at which they offered the best fixed racing odds on any particular runner
Innovative Hot Bet feature
100% Australian-owned
Identity verification is attempted automatically during the sign up process
POLi2 and BPAY are accepted as deposit methods
Great range of support contact methods
Downsides
Dormant account fees
In-play phone betting isn't supported
No custom-made same-game multis
Bottom Line
The BoomBet brand name is new, but this online bookmaker is one of the oldest in Australia, with its Sportsbetting.com.au heritage dating back to 1998. The interface is fast and works well, plus the sports and racing services will suit most punters' needs. What really sets BoomBet apart, however, is its innovative HOT Bet feature, which enables members to copy the bets of winning punters and professionals. Appended to this feature is the fact that any punter can turn supplier for tips to earn commissions. While they don't offer industry-leading racing margins, BoomBet performs remarkably well for the frequency at which they offer the best fixed odds on any given runner. Racing enthusiasts should consider BoomBet for this reason alone.
Notes and Sources