Introduction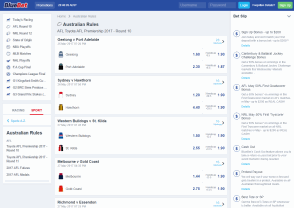 The following is an in-depth BlueBet review. This review covers the history, features, interface, sports & racing markets, upsides and downsides of the service.
This review is part of our comprehensive Bookmaker Reviews section. The Betting Agencies page provides information and reviews for other sports betting agencies that are suitable for Australians. The following details are updated periodically to keep them up to date.
History, Location and Licence
BlueBet is an Australian-owned bookmaker that was launched in late 2015. The owning company is BlueBet Pty Ltd (ABN 42 607 521 835).1 The founder and CEO is Michael Sullivan, who is the former Chief Executive of William Hill Australia. Sullivan had led Sportingbet going back to 2002 and was also CEO of Centrebet.2
Michael Sullivan said he launched the Australian betting company to take on the English-owned bookmakers who currently dominate the industry. "I really believe these big English bookmakers don't understand what the Australian punter is after and we will be offering a far more personalised service. Back when we started Sportingbet in Australia in 2002, we really gave punters an experience they hadn't been exposed to before and we will be servicing all punters in the new business whether they bet in $1 or $100,000."3
BlueBet was initially licensed in New South Wales, but switched to a Northern Territory bookmaker's licence in June 2021.
BlueBet is an approved betting partner of the Australian Rugby Union, NRL, Tennis Australia, Football Federation Australia, Cricket Australia and PGA of Australia.
Services and Features
Deposit options
Visa, MasterCard, bank transfer, POLi 5, BPAY, telegraphic transfer, cheque
Withdrawal options
Bank transfer
Transaction fees
BlueBet may pass on any charges applied by their bank in relation to telegraphic transfers
Currencies
AUD
Languages
English
Odds formats
Decimal
Minimum deposit
$10 for credit/debit card and POLi, none that we're aware of for BPAY or bank transfer
Minimum bet
The minimum online bet is $1. The minimum bet via the telephone is a total of $50. The minimum bonus bet wager is $10. The minimum wager for Flexi Betting is $1.
Maximum bets & payouts
Unless otherwise agreed, the maximum amount that may be paid out (either single, exotic or multiple wager) is $200,000 on any telephone wager and $100,000 on any Internet wager.

Unless otherwise approved in advance by BlueBet, the maximum Bonus Bet wager on any one event is $500. The maximum winnings payable on any bonus bet is $10,000. The maximum odds for a bonus bet is 101.00.

An All-Up wager may only be up to four legs. Unless otherwise agreed with BlueBet, the maximum that a Client can win from an All-Up wager is $50,000. The maximum multibet odds are 1,001.00. Top Fluctuation racing wagers are subject to a maximum payout of $20,000, with maximum odds of 101.00. The maximum odds payable for SP, Home Tote, Middle Tote and are: 26.00 for greyhound racing, 51.00 for harness racing and 101.00 for thoroughbred racing.

Deposit turnover requirements
1x. Only bets placed on the first selection in any event, both pre-match and for live betting, will count towards the turnover requirements.
Bonus bet turnover requirements
1x at odds of 1.50 or greater. Only bets placed on the first selection in any event, both pre-match and for live betting, will count towards the turnover requirements.
Bookmaker margin
BlueBet was not included in our most recent bookmaker margin survey. Early indications are that its odds are in line with the major Australian-licensed bookmakers, with 1.90-1.92 lines.
Quantity of markets
BlueBet was not included in our most recent bookmaker markets survey. Early indications are that its range of markets is less than the largest Australian licensed bookmakers.
Credit facilities
Members can apply for a credit facility
Forbidden Jurisdictions
Based on the sign up process it appears BlueBet only accepts Australian residents, however promotion terms and conditions state they are only available to clients who reside in Australia or New Zealand
Mobile betting
Android and iPhone Apps are available. The website uses a responsive design that will tailor the layout to the screen size of the device you're using.
Identity checks
Members must provide ID that shows proof of name, age and current residential address. A copy of a driver's license and/or passport would be sufficient. This can be achieved online using a greenID tool. Alternatively this information can either be sent via email or via fax. Adequate Identification must be received prior to the first withdrawal from the Account or within 30 days of opening an account.

If you use a credit/debit card to fund your account, legible copies of the front of the card may be requested by BlueBet.

If your initial deposit is via POLi they will need to see the initial deposit located on your bank statement before any withdrawal request will be accepted. This can be emailed in.

Dormant account fees
None that we're aware of
Support
Live chat, email, phone (1800 number), fax, post
Sports Markets
The quantity of sports and leagues available at BlueBet is in league with the major bookmakers. The quantity of markets per fixture isn't industry leading but perfectly adequate for most punters. To provide a snapshot example, on a Wednesday evening we observed up to 48 markets for major European football games, 22 markets for AFL fixtures, 25 markets for NRL fixtures, 11 markets for NBA playoff fixtures, 1 market for an NHL playoff fixture and 11 markets for ATP and WTA tennis fixtures.
As with most bookmakers the number of markets available peaks soon before the fixture kicks off. For example we observed an AFL fixture that was due to kick off in a few hours had 45 markets, while a fixture the following day had 22 available markets.
Betting Interface and Website Layout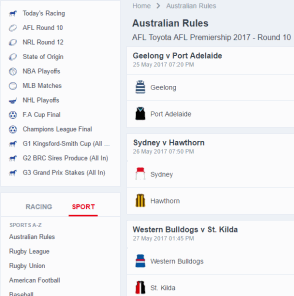 The BlueBet website uses a responsive web template that tailors the display to suit the screen size of the device you're using. You will either see one, two or three columns depending on the screen. This review will focus on the three-column layout that is displayed on laptops and PCs.
The three-column layout uses the familiar approach of listing sports on the left, markets and odds in the centre and the betting slip on the right. The sports navigation panel at first gave us the impression that only a few sports are covered, but this actually just displays the most popular upcoming fixtures. Below this are racing and sports tabs. When you select Sports you are shown a 'Sports A-Z' link which when clicked on displays the full line up of sports.
The menu doesn't use a nested link approach. When you click on a sport the centre panel is refreshed to display upcoming fixtures and the bottom portion of the navigation panel is refreshed to display the sub-leagues for that sport. If you want to view the full list of sports you to click on 'Sports A-Z' again.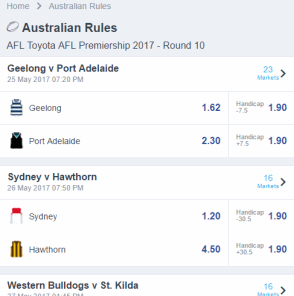 The markets and odds in the centre make it clear the template is designed to cater for touch screen devices like phones and tablets because the odds have a blocky feel to make them easy to select.
Next to every fixture is a link to view all markets, with a number denoting how many markets are available for that fixture. When you click on the link the page is refreshed to show the popular markets by default. Links are provided to access 1st half markets, 2nd half markets, first goal/try scorer, etc. A 'CO' icon appears next to any market where Cash Out is available.
On all pages breadcrumb links are available at the top of the page. From any fixture you can use these links to return to the league or main page of the sport for which the event applies.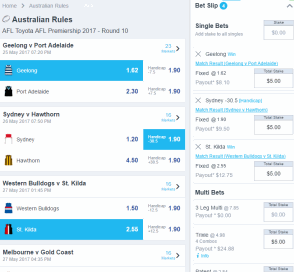 The betting slip also has a boxy feel to it which highlights the template's dual purpose of supporting mobile devices and large screens.
When you add three or more selections it will take up more than the length of the page with no visible scollbars. To scroll down to the bottom you move your cursor over the betting slip and scrollbars will then appear. Alternatively you can move your cursor over the betting slip and use the scroll wheel on your mouse.
Exotic multi options are automatically shown when three or more items are in your slip. Unlike some bookmakers, the stakes you enter into these fields represents the overall stake for that exotic multi, not the stake per leg of the exotic. For example, if you have three items in your slip and enter $10 into the stake for a Trixie (which consists of four bets: 3 doubles and a treble), the total wager is $10, not $40. For those who are unfamiliar with exotic multis, the BlueBet interface offers Info buttons that tell you what each exotic multi consists of. You can learn more about exotic multis in our Beginner's Guide to Multi Betting.
Overall, the BlueBet interface is simple and clean, with many of the elements designed to be usable by mobile devices. The only real quirk is the navigation panel, which keeps moving away from showing the full list of sports. Apart from that, the interface is intuitive and beginner-friendly.
Horse Racing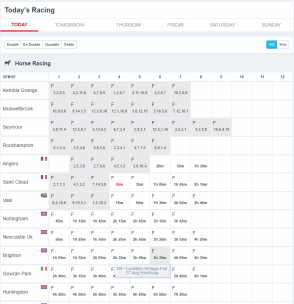 The BlueBet racing menu is accessed by clicking on Racing below the list of popular sports. A "Today's Racing" link is also provided at the top of the navigation panel.
Like in the sports section, the easiest way to navigate is by using the breadcrumb links at the top of the page. It will look soomething like [Today's Racing] > [Greyhound] > [Ballarat R12].
Below the breadcrumbs are circular links to jump to each race at that venue. For the concluded races the first four place numbers are shown while for upcoming races the time to jump is shown.
The racing selection is strong, with Australian and international venues covered for horse, harness and greyhounds. From what we observed, fixed odds are made available for all races (at least close to the race start), both domestic and international. Estimated Tote odds are also shown soon before the race starts.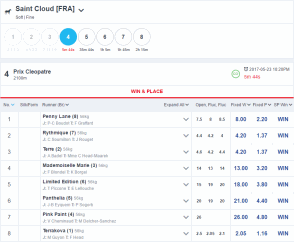 Below is a description of the BlueBet racing products. Depending on the status of the race meeting, differing products will be available daily as stated on the BlueBet website.
Best Tote Plus SP
This product is the best of either the "Best of the 3 Australian TAB Prices" or the "Official On-Course Starting Price (SP)". SP only applies to the Win Portion of the bet. For any Place Only or Each Way bet, all bets are paid at Middle Tote, or the middle dividend as declared by the 3 Australia TAB's.
Best of 3 Totes
This product is the best of the 3 Australian TAB prices. For any Place Only or each way bets, all bets are paid at Middle Tote, or the middle dividend as declared by the 3 Australia TABs.
Best of 2 Totes
This product is the better of the dividend declared by either NSW TAB or the Victorian Super TAB. For any Place Only or each way bet, all bets are paid at Middle Tote, or the middle dividend as declared by the 3 Australia TABs.
Middle Tote
This product is the middle dividend of the 3 Australian TAB prices.
Home Tote
For races within Australia, a reference to "Home Tote" dividend means the Win or Place dividend declared in the state in which the race is run with a
maximum dividend of $101. In relation to races held in Europe, Africa or the Americas, "Home Tote Dividend" is defined as the dividend declared by NSW TAB, TAB Vic, Ubet or Middle Tote as made available by BlueBet at the time the wager is placed. For all other overseas races, "Home Tote" means Vic TAB.
Win & Place Tote + 5%
BlueBet will pay a dividend 5% higher than the Victorian TAB (STAB) (On profit portion of dividend, not stake).
Exotics
All Racing exotics (Doubles, Trebles, Quinella, Exacta, Trifecta, First Four and Quadrella) are paid at the dividend declared by the Victorian TAB (STAB)
Top Fluctuation
This product is the Best Price declared by the official On-Course Bookmakers Fluctuations. Each Way Betting is only available on certain races; determined at BlueBet management discretion, based upon individual market percentages.
Unless otherwise permitted by BlueBet, Top Fluctuation wagers:
a) are only available up until 30 minutes to jump;
b) are only available until the horse shortens;
c) are to win a maximum of $20,000 (where a Client places a wager that would result in the Client winning more than the limits stated above on a Top Fluctuation bet, the balance of the stake that would result in a win in excess of the limits will be placed at the official SP, with a maximum dividend of $101.)
Best of the Best Premium (BOB)
This product is the Best of either, "Best of 3 Australian TAB prices" or the "Official On-Course Top Fluctuation". Each Way is only available on certain races at the discretion of BlueBet management. Bets must be placed 30 minutes prior to the advertised starting time on selected meetings as displayed on the BlueBet website.
MultiBets
A MultiBet (All-Up Bet) is the combination of numerous single bets which multiply the individual odds creating the total dividend. BlueBet accepts
MultiBets from 2-10 legs including a combination of Racing and Sports. BlueBet maximum dividend for this product is $1,001. MultiBets cannot be placed on "dependant events"
Fixed Odds
Fixed win & place odds are the odds received at time of placement. Fixed odds are available on the Bluebet website and may be subject to deductions where
there is a late scratching. Once confirmed, fixed odds are not subject to fluctuation.
Odds v Evens
Select whether the winner of the race will have an ODD or EVEN saddlecloth or greyhound jacket number. This market is only available when fixed odds
betting is available on an event. Please note, if a horse or greyhound is scratched that is $6.00 or shorter at the time of the scratching, all bets on the Odds Vs Evens market will be refunded. Dead heat rules apply.
Flexi betting is available, which enables you to take a Quinella, Exacta, Trifecta, First Four or Quadrella at an outlay to suit your own budget.
Live Sports Betting
Due to Australia's Interactive Gambling Act 4, live online betting is not available. It doesn't appear that live phone betting is available either.
Upsides
BlueBet is Australian owned
Founded by Michael Sullivan, a well known name in the Australian sports betting industry
Intuitive interface with a clean, simple design
Flexi betting is available
POLi offered as a deposit method 5
Can verify your identity online
Live chat support is available during office hours
Downsides
No live online betting (due to Australian law)4 or in-play phone betting
If your initial deposit is via POLi you will need to show the deposit on your bank statement before making a withdrawal
E-wallet services like Skrill / Moneybookers and Neteller aren't offered
Bottom Line
BlueBet is among a number of new Australian brands that are trying to make inroads into an industry currently dominated by English and Irish owned companies. The difference between BlueBet and the other new brands is the fact that the founder and CEO is Michael Sullivan – a well known name in the Australian online betting industry. At the moment the odds, features and range of markets are average, but perhaps more unique features will be added as the company grows.
Notes and Sources