Introduction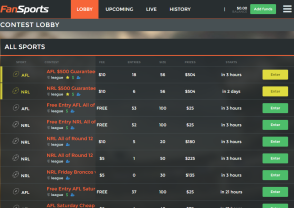 The following is an in-depth FanSports review. This review covers the history, features, interface, upsides and downsides of the service.
FanSports is a fantasy sports platform with short form fantasy sports contests, including daily and weekly contests for real money. The objective of the game is to select your players from the relevant real life games, stay under the salary cap and then accumulate fantasy points. Cash prizes are awarded to the top contestants.
History, Location and Licence
Launched in 2016, FanSports is a fantasy sports website with daily & weekly real money contests.
The games involve selecting players for upcoming fixtures while staying under a salary cap. Prizes are awarded to the members that accumulate the most fantasy points based on their players' on-field performances. Each competition has a prize pool, which is based on the number of participants. There are also marquee games with larger guaranteed prize pools as well as free contests.
The main draw card of the contests is that they have short lives so you don't have to wait until the end of the season. Some games cover one round of fixtures while others cover one particular fixture.
The sports offered by FanSports are the AFL, NRL, State of Origin and PGA golf (Majors).
FanSports is licensed to operate wagering services with the Norfolk Island Gaming Authority. It is an approved sports betting operator for the NRL and AFL.
FanSports is owned and operated by FanSports Pty Ltd, which was registered in 2015. The privately owned company is based in New South Wales with ABN 79 605 162 892.1
Services and Features
| | |
| --- | --- |
| Deposit options | Visa, MasterCard |
| Withdrawal options | Bank transfer |
| Transaction fees | None that we're aware of |
| Currencies | AUD |
| Languages | English |
| Odds formats | Decimal |
| Minimum deposit | $1.00 |
| Minimum bet | $2.00 (free competitions are available) |
| Deposit turnover requirements | None that we're aware of |
| Bonus credit turnover requirements | N/A |
| Forbidden Jurisdictions | FanSports is only available to Australian residents |
| Mobile betting | The website uses a responsive web template, providing a mobile-friendly version when viewed with a phone |
| Identity checks | To verify your account you must send upload certified copies of your photo ID along with a photo of any credit card used for deposits. Total deposits to your account are limited to $200 until your identity verification and credit card verification has been completed. To verify your bank account (which is required before you make a withdrawal), you must provide a close-up photo of your name, address, BSB and Account Number on a bank statement of your nominated bank account. |
| Dormant account fees | None that we're aware of |
| Support | Online contact form |
How to Play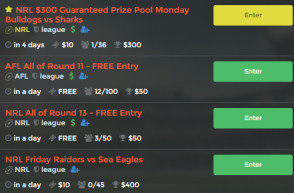 The FanSports website is easy and intuitive to use. The Lobby provides a list of available games stating the entry fee, the number of entrants so far, the full competition size (in terms of entrant numbers), the prize pool and the start time.
Each contest requires at least 20% of the available entries to start. If the contest reaches 20% of entries but does not reach 100%, the prize pool and distribution are adjusted relative to the number of entrants participating. In the event of a contest not reaching 20% of entries, the contest will not start and all entrants will receive a full refund of their contest entry fee.
There are AFL, NRL competitions. Some of cover a round of fixtures, while others cover one particular game. Every NRL and AFL fixture is given its own competition. Competitions are also made available for each State of Origin fixture and the golfing majors.

Entry fees vary depending on how high profile the competition is. They currently range from free to $10, with other tournaments having entry fees of $2 and $5. At the time of review the prizes ranged from $25 to $250 for the free competitions and $300 to $500 for the guaranteed contests.
When you click on a competition name the contest details and list of prizes is given. The number of players who receive a payout vary depending on the contest. We've seen numerous numbers ranging from the top 10 to the top 20 players.
Although there weren't any listed at the time of review, FanSports also plans to offer winner takes all head-to-head contests between two players.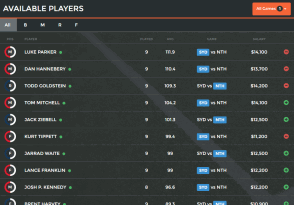 Once you select a game you are taken to a player selection menu. The players can be sorted by position, salary and average fantasy points scored to date. Plus [+] and minus [-] icons are provided to add and remove players from your team.
If you click on a player name you are given their key statistics for the season to date.
You can edit your selections up until the kickoff of the first applicable game.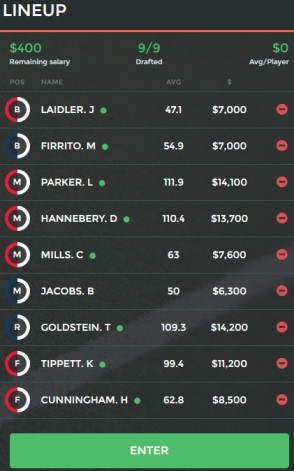 The player lineup panel lists your selected players along with your remaining salary cap funds.
For AFL contests your team must consist of:
– 2 backs
– 4 midfielders
– 1 ruck
– 2 forwards
For NRL contests your team must consist of:
– 1 hooker
– 3 forwards
– 1 half
– 3 centers or wingers
– 1 fullback
In AFL games the fantasy points are scored based on kicks, handballs, marks, disposals, hit outs, tackles, frees for, frees against, goals and behinds.
In NRL games the fantasy points are scored based on tries, try assists, tackles, tackles missed, busted tackles, offloads, line breaks, line break assists, run metres, errors, 40/20s, goals, field goals, missed field goals and missed goals.
Player scores on FanSports are calculated based on data sourced from Prozone, Opta and Sports Radar.
Upsides
FanSports is Australian owned
The games only have a short life, so funds aren't tied up for months while a season progresses
The featured competitions represent good value because the prize money is guaranteed but there aren't many entrants due to the service being so new
There are always a number of free competitions available
Downsides
POLi2 and e-wallets such as Skrill aren't offered as deposit options
Licensed by the Norfolk Island Gaming Authority, which has a tarnished history with regards to issuing gaming licences3
The only means of contacting support is through an online contact form
The prize pools are currently modest
The ID verification process isn't convenient, especially given you are required to provide certified copies
FanSports Review Conclusions
FanSports is a new and direct competitor of the Crownbet and Fox Sports joint venture, Draft Stars. A key difference is it offers AFL, NRL and Origin games as opposed to AFL, NRL and NBA contests. Because it's a newer gaming site and isn't backed by a large company, the prize pools are currently lower at FanSports, however because there are so few players at the moment it's well worth joining if you are an AFL or NRL aficionado. This is because the guaranteed prize pool games only have a modest number of entrants.
Notes and Sources
2 POLi facilitates online bank transfers that are acknowledged by the bookmaker instantly. This enables you to log into your banking provider, transfer money to the bookmaker, and place bets immediately.