Introduction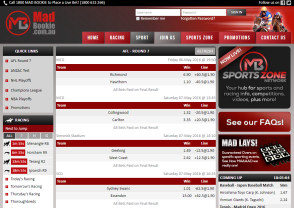 The following is an in-depth Mad Bookie review. This review covers the history, features, interface, sports & racing markets, upsides and downsides of the service.
This review is part of our comprehensive Bookmaker Reviews section. The Betting Agencies page provides information and reviews for other sports betting agencies that are suitable for Australians. The following details are updated periodically to keep them up to date.
History, Location and Licence
Mad Bookie is a newcomer to the industry, having being launched in 2015. The service is Australian owned and is currently licensed in the Northern Territory, having previously been licensed in Norfolk Island by the Norfolk Island Gaming Authority.1 Mad Bookie is owned by Mad Bookie Pty Ltd, which is has a registered office in Melbourne.2
The following are their customer support contact details:
Email: support@madbookie.com.au
Phone: 1800 623 266
Fax: (03) 8648 6350
Postal: 501 Church Street, Richmond, VIC, 3121
Mad Bookie states that it is an approved betting provider for the AFL, NRL, Tennis Australia, Cricket Australia, Australian Rugby Union and Racing Victoria.
Mad Bookie is very much a local bookmaker, with only Australian dollar accounts supported and no language other than English available on the website. For sports betting in particular, wagers are only accepted for residents of Australia and New Zealand. In terms of payment methods, e-wallets like Skrill / Moneybookers are not supported, which makes deposits and withdrawals more difficult for Kiwis who don't have an Australian bank account, so the site really is just geared up for Australians.
In April 2017 it was announced that Mad Bookie entered into an agreement to be acquired by TopBetta. The press release stated that Mad Bookie had a player base of 15,000 and turned over around $80 million per year.5
In April 2018 PlayUp Limited announced it had entered into an agreement to acquire the retail bookmaking subsidiary of Sydney-based TopBetta Holdings Limited (ASX:TBH), which includes the 'TopBetta' and 'Mad Bookie' brands. 6
In 2019 Mad Bookie merged with sister bookmakers BestBet and Betting.club, with BestBet's and Betting.club's accounts transferred to Mad Bookie.
Services and Features
| | |
| --- | --- |
| Deposit options | Visa, MasterCard, bank transfer, POLi 4 |
| Withdrawal options | Bank transfer |
| Transaction fees | Non that we're aware of |
| Currencies | AUD |
| Languages | English |
| Odds formats | Decimal |
| Minimum deposit | $1.00 |
| Minimum bet | $1.00 |
| Deposit turnover requirements | 1x |
| Bonus credit turnover requirements | Winnings from welcome bonus bets need to be turned over 3x at odds of 1.50 or more. Promo bonus bets must be wagered 1x at odds of 1.50 or more. |
| Bookmaker margin | 5.2%, which equals the median bookmaker margin in the latest bookmaker margin survey. From a punter's perspective, the lower the margin, the better. |
| Quantity of markets | Averaged 63 markets per fixture in the latest bookmaker markets survey. This is slightly above the median score of 61. |
| Forbidden Jurisdictions | Mad Bookie will only accept sports wagers by residents of Australia and New Zealand. Residents of the USA, United Kingdom, Singapore, and Hong Kong cannot place wagers. |
| Mobile betting | A mobile version of the website is available, along with iOS and Android apps |
| Identity verification | The process takes less than a minute. You can verify your identity by entering details from your driver's licence, passport, Medicare card, etc. into the account area. From our experience only your driver's licence details are required because the website automatically checks your credit history to partially identify you. Identification must be received before the first withdrawal. If identification is not received within 90 days of the account being opened, the account will be suspended, with no withdrawals allowed until verification is completed. Any wagers placed prior to the suspension will stand. |
| Dormant account fees | None that we're aware of |
| Support | Email, phone (1800 number), post |
Win Limits
| | | | | | | | | |
| --- | --- | --- | --- | --- | --- | --- | --- | --- |
| Location | Win | Place | Quinella | Exacta | Trifecta | First 4 | Quaddie | Multi |
| Australian Metropolitan Thoroughbred | $50,000 | $25,000 | $25,000 | $25,000 | $35,000 | $50,000 | $50,000 | $50,000 |
| NZ and Australian Provincial Thoroughbred | $25,000 | $15,000 | $15,000 | $15,000 | $25,000 | $25,000 | $25,000 | $25,000 |
| Australian Country Thoroughbred | $25,000 | $15,000 | $15,000 | $15,000 | $25,000 | $25,000 | $25,000 | $25,000 |
| International Thoroughbred | $15,000 | $6,000 | $6,000 | $6,000 | $15,000 | $15,000 | $25,000 | $25,000 |
| Australian Metropolitan Harness | $15,000 | $7,000 | $8,000 | $8,000 | $15,000 | $15,000 | $25,000 | $25,000 |
| NZ and Australian Non-Metropolitan Harness | $15,000 | $6,000 | $6,000 | $6,000 | $15,000 | $15,000 | $25,000 | $25,000 |
| Australian Metropolitan Greyhound | $15,000 | $7,000 | $5,000 | $5,000 | $7,000 | $7,000 | $25,000 | $25,000 |
| NZ and Australian Non-Metropolitan Greyhound | $7,000 | $5,000 | $2,500 | $2,500 | $5,000 | $5,000 | $25,000 | $25,000 |
| All other Non-Australian Thoroughbred | $7,000 | $5,000 | $2,500 | $2,500 | $5,000 | $5,000 | $25,000 | $25,000 |
| All Other | $5,000 | $2,500 | $1,500 | $1,500 | $2,500 | $2,500 | $25,000 | $25,000 |
Mad Bookie also reserves the right to impose the following net winnings restrictions:
– $20,000 for "Top Fluc" win bets and "Best Tote" wagers
– $10,000 for "Middle Tote" wagers
– $5,000 for "Top Fluc" place bets, "Best of the Best" and "Best of Two Totes" bets
Mad Bookie reserves the right to cap the maximum applicable odds for all Tote products at 101.00.
Protest-Payout is available on all Australian races with a max collect of $5,000.
At this stage we have no clear information on betting limits for sports betting.
Betting Interface and Website Layout
The Mad Bookie websites uses a very simple, but practical layout which is beginner-friendly.
An expandable list of sports and leagues is displayed on the left, with links to popular codes provided at the top. Various shortcuts to upcoming racing are also provided in this column. The centre column displays the odds while the right column displays the betting slip. A large panel at the top of the page lists your available funds along with bonus funds and pending bets.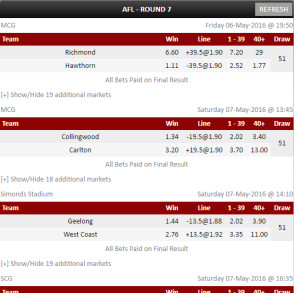 The markets and odds displays are concise, which avoids lengthy scrolling that you sometimes see with other websites.
A "[+] Show/Hide X additional markets" link is provided below each fixture, which when clicked displays a list of markets, but without the odds. When you click on a market the odds are dynamically shown without any page refresh, however you can only view the odds for one market at a time. Clicking on a second market will cause the odds display for the first selection to collapse.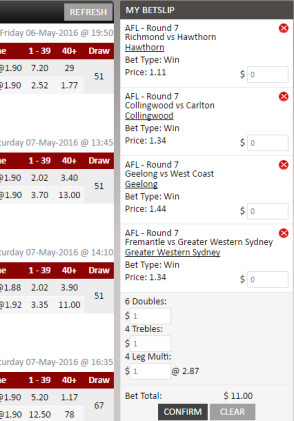 Like the rest of the interface, the betting slip is simple and intuitive.
When multiple selections are added you will be provided with multi selection boxes to create doubles, triples, etc., along with a multi that includes all selections. You can enter stakes into the various selection boxes to create customised exotic multis like Trixies, Yankees, etc. You can submit these wagers in addition to single selections without having to tab between any displays like you sometimes see with other bookmakers.
Overall, we really like the betting interface. The template is easy on the eye and the navigation in particular is easy and intuitive. The only bug we found was on occasion we found ourselves suddenly logged out, often soon after logging in. Whether or not this was due to having the website open in multiple tabs at once, we don't know. On that note, one strong feature of the interface is that if you have multiple tabs of the website open and you place a wager, the displayed available balance and pending bets will be updated every tab.
Sports Markets
The Mad Bookie sports betting selection is adequate for most punters needs, however the range of markets is not as strong as the largest bookmakers for overseas sports. With that being said, the range of markets per fixture is improving all the time. Mad Bookie is slower than average to list markets, however, with most markets not available for weekend fixtures until Tuesday.
Horse Racing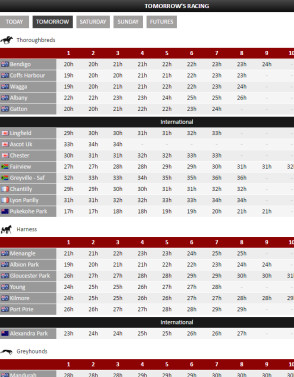 Mad Bookie offers tote betting on horse racing venues across Australia, New Zealand, South Africa, France, England and Ireland. Greyhounds and harness racing is also offered for Australia and New Zealand.
Fixed odds betting is offered for all forms of racing in Australia and New Zealand. For typical horse racing events in Australia Mad Bookie offers Best of 3 Totes for Win bets and Mid Tote for place wagers. For greyhounds and harness racing you will often see Win Tote +5%.
Win, Place, Each Way, Quinella, Exacta, Trifecta and First Four wagers are available for harness and greyhounds while Quadrellas are also offered for horse racing.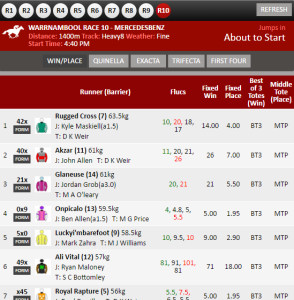 The interface is simple and intuitive, with a concise table showing the day's venues and races.
The event interface is also nice and simple. Predicted Tote odds are typically displayed on the day of the event.
Live Sports Betting
Due to Australia's Interactive Gambling Act 4, live online betting is not available. Australian customers must phone in to bet live. The in-play offering is very limited. Rather than viewing markets and prices online before calling, you must call in to be quoted a price.
Upsides
Mad Bookie is Australian owned.
Both online chat and email support were fast and very friendly in response to our queries.
The interface is incredibly intuitive, with a much faster and more convenient navigation menu than what you often get with other bookmakers.
The odds are displayed concisely, with the most popular markets shown all together, which avoids too much scrolling when looking at a line-up of fixtures.
Downsides
No displayed in-play odds. You must phone in to receive a quoted price.
Slower than average to provide markets for upcoming fixtures
No online means of verifying your account. You must send scanned copies of identification by email, fax or post. In their defence, however, Mad Bookie responded to our validation email very quickly, so we were set up and verified in no time.
E-wallet services like Skrill / Moneybookers and Neteller aren't offered, which makes the service less suitable for Kiwis who don't have an Australian bank account.
When you submit a forgotten password request, Mad Bookie emails you the password rather than resets it, which suggests the website doesn't store passwords in encrypted form. When creating an account we recommend you choose a different password to the one(s) you use for major services like email and banking.
Bottom Line
Mad Bookie is one of a few Australian-owned bookmakers trying to mix it with the large foreign-owned services that are licensed in Australia. Our first impressions were actually poor due to some niggles with the sign up form, but Mad Bookie has grown on us since due to the ease of making a deposit and the speed with which they responded to our account verification email. The betting interface is the highlight of the service due to the intuitive navigation menu and concise display of odds. Our initial review found the range of markets to be small, but this has since been rectified. Mad Bookie finished above average for the number of markets offered in our latest bookmaker margins and markets survey.
Notes and Sources