Introduction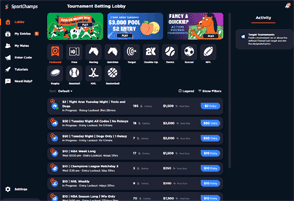 The following is an in-depth SportChamps review. This review covers the history, features, interface, sports & racing markets, upsides and downsides of the service.
This review is part of our comprehensive Bookmaker Reviews section. The Betting Agencies page provides information and reviews for other sports betting agencies that are suitable for Australians. The following details are updated periodically to keep them up to date.
History, Location and Licence
SportChamps is an Australian-owned sports and race betting competition website that was launched in late 2017. The website provides free and paid betting competitions where prize money is awarded to those who achieve the highest hypothetical profit using virtual funds. At the time of writing there are over 200 free tournaments weekly.
A few years after its launch as a competition website, Sportchamps added a Racebook to offer thoroughbred, greyhounds and harness wagering across Australian and international venues.
The service was founded by well-known bookmaker Alan Eskander, who had previously launched Betstar before selling it to Ladbrokes in 2014.2
SportChamps is licensed and regulated by Australia's Northern Territory Government. For South Australian residents, SportChamps gambling operations are governed by the South Australian Gambling Codes of Practice. The owning company is SportChamps Australia Pty. Ltd (ABN 94 609 880 864). The company's registered office is in Melbourne.1
What Are Betting Competitions?
SportChamps offers betting competitions on Australian racing as well as popular sporting events.
For any given competition you are allocated virtual currency called ChampCash. Most tournaments give you $10,000 to spend, with the requirement that you spread those funds among at least 5 bets of $250 or more.
The profit you achieve from your virtual bets determines your place on competition the leaderboard. Your placing determines your competition winnings. The competition winnings are linked to your ladder standing only, not to your actual ChampCash profit amount.
Most tournaments have multiple places that are paid out. There are three types of payout structures:
Top % tournaments: These have a pre-determined percentage of participants that will be paid out some prize money. The two most common percentages are 25% and 40%. The higher your standing, the more prize money you will receive.
Double up Tournaments: In these tournaments, the top 45% of participants will receive double their entry fee as a payout. Everyone who receives a payout will receive the same amount.
Winner takes all: In these tournaments there is only one winner, who receives the entire prize pool of the completion minus the SportChamps commission.
Purchasing an entry to a tournament gains you one initial allocation of ChampCash. If you lose this ChampCash, and the tournament rules allow it, you can purchase a "rebuy" which gains you another allocation of ChampCash. To remain eligible for a payout, you must place a 5 bets per rebuy upon re-entry into the tournament. The number of times you can rebuy for any given tournament is determined on a tournament by tournament basis. These details are displayed on the competition info page.
You can purchase more than one entry into any given tournament. Each entry is treated separately and is displayed with a number next to your name in the leaderboard. For example: your first entry would be "username", your second entry would be "Username (2)", etc.
There is also a social element to the competitions where tournament participants can communicate with each via chat and instant message. There is also the ability for a group of friends to create their own private tournaments.
SportChamps makes money by taking a cut of the stakes raised and distributes the rest as prize money.
In terms of scale, the paid competitions range from $2 entry fees to $100 fees. The prize pools range from $50 for free tournaments to $5,000 for the $100 competitions.
Services and Features
| | |
| --- | --- |
| Deposit options | Visa, MasterCard, bank transfer |
| Withdrawal options | Bank transfer |
| Transaction fees | None that we're aware of |
| Currencies | AUD |
| Languages | English |
| Odds formats | Decimal |
| Minimum deposit | $1, but keep in mind that the lowest entry fee for a paid competition is $2 |
| Minimum bet | New members are entitled to enter five free tournaments that don't require any deposit to enter. The smallest competitions cost $2 to enter. |
| Minimum withdrawal | $5 |
| Maximum bets & payouts | The largest tournaments cost $100 to enter. The maximum amount a member can win per day is $35,000. |
| Deposit turnover requirements | Any deposits into an account must be "Turned Over" or "bet through" at least once prior to processing a withdrawal |
| Bookmaker margin | SportChamps takes a cut of the stakes raised and distributes the rest as prize money. The default fee is 12.5%. |
| Quantity of markets | For racing events you can place virtual win, place, quinella, exacta, trifecta and first four wagers, along with rolling doubles, daily doubles and quaddies. For sporting events you can pick from 30+ markets per game. This includes Match Result, First scorer, Half-time/Full-time, Total Points Over/Under, Handicap, 1st Half Handicap, etc. |
| Forbidden Jurisdictions | Based on the sign up process it appears SportChamps only accepts Australian residents |
| Mobile betting | Android and iPhone Apps are available. At the time of writing the Android app had a 4.2 star average rating from 85 reviews, while the iPhone app had a 3.5 rating from 135 reviews. The website uses a responsive design that tailors the layout to the screen size of the device you're using. |
| Identity checks | You can quickly confirm your identity from the account area. The process involves entering details of 1 to 3 forms of ID. Typically just entering your driver's licence details is sufficient. SportsChamps uses the third-party provider Edentiti to confirm your details. After 45 days, you will be unable to make further deposits unless you complete this verification process. |
| Self-exclusion | You can set your loss and deposit limits on a daily, weekly or monthly time-frame. You will not be able to lose or deposit more cash within that period than you have set, however you will be able to continue to play with your winnings from tournaments. |
| Dormant account fees | Your account will be deemed as inactive if you have not made a deposit or placed a bet for a period of more than 18 months. To keep your account open, you must pay a fee of $10 per month, which will be deducted from your inactive account until such time as your account becomes active or your balance reaches $0. |
| Support | Live chat, email, mail |
Sports Tournament Markets
In addition to racing tournament, SportChamps offers sports competitions. The sports and leagues on offer include the AFL, NBA, NRL, MLB, Formula 1, cricket and various soccer leagues. They also offer multi sports tournaments were you try to accrue the maximum profit across all available sports.
Betting Interface and Website Layout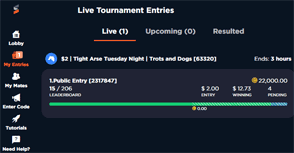 The SportChamps website uses a responsive web design that tailors the display to suit the screen size of your device. This review will focus on the layout that is displayed to laptops and PCs.
The website has a three-column layout. The left column provides the navigation menu, the main centre column lists competitions and markets, while the right column displays your activity feed.
The main navigation options are:
Lobby – takes you to a list of available competitions to enter.
My Entries – lists the competitions you are currently part of or have previously been part of. Next to this is a number indicating how many active competitions you are involved in.
My Bets – lists all individual bets you have made as part of your competitions.
My Mates – enables you to establish links and communicate with friends who are SportChamps members.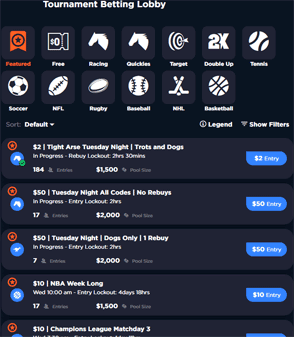 The lobby provides a list of available competitions to enter.
Each competition is listed with the prize pool amount, number of entrants, what percentage of participants will finish in the money, the entry fee and how many re-buys are permitted.
An icon will also show whether the competition has a rolling format, where you can use winnings from prior bets to wager on upcoming events, or whether it has a Bet 'N' Go format, where you spend your virtual money once. The rolling format typically applies to competitions involving numerous races throughout the day or a competition based on a full day or full round of a particular league's sporting fixtures. The Bet 'N' Go competitions typically concern one particular fixture like a specific AFL game.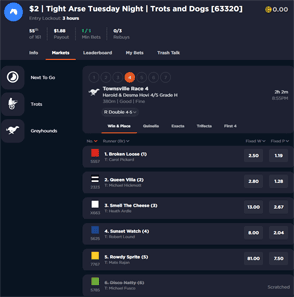 Once you've entered a competition the odds area for sport and race betting closely resembles that of a typical bookmaker.
You navigate through the events and markets and click on selections to add them to your betting slip. You then choose your stake amounts using the virtual currency ChampCash and submit your bets. The system will automatically prevent you from choosing a stake amount that would render you unable to complete the requirement of placing at least 5 bets of $250 or greater using your $10,000 of virtual cash.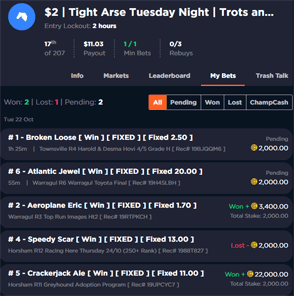 For racing tournaments that involve multiple races and employ a rolling format you can make further bets during the game with winnings obtained from earlier bets.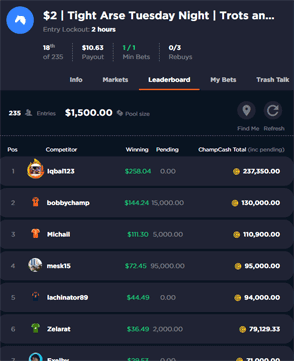 You can track your progress during the competition by viewing the leaderboard. This shows the provisional payouts to the top competitors.
By clicking on the 'Find Me' button you can jump to your position in the table and see your current provisional payout, along with those of the players immediately above and below you.
Overall, the interface is fast to load and intuitive to learn. Beginners to tournament betting shouldn't have too many troubles finding their way around and the provision of 5 free tournament entries to newcomers provides a great way to familiarise yourself with the service.
Racebook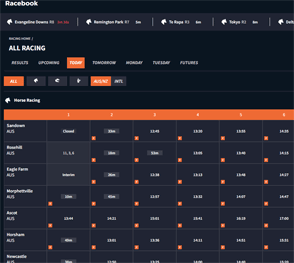 The Sportchamps racing interface is intuitive to use, simply because it feels so familiar for those who have wagered with other bookmakers. Navigation is easy. Breadcrumbs are provided and links to upcoming days and futures are easy accessible. Icons are provided to toggle on and off the display of the thoroughbred, harness and greyhounds racecards. You can also toggle the display of Australian and international venues.
Many overseas thoroughbred venues are covered in addition to the Australian and New Zealand racecards. Overseas greyhounds and harness racing are also offered.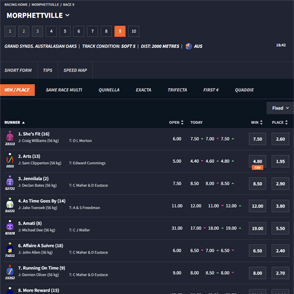 In addition to fixed odds wagering, the primary products for thoroughbreds are top tote for win markets and mid tote for place markets.
Race comments and tips are provided for each race. Short form, odds fluctuations and speed maps are available.
Fractional betting is available for racing exotics and same-race multis are supported.
In our latest bookmaker margins and markets survey, SportChamps offered highly competitive fixed thoroughbreds odds, recording an average margin that was only marginally higher than the survey winner. SportChamps was far less competitive for fixed odds harness and greyhounds wagering, however.
Upsides
Over 200 free tournaments weekly
Highly competitive margins for fixed odds thoroughbreds wagering
SportChamps is Australian-owned and was launched by Alan Eskander, who is a well known name in the betting industry.
You can verify your identity online without the need to submit scanned copies of ID
SportChamps had an average rating of 4.5 with TrustPilot at the time of review 3
Same-race multi betting is supported
Low $5 minimum withdrawal amount
Downsides
High margins for fixed odds harness and greyhounds wagering
Limited range of deposit options, with POLi not yet available 4
No sports wagering
Inactive account fees
Bottom Line
SportChamps is the latest entrant into the tournament betting scene in Australia. While the service is still young, it is growing fast, with a reported 50% increase in membership each month.2 At the time of writing SportChamps offers over 500 tournaments per week with $300K+ in monthly payouts. We really like the provision of 200 free tournaments weekly, which provide an opportunity for newcomers to learn the ropes without having to commit to making a deposit. The main drawback is SportChamps doesn't offer sports betting in addition to its competition betting and racebook. SportChamps is definitely worth a look for those who enjoy tournament betting and given the provision of free tournaments, it is also worth a look for those who are simply curious. Fixed odds racing enthusiasts will also appreciate their competitive thoroughbreds margins.
Notes and Sources