---
IMPORTANT UPDATE
As of September 2017 TonyBet no longer accepts customers who are residents of Australia.
---
Introduction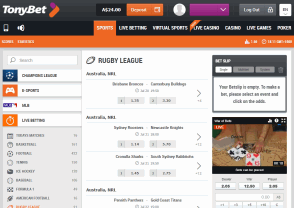 The following is an in-depth TonyBet review. This review covers the history, features, interface, sports & racing markets, upsides and downsides of the service.
This review is part of our comprehensive Bookmaker Reviews section. The Betting Agencies page provides information and reviews for other sports betting agencies that are suitable for Australians. The following details are updated periodically to keep them up to date.
History, Location and Licence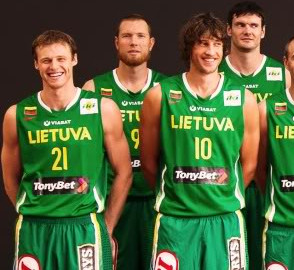 TonyBet was founded by former poker player turned businessman, politician and philanthropist Antanas Guoga, better known as Tony G. Tony G was born in Lithuania and moved to Melbourne when he was eleven. He completed high school in Australia and became an Australian citizen, then moved back to Lithuania as an adult. TonyBet currently sponsors the Lithuanian national men's basketball team.1
TonyBet's origins go back to the sportsbook Omnibet, which was founded in 2003. Tony G acquired Omnibet in 2009 and re-branded it as TonyBet, originally with the tonybet.lt domain extension.
TonyBet is licensed and regulated by the Estonian Gambling Authority. It's registered office address is Tornimäe 5, 10145 Tallinn, Estonia.
TonyBet's sportsbook services provider is Microgaming.
Services and Features
Deposit options
Skrill, Neteller, bank transfer, Visa, Mastercard, Bitcoin. When using an overseas licensed bookmaker we recommend you use an e-wallet service like Skrill or Neteller.
Withdrawal options
Skrill, Neteller, bank transfer, Visa, Mastercard, Bitcoin. As with most bookmakers, withdrawals must be made back to the financial service you used to make the deposit.
Transaction fees
TonyBet reserves the right to charge a fee should you request a withdrawal without turning over at least the deposit amount
Currencies
EUR, USD, GBP, TRY, CAD, BYN
Languages
English, Estonian, Lithuanian, Russian, German
Odds formats
Decimal, American, fractional
Minimum deposit
$10 for Skrill, Neteller, Visa, Mastercard and Bitcoin, $300 for bank transfer
Minimum bet
$1.00
Maximum bets & payouts
The maximum odds for a single selection is 15,000. For multi bets the maximum odds are 7,500. It's hard to gauge the stake limits because while the maximum stakes are automatically displayed in the betting slip, they always equal your account balance for modest account levels.
Deposit turnover requirements
1x. TonyBet reserves the right to charge a fee should you request a withdrawal without turning over at least the deposit amount.
Bookmaker margin
TonyBet was not included in our most recent bookmaker margin survey. Early indications are that its odds are in line with the major Australian-licensed bookmakers, with 1.90 lines.
Quantity of markets
TonyBet was not included in our most recent bookmaker markets survey
Credit facilities
None that we're aware of
Forbidden Jurisdictions
Australia, France, New Zealand, United States and possibly others
Mobile betting
The website uses a responsive web template that tailors the display to the size of the screen you are using. iOS and Android apps are available.
Identity checks
Prior to making a withdrawal you will have to provide three documents/details, all of which can be uploaded as scanned images or screenshots in the Profile area. You will need to provide:
1. Copy of a valid ID (driver's licence, passport, etc.)
2. Document to prove place of residence (bank statement, bill, etc.)
3. Copy of deposit slip (screenshot of your bank statement or Skrill/Netteler account, etc., showing the deposit transaction)
TonyBet will email you if there are any issues with the uploaded images. We found them to be strict with regards to what they accept, but their communication is good. The document to prove place of residence cannot be more than 3 months old.
Dormant account fees
An administration fee of €3 (or currency equivalent) is charged every 30 days to accounts that have been inactive for a consecutive period of 6 months. TonyBet will contact you 30 days in advance before the fee is first charged.
Support
Phone (UK number), email, online form
Sports Markets
TonyBet's sportsbook services partner is Microgaming, a provider of sportsbook solutions to dozens of online bookmakers. This partnership enables TonyBet to offer a wider range of leagues and markets than you would expect for a company of its size. An excellent range of sports is offered, with AFL well supported, which is unusual for a small overseas bookmaker. The website actually states, "Tony G spends a big part of his life in Australia and he has a passion for Aussie Rules football. So it comes as no surprise that TonyBet covers all of the games in the NAB Cup and the AFL Premiership."
Early indications are that TonyBet offers a mid-range of markets. Some snapshot examples include 20 markets observed per MLB fixture, up to 12 markets per NRL fixture and 36 markets per AFL fixture. Football betting is extremely strong, with over 100 markets observed for in-play football betting. As with most bookmakers, we recommend you browse the available sports and markets to gauge how well your particular needs are catered for. It could be hit or miss depending on what your interests are.
Betting Interface and Website Layout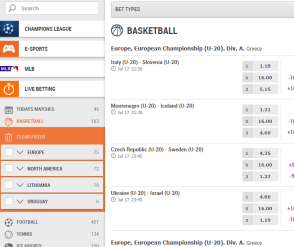 The TonyBet website uses a responsive web template that tailors the display to suit the screen size of the device you're using. You will either see one or three columns depending on your screen resolution. This review will focus on the three-column layout that is displayed for laptops and PCs.
The layout is intuitive, with sports listed on the left, odds and markets in the centre and the betting slip on the right. When you select a sport from the navigation panel the page is refreshed with a list of upcoming and popular fixtures listed in the centre column and a list of sub categories listed in the navigation panel. These sub categories use a nested feature to list third tier categories when you click on them. For example, when you select football the navigation panel lists a list of countries and regions. When you click on one of these countries a list of leagues is displayed (e.g. Premier League, Championship, League One, League Two and so on for England).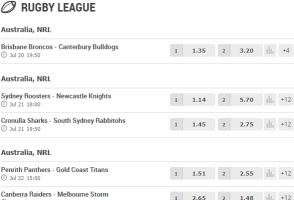 When a league is selected the head-to-head odds for upcoming fixtures are listed in the centre column. Additional odds such as line, over/under and margin aren't shown, which is a shame, because it requires more time navigating for those who don't wish to bet on head-to-head markets. The reason behind this approach is probably the responsive template design, which has mobile users firmly in mind. For this reason the designers didn't want to display more than one market for each fixture at once.
Next to each fixture is a stats icon which provides the latest results for each team as well as the latest head-to-head results. Next to this is a button with a + and a number indicating how many markets are available for that fixture.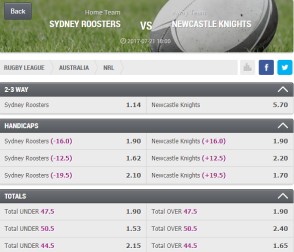 When a fixture is selected the remaining odds are displayed. Breadcrumbs are available at the top of the page to help you navigate back to the league or other higher categories.
When you add a selection to the betting slip that selection remains highlighted in the centre column until the bet is placed.
One strange feature of the website is when you make a selection there is a long lag before that feature appears in the betting slip. You quickly get into the habit of clicking and waiting for the betting slip to respond.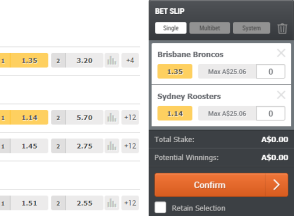 The betting slip has most of the features you would expect of a modern betting interface.
There are three modes to the betting slip: single, multibet and system. You select the mode at the top of the slip and all items in your slip are retained when you change the mode. For all selections the maximum accepted stake is displayed inside the betting slip. For anyone with a moderate account balance these maximum stakes will simply equal your available account balance.
The system betting feature doesn't use the Trixie, Patent, Yankee nomenclature that you see on some other websites. Instead the choices are listed as "System 2/4 (6 bets)", "System 3/4 (4 bets)", etc.
Overall the interface has a clean, modern look to it. Our only gripes are the fact that only head-to-head markets are displayed when you select a league and there is a lengthy lag between clicking on a selection and it appearing in the betting slip.
Horse Racing
Horse racing, harness and greyhounds are not offered.
Live Sports Betting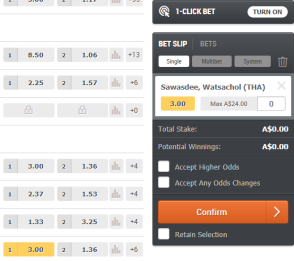 According to Australia's Interactive Gambling Act 2, bookmakers aren't supposed to offer live online betting to Australians. They're only able to offer live betting over the phone. International services either ignore or aren't aware of this law, and many continue to offer live betting services to Australians. Adherence to the Act is the responsibility of gambling operators and not individual Australians. It is not an offence for Australian residents to bet live "in-play" online.
TonyBet offers a strong live betting service for selected sports like football, tennis and basketball, but we have yet to observe any rugby league, rugby union or AFL markets.
The betting slip bears strong resemblance to the pre-game betting slip, except you have the options of accepting better odds if they become available before the bet is confirmed, or any change in odds (which is risky!) before the bet is confirmed. Also, above the betting slip is a button that enables you to turn on "1-click" betting. When this feature is turned on you enter up to five default stakes and pre-select your preferences for accepting odds changes.
Upsides
Clean, modern interface with intuitive navigation
Can bet live online
Can submit ID verification documents using an online form in the account area
Wide range of sports offered, including Australian sporting codes, with a good range of markets
Can cash out live bets
Can elect to set your own deposit and betting loss limits and self-exclude yourself from using the website
Powered by the well known sportsbook solutions provider Microgaming
Downsides
Lengthy delay when adding items to your betting slip
Only head-to-head markets shown when a league is selected
No horse racing
"TonyBet reserves the right to limit customer's maximum stake amount to 10% after the first deposit is made. In such case this limit will be valid until the second deposit will be made."
Dormant account fees kick in after 6 months
---
IMPORTANT UPDATE
As of September 2017 TonyBet no longer accepts customers who are residents of Australia.
---
Bottom Line
TonyBet is a good looking website powered by the well-known sportbook solutions provider, Microgaming. Its Australian/Lithuanian founder Tony G has a good reputation in Lithuania, however we know very little about the Estonian Gambling Authority with which TonyBet is licensed. One source of confidence is the fact that the website is strict with identity verification. We know of members who had their identity documents knocked back because the uploaded documents fell just outside the required validity date. Also in TonyBet's favour is the brand has been around since 2009, which is old by bookmaker standards, with the original company Omnibet dating back to 2003. Australian sports are well supported, it's just a shame they're not covered by the in-play service. Nevertheless, TonyBet would make a good complement to an Australian-licensed bookmaker membership due to its in-play offerings for football and other popular international leagues.
Notes and Sources