Introduction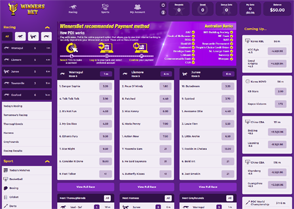 The following is an in-depth WinnersBet review. This review covers the history, features, interface, sports & racing markets, upsides and downsides of the service.
This review is part of our comprehensive Bookmaker Reviews section. The Betting Agencies page provides information and reviews for other sports betting agencies that are suitable for Australians. The following details are updated periodically to keep them up to date.
History, Location and Licence
WinnersBet is an Australian-owned bookmaker that is headquartered in Melbourne and licensed in Victoria (Licence Bl2002171). All bets are accepted on behalf of the bookmaker Da He, trading as WinnersBet. The service's ABN is 12 641 753 942, which is linked to a business location in Queensland. WinnersBet is a recent entrant to Australian bookmaking. The ABN was registered in June, 2020 and the business name was registered in December, 2020.1
Da He is a member of the Victorian Bookmakers Association. This association guarantees payment of all winning bets placed with their members.2
At the time of writing WinnersBet's contact details are:
Email: support@winnersbet.com.au
Services and Features
Deposit options
Visa, Mastercard, electronic funds transfer, POLi3
Withdrawal options
Electronic funds transfer
Transaction fees
None. If a client uses a Credit/Debit card for the first time to fund the account, Winnersbet will charge that card a nominal extra amount between 1 and 99 cents. The client must then verify the card, in the My Account section of the website, by entering the relevant cent amount. Successful verification will see this amount credited to the clients betting account.
Currencies
AUD
Languages
English
Odds formats
Decimal
Minimum deposit
$1.00
Minimum bet
$0.50 online, phone betting isn't supported
Deposit turnover requirements
1x
Win limits
Without prior agreement, the maximum payouts are:
$50,000 for Sporting Events
$50,000 for Metropolitan Gallops meetings
$20,000 for Non-Metropolitan Gallops meeting
$20,000 for Greyhound, Harness or International Racing meetings.
$50,000 for multi bets
1,001.00 maximum odds for a multi bet
Maximum payouts per race for racing exotics:
Quinella $5,000
Exacta $2,000
Trifecta $20, 000
First Four $20,000
Quaddie: Gallops $50,000, Harness $20,000 Greyhounds $20,000
These limits may be applied at the sole discretion of WinnersBet.
Also, WinnersBet reserves the right to restrict the maximum odds paid out for Win and Place bets to:
– 101.00 for Thoroughbred Races
– 51.00 for Harness and Greyhound Races
Accepted countries
Australia
Mobile betting
A mobile version of the website is available
Identity verification
An online form is available in the account area that enables you to immediately verify your identity. You simply enter selected ID details (driver's licence, Medicare card, etc.). The process took no time at all for us.
Dormant account fees
None that we're aware of
Support
Email, online chat
Betting Interface and Website Layout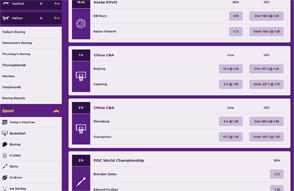 WinnersBet employs the well-established and Australian-made GenerationWeb 132 platform. When viewed on a PC, the website is displayed in a familiar three-column layout, with a list of sports and races in the left column, odds in the centre column and the betting slip in the right column. The right column also lists upcoming fixtures.
The left column uses a drop down menu for sports. When you click on soccer, for example, a list of leagues is dynamically displayed without reloading the page. These leagues are just one category deep, meaning you would selected soccer -> English Premier League, rather than soccer -> England -> Premier League. This makes navigation faster because it reduces additional mouse clicks.
At the top of the screen your account balance, rewards points, available bet boosts, available bonus bets and your pending bets (both $ and #) are shown. The top panel also displays deposit and logout buttons.
An online chat icon is displayed at the bottom right hand corner of the screen.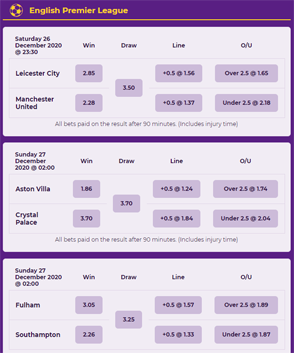 The markets and odds are displayed in a familiar manner for those who are familiar with other bookmakers.
When a league is selected a list of upcoming fixtures is provided along with head-to-head, line and over/under odds. If more markets are available for a particular fixture a button is shown that states the number of additional markets that are available. When the button is clicked the remaining markets for that fixture are dynamically displayed without reloading the page.
When a selection is made it stays highlighted whilst it is in the betting slip but it will revert back to being non-highlighted once the bet is submitted.
Applicable rules specific to the league are shown below each fixture. I.e. for the Premier League you will see "All bets paid on the result after 90 minutes (Includes injury time)", while NFL fixtures are accompanied by "All bets include any overtime."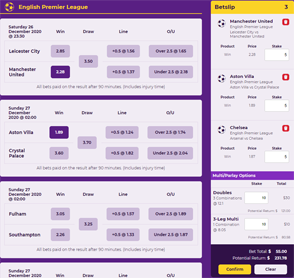 The betting slip contains all of the functionality that you would expect of a modern betting interface.
When more than one selection is in the slip you are offered Multi/Parlay options to create doubles, triples, etc., along with an X-leg multi that includes every selection. You can enter stakes into the various multi boxes to effectively create exotic multis like Trixies, Yankees, etc. You can submit multi wagers in addition to single selections without having to tab between displays like you sometimes do with other bookmakers.
When stakes are submitted the potential returns are shown both for the multi/parlay options and for the total betting slip.
Bookmaker Margin
The bookmaker margin (overround) is a measure of the bookmaker's profit margin for an event and is a hidden transaction cost for punters. This profit is how bookmakers finance their services but bookmakers vary in the margins they apply. From a punter's perspective, the lower the margin, the better.
In our September 2021 bookmaker margin survey, WinnersBet had an average margin of 7.4%, which is higher than the surveyed average. Their margins for popular Australian sports were lower, however, with a 5.9% margin for AFL and 6.0% for the NRL. Line odds for the AFL and NRL were 1.89, compared to 1.88 for the NFL, 1.86 for the WNBA and 1.85 for the Rugby Championship.
On a few occasions WinnersBet did offer the highest odds of any surveyed bookmaker for a particular selection. This means that for odds shoppers this service can still be a useful addition to a portfolio of memberships, despite the higher margins.
View the full survey results
Learn more about bookmaker margins
Sports Markets
In our September 2021 survey, WinnersBet offered 18-22 markets per game for the AFL and NRL, with the number of markets increasing leading up to each event. We observed up to 9 markets per NFL fixture and 11 markets per EPL game. If you're looking for a wider range of markets for weekend fixtures, the best time to visit is from Thursday onward.
Most other leagues had one to three markets per game: head-to-head, line and over/under total score.
Horse Racing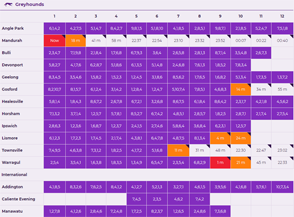 The WinnersBet racing interface is highly intuitive and easy to use, particularly for those who have used other online bookmakers.
Fixed odds win and place bets are available for all races. For Australian thoroughbred racing you are typically offered "Best of 3 Totes" for win and middle tote for place. For greyhounds and harness you are typically offered middle tote win and middle tote place.
In addition to Australian venues, you can bet on a wide range of overseas meets for thoroughbreds, harness and greyhounds.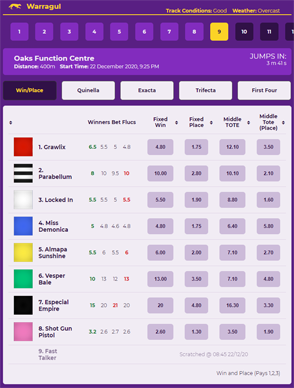 Win, Place, Each Way, Quinella, Exacta, Trifecta, First Four and Quadrella wagers are available. All racing exotics are paid at the dividend declared by the Victorian TAB (STAB).
The track conditions and weather forecast are shown for each venue and detailed form guides are available for Australian thoroughbred racing and some overseas thoroughbred venues.
Fixed win odds fluctuations are shown with colour coding to denote the lowest and highest odds previously available for each selection.
The race betting interface is incredibly fast and easy to use. The only features missing are race previews and tips that you see on the larger bookmaker websites.
Upsides
WinnersBet is Australian-owned
The interface, designed by a well-established Australian developer, loads incredibly fast and is easy to use
Low $1.00 minimum deposit and low $0.50 minimum stake
You can easily verify your identity online
POLi3 is accepted as a deposit method
You can set a daily/weekly/monthly deposit limit during the sign up process
Maximum win limits are clearly stated in the Rules section (under Placement and Acceptance of Bets and Racing
Downsides
Higher than average bookmaker margins
At the time of writing the service is new and not much is currently known about the owner
Limited range of markets per sports fixture
In-play betting over the phone isn't supported
No phone support is available and no business address is listed
Bottom Line
WinnersBet is a new Australian-owned bookmaker that is taking on the large foreign-owned operators that are licensed in Australia. The highlight of the service is the fast and intuitive interface, while its current drawback is the lack of markets per sporting fixture.
Notes and Sources
3 POLi facilitates online bank transfers that are acknowledged by the bookmaker instantly. This enables you to log into your banking provider, transfer money to the bookmaker, and place bets immediately.