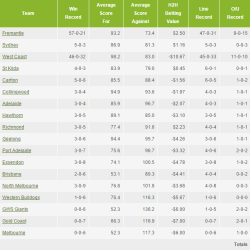 Have you ever wondered which AFL teams favour which venues? For example it's long been said that the Sydney Swans prefer to play at the SCG than ANZ Stadium, but how big a difference is their record at each venue?
The venues that AFL fixtures are played at are important from a betting perspective because they vary in dimensions, with wider grounds suiting some teams more than others.
Our sister site Australia Sports Tipping now provides AFL stadium statistics. Win records, average scores for & against, head-to-head betting value, line records, over/under records, average total scores and win percentages are provided for each team at each stadium.
You can view a breakdown of stadium statistics for a particular team, or you can view every team's statistics for a particular venue. The data can be filtered by date. The data set goes back to June 2009.
Below are some sample results.
Hawthorn
View the full set of stadium statistics for Hawthorn.
Etihad Stadium
View the full set of team statistics for Etihad Stadium. Melbourne sure hate this venue!