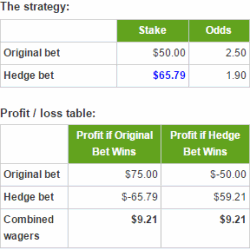 A new online hedging calculator has been added to the Tools area.
This simple hedging calculator determines biased and unbiased hedging strategies when you have already placed one wager on a market and either want to lock in a profit or limit your losses. It can be used for both pre-game and in-play betting.
The calculator is designed for when you've already a wager on the market. If you're looking to exploit an opportunity using simultaneously available odds, check out our arbitrage calculator. If you're using a betting exchange and have the ability to lay selections, check out our betting exchange hedging calculator.