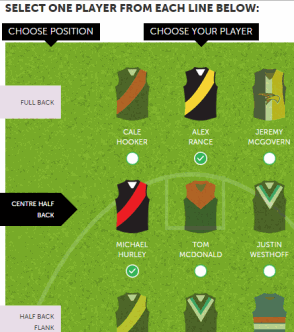 With the 2015 Brownlow Medal award ceremony fast approaching, CrownBet has launched a "Crownlow" tipping competition with over $100,000 in cash plus other prizes to be won.
How to Enter
The competition is free to enter for all CrownBet members who are residents of Australia or New Zealand. No deposit is required. Each member is entitled to one entry.
Entries close at 8.00PM AEST on Monday, the 28th of September.
How to Play
For each of nine positions (fullback, centre half-back, half-back flank, centre, ruck, midfield, half-forward flank, centre half-forward and full-forward), you have to select one player out of three listed that you believe will poll the most Brownlow votes for that position. The more players you pick correctly, the greater the prize.
Note that if two or more players for the same position end on equal votes, both players will be declared the winner for that position.
You can't change your selections once your entry has been submitted.
Crownlow Prizes
The prizes are actually very generous given that you would have to be unlucky not to win at least a $5.00 bonus bet. If you pick at random you would expect to get three out of the nine positions correct, which would score you a $10.00 bonus bet.
The prizes are as follows:
1 correct player – $5.00 bonus bet
2-4 correct players – $10.00 bonus bet
5-7 correct players – $15.00 bonus bet
8 correct players – $20.00 bonus bet
9 correct players – a share of $100,000 in cash
There are no turnover requirements for the cash prize. All bonus bet winnings will need to be turned over once at odds greater than 1.50.
Spare a thought for anyone who gets 8 right! It will be interesting to see how many participants do get all nine correct. For those who pick at random they have a one in 19,683 chance (correct me if my maths are wrong) of sharing in the grand prize, however those who follow the AFL closely will obviously stand a much better chance.
Learn more about the competition