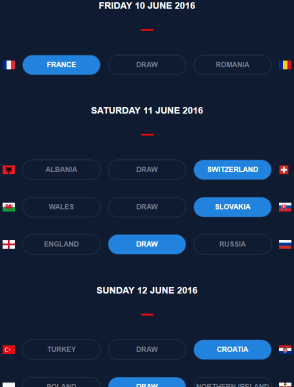 With Euro 2016 due to kick off on Saturday morning, $50,000 USD is up for grabs with the Pinnacle Euro Predictor competition.
How to Play
The aim of the competition is to correctly predict the outcomes of the opening twelve matches in Euro 2016.
You only need to provide your name, email address and country of residence to participate.
In order to be eligible for a prize, you must open a Pinnacle account prior to June 13, however no deposit is required.
As a tie-breaker, you also submit a guess for the total number of goals scored in the first twelve games of the tournament.
Participants who are existing Pinnacle customers must enter using the email address associated with their Pinnacle account.
Entries close at 9pm CET on June 10th, 2016. For those in Australia, this equates to 5 AM AEST on Saturday, June 11.
Pinnacle Euro Predictor Prizes
The prize depends on whether you have ever placed a deposit with Pinnacle prior to 3pm CET on June 13, 2016 (11 PM AEST). Note that this is three days after the entry closing date.
If you have placed a deposit before this date then the prize for the winner is $50,000 USD.
If you have never placed a deposit before this date then the winning prize is $10,000 USD.
If you have an AUD account, or an account in any currency other than USD, then Pinnacle will deposit the currency equivalent winning funds using the daily exchange rate from www.oanda.com.
There is no rollover requirement for withdrawal.
Pinnacle Euro Predictor Eligibility
To be eligible to participate, you simply need to be 18 or older and a resident in a country that Pinnacle accepts registrations from. Australian and New Zealand residents are permitted to enter. Restricted countries include the United Kingdom, the United States of America, Denmark, Spain, France and French Territories, Germany, Syria, the Philippines, North Korea, Singapore and the Netherlands including Curacao and Saint Maarten.