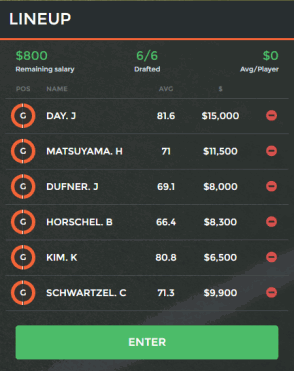 The sports fantasy website FanSports has launched three PGA US Open fantasy competitions.
The three games each use the same rules, but have different prizes and entry fees:
Free – $200 in total prizes
$10 – $300 in total prizes
$2 – $100 in total prizes (guaranteed)
What is FanSports?
FanSports is an AFL & NRL fantasy sports platform with short form fantasy sports contests, including daily and weekly contests for real money. The objective of the game is to select your players from the relevant real life games, stay under the salary cap and then accumulate fantasy points. Cash prizes are awarded to the top contestants.
How to Play
To play, select the six players you believe will score the highest according to the following scoring scheme:
Ace 10
Birdie 3
Eagle 8
Double Eagle 20
Par 0.5
Bogey -0.5
Double Bogey -1
Leaderboard – 30 for 1st down to 1 for 41st-50th
Bogey Free Round 3
Birdie+ streak (3 min) 3
Seventy or better (All Rounds) 5
You have to select your six players while staying under a salary cap.
The $2 tournament is a standout because there is a $100 guaranteed prize pool and just one entry at the time of writing!