With the 2016/17 English Premier League kicking off this weekend, numerous fantasy and tipping games are available for the season. Below is a selection of some of our favourites. The official fantasy site, BBC Predictor competition and the Fox Sports tipping & fantasy sites are surveyed.
If you're looking for a general English Premier League preview, check out our 2016-17 EPL Season Preview, which includes the major player transfers, third party predictions and futures betting tips. An article on English Premier League betting resources has also been published.
Official Fantasy Premier League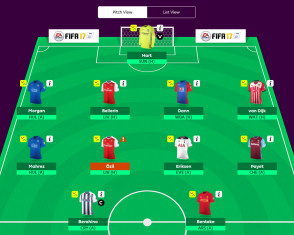 The most popular fantasy league is the official competition offered by the English Premier League at http://fantasy.premierleague.com. It is provided in partnership with EA Sports.
The Fantasy English Premier League website publishes fantasy discussion articles, which include pointers and players to watch.
Prizes
There are weekly as well as end of season prizes. Click here to view the prize list.
Join Our League
You can create or join other leagues to compete against friends and colleagues.
Feel free to join our league.
BBC Premier League Predictor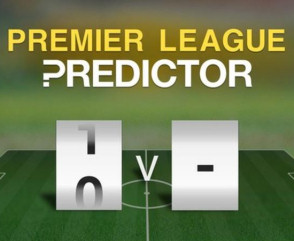 Following the popularity of their Euro Predictor competition, the BBC have launched a free Premier League Predictor game for the new season.
To participate you simply enter your predicted scores for each fixture.
The object of the game is to accrue the highest score according to the following points system:
Correct result (win, loss, draw): 10 points
Correct score: 40 points
You can update your predictions up until kick-off.
Players can create or join other leagues to compete against friends and colleagues. Feel free to join the AusSportsBetting.com league.
Fox Sports EPL Fantasy and Tipping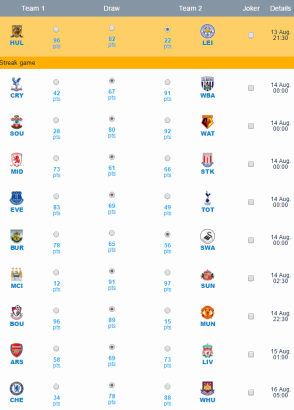 Fox Sports have launched a EPL Fantasy game as well as a separate EPL tipping game. You can use the same login account to play both.
EPL Tipping Competition
The tipping competition is more sophisticated than the BBC Predictor comp because it awards points based on the perceived probability of each outcome, rather than a flat points system for being correct. For this reason your best course of action isn't to simply back the most probable outcome. Fox Sports indicates the points available for each correct pick, with more points awarded for outcomes with a perceived lower probability of occurrence. It's much more like standard sports betting for this reason, because you're looking for value picks rather than the most probable picks. For this reason we prefer the Fox Sports tipping comp to the BBC Predictor competition.
Another neat feature of the Fox Sports tipping competition is the Joker, where you get to pick one fixture to double the available points for. If that selection is correct you will win twice the number of displayed points. Another unique feature is a streak game, where Fox Sports nominate one fixture each week that features in their winning streak competition.
You can join and create leagues of your own. Feel free to join the AusSportsBetting.com league.
EPL Fantasy Competition
The fantasy competition involves selecting a squad of 14 players with a budget of $9,500,000. Your team will consist of 1 goalkeeper, 5 defenders, 5 midfielders and 3 forwards. Only two players can be selected from the same EPL team. Each week you select your starting 11. Players are permitted 2 free transfers each week.
Overall the interface and feel of the game isn't nearly as good as the official fantasy site, so if you're looking to play a fantasy game, we recommend the official EPL fantasy game.
Conclusions
Overall, our favourite fantasy competition is the official EPL fantasy game. It features the best interface and competition features, plus it's the most popular fantasy EPL game globally.
Our favourite tipping site is the Fox Sports EPL tipping competition, because it rewards you for making lower probability selections through awarding specific points for each selection, rather than awarding a flat set of points for being correct.