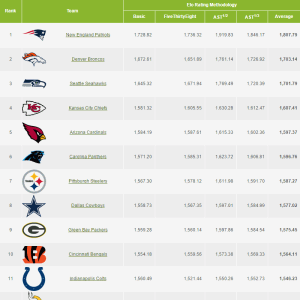 Our sister site AusSportsTipping.com has launched an experimental Elo ratings calculator that enables you to set the key parameters. Various sports and leagues are supported.
With the exception of cricket leagues, the calculator provides range of Elo ratings variations in addition to the standard Elo rating system. Unlike the standard Elo ratings, the variations take into account the winning margins of previous games. For the most part this is achieved by incorporating a margin of victory multiplier.
The parameters you can change are k (the weighting of each new match), home advantage adjustment, previous season weighting, and the new/promoted team default rating. You can also select which ratings system to sort the resulting table by.
Use the links below to view the Elo ratings calculator for each league. A discussion of the methodologies used is provided at the bottom of each of the calculators linked to below.
Below is a sample output for the A-League.
Rank
Team
Elo Rating Methodology
Basic
EloRatings.net
ClubElo.com
FIFA Women
Average
1
Sydney FC
1,584.41
1,620.50
1,625.48
1,559.70
1,597.52
2
Melbourne Victory
1,577.84
1,610.51
1,610.13
1,574.77
1,593.31
3
Brisbane Roar
1,595.02
1,597.84
1,596.77
1,558.21
1,586.96
4
Adelaide Utd
1,532.89
1,578.20
1,576.52
1,531.70
1,554.83
5
Perth Glory
1,546.91
1,559.85
1,558.99
1,532.69
1,549.61
6
Melbourne City
1,508.98
1,544.32
1,548.45
1,510.11
1,527.97
7
Western Sydney
1,493.51
1,486.91
1,486.53
1,495.09
1,490.51
8
Wellington Phoenix
1,421.24
1,402.13
1,401.14
1,437.33
1,415.46
9
Newcastle Jets
1,372.54
1,303.49
1,301.62
1,401.09
1,344.69
10
Central Coast Mariners
1,366.66
1,296.25
1,294.38
1,387.83
1,336.28