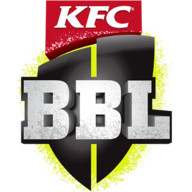 With the sixth season of the Big Bash League kicking off on the 20th of December, below is our line up of betting resources to assist with your 2016-17 Big Bash League betting.
The BBL is an Australian domestic Twenty20 cricket competition featuring eight teams. The 2016-17 Big Bash League season runs from December 20 until January 28. Learn more about the Big Bash League.
On AusSportsBetting.com
Season Preview
View a team-by-team Big Bash League season preview with betting tips. Tips for the winner futures market as well as top batsman and bowlers are provided.
Form guides
Weekly Big Bash League form guides are available in the Data section. These provide recent results, head-to-head data and historical betting values for the upcoming round of fixtures.
Bookmaker odds comparison
View and compare the latest Big Bash League odds in the Bookmaker Odds section. Odds are provided for both fixtures and futures markets.
Historical data
To assist you with model building, historical Big Bash League data, including game results and bookmaker odds, can be found in the Data section. The data set is updated daily during the season and is available in Excel (.xlsx) format.
Live scores
Live cricket scores, recent results and upcoming match schedules are available in the Live Scores section.
Betting tracker
A free Excel betting tracker is available to help you track your betting performance. An OpenOffice and Google Sheets versions are also available, as well as a combined betting tracker and staking plan calculator.
Bookmaker promotions
Active bookmaker promotions for the Big Bash League can be found in the bookmaker promotions section.
Beginner's Guide
Our Beginner's guide to sports betting provides a useful introduction to sports betting theory.
On AusSportsTipping.com
Our sister site provides the following Big Bash League resources.
Match Centres
AusSportsTipping.com offers Big Bash League match centres for every fixture. Each match centre provides bookmaker odds, member tipping tallies, form guides and in-depth performance guides for the game.
Interactive form guide
The Interactive Big Bash League Form Guide enables you to filter each team's form by home/away and strength of opponent.
Betting Value Index
The Big Bash League betting value index ranks each team based on their betting value in the head-to-head market. The data can be filtered by date.
Home-field Advantage Analysis
The Big Bash League home-field advantage analysis compares each team's winning record at home versus away. League averages and medians are also provided. The data can be filtered by date.
Elo Ratings
The Big Bash League Elo ratings tool enables you to calculate the Elo ratings of each team using the parameters of your choosing.