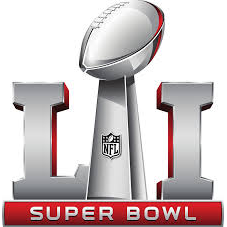 This article provides a preview with betting tips for Super Bowl LI (51), which sees the Atlanta Falcons play the New England Patriots at NRG Stadium in Houston, Texas. Super Bowl LI kicks off at 10:30 AM AEDT on Monday, February 6.
Atlanta Falcons
2016-17 Season Record:
Atlanta finished the regular season with an 11-5 record.
Form:
Atlanta have won 7 of their last 8 and bring a 6-game winning streak into this fixture.
Post Season:
Atlanta beat Seattle 36-20 and then Green Bay 44-21
Super Bowl record:
Atlanta's only previous Super Bowl appearance was in 1998, which they lost to the Denver Broncos
New England Patriots
2016-17 Season Record:
Despite starting the season with Tom Brady suspended, New England finished the regular season with a 14-2 record.
Form:
New England have won their last 9 straight games.
Post Season:
New England beat Houston 34-16 and then Pittsburgh 36-17.
Super Bowl record:
This will be the Patriots' 9th Super Bowl appearance and the 6th for quarterback Tom Brady as well as the 6th for Bill Belichick as a head coach. Brady and Belichick have won 4 Super Bowls in their time together in New England.
Elo Ratings
Using the NFL Elo Ratings tool at our sister site and setting the "Previous Season Weighting" to 0 to account for just this season, we get the following Elo ratings for the various methodologies:
New England Patriots (ranked 1st in the NFL)
Basic: 1,626.96
FiveThirtyEight: 1,640.44
AST1/2: 1,707.52
AST1/3: 1,672.35
Average: 1,661.82
Atlanta Falcons (ranked 2nd in the NFL)
Basic: 1,566.96
FiveThirtyEight: 1,600.07
AST1/2: 1,627.46
AST1/3: 1,603.26
Average: 1,599.44
Every methodology rates New England as the stronger of the two sides.
Key Stats
The following regular season figures are sourced from NFL.com. YPG = yards per game.
Offence Statistics
Atlanta
New England
Figure
Rank
Figure
Rank
Passing (YPG)
295.3
3
269.2
4
Rushing (YPG)
120.5
5
117.0
7
Total Offence (YPG)
415.8
2
386.2
4
Points Per Game
33.8
1
27.6
2
Defence Statistics
Atlanta
New England
Figure
Rank
Figure
Rank
Passing (YPG)
266.7
28
237.9
12
Rushing (YPG)
104.5
17
88.6
3
Total Defence (YPG)
371.2
25
326.4
8
Points Per Game
25.4
27
15.6
1
When it comes to offence Atlanta reigns supreme but they fall well short of New England when it comes to defence. New England's bend but don't break defence shows through in the statistics here, with the side ranked 8th in yards conceded per game but 1st in points conceded per game.
Super Bowl LI Betting
Compare the latest Super Bowl odds
Head to Head
At the time of writing the best available head-to-head odds are:
New England at 1.71 (Marathon Bet)
Atlanta 2.35 (William Hill)
Atlanta have a 4-2 record as the underdog this season so they won't mind being installed as the +3 underdog. The Patriots have lived up to their favourtism this year, however, going 15-2 when installed as the bookmaker's favourite.
New England have won the two most recent meetings against Atlanta, winning 30-23 in Atlanta in 2013 and 26-10 in New England in 2009. The last time Atlanta beat New England was back in 1998.
More often than not the side that wins the Super Bowl is the side that boasts the best defence and in this case, New England brings far better defensive stats into this fixture than Atlanta. Quarterback Tom Brady is a proven winner while head coach Bill Belichick has a huge amount of experience at this level. Another point in New England's favour is that Tom Brady missed the start of the season so he doesn't have as much wear and tear going into the Super Bowl as usual. I would back New England in the head-to-head market.
Line
Most bookmakers have installed New England as the 3-point favourite. At the time of writing the best available line odds are:
New England -3 at 2.06 (Pinnacle)
Atlanta +3 at 1.91 (Intertops)
Atlanta have been good to those who backed them this season, posting a 12-6 line record. New England, however, have been even better, going 15-3 at the line. New England enter this clash having covered the line in their last 7 straight games. I expect this to be close so I prefer the head-to-head market, but if I had to place a line bet I would take New England -3.
Total Score
The total with most bookmakers is either 58.0 or 58.5.
Atlanta have been an over's team this year, going 15-1-2 against the total. Much of this is due to their strong offence in their indoor stadium in Atlanta, where they went over the bookmaker's total in all 10 games. With Super Bowl LI to be played at NRG Stadium in Houston, which is also an indoor venue, I expect Atlanta's offence to continue to fire. Against Green Bay and New Orleans, two teams who are known more for their strong offences than their strong defences this season, the totals were 65 and 70, respectively. Over the last 8 games, however, the median total for Atlanta's games is 56.5.
New England, meanwhile, went 8-10 against the total this season. The median total over their last eight games is 46.5, well below the posted total for this clash.
Historically NFL fixtures with totals at 58.5 or higher have a strong history of going over the total, however I am wary of New England averaging just 15.6 points conceded per game. I'm expecting a cagey opening. It wouldn't surprise me if the total looks like it will go under for most of the game, only for both offences to click in the 3rd and 4th quarters, which will bring the total close to or above 58.5. I would instead back under 28.5 in the first half. At the time of writing the best available odds for this selection were 1.91 (William Hill).
Super Bowl LI MVP
Given both sides are disproportionately strong on offence compared to defence, unlike last season when I picked defensive players, this season I expect the MVP to come from the winning offence. With Matt Ryan the league MVP and Tom Brady a three-time Super Bowl MVP out of four Super Bowl wins, I would consider Tom Brady at 2.22 (Betfair) and/or Matt Ryan at 3.10 (Betfair). Of the two Matt Ryan looks to be the better value pick, given the Falcons' defence has been poor this season while the chances of a defensive player from New England winning are higher than for Atlanta. You could actually back New England in the head-to-head market and Matt Ryan in the MVP market as a hedge bet. One of the reasons I haven't picked an offensive player other than a quarterback is because both offences boast numerous running back and receiver weapons, so the ball will probably be spread out among them evenly.
First Touchdown Scorer
Compare the latest Super Bowl first touchdown scorer odds
Given the number of weapons available to both offences, trying to pick a first touchdown scorer is a nightmare. If I had to pick a player from Atlanta I would lean towards Julio Jones (10.00 at William Hill), Devonta Freeman (10.00 at William Hill) and/or Mohamed Sanu (17.00 at bet365), who have accounted for 3, 2 and 2 touchdowns this postseason, respectively. For New England a cheeky bet would be Chris Hogan (17.00 at bet365), who is the only player to score more than one touchdown for New England this postseason. An even cheekier bet is Tom Brady (51.00 at Sportsbet). He is known for the occasional quarterback sneak.
Team to Score First
Given Atlanta's penchant for starting games well and New England's indifferent start against Houston a few weeks ago, I would lean towards backing Atlanta to score first at 2.06 (Betfair). As a side note, if I were to bet in-play I would lean towards backing Atlanta pre-game with a view to hedge if they got off to a strong start.