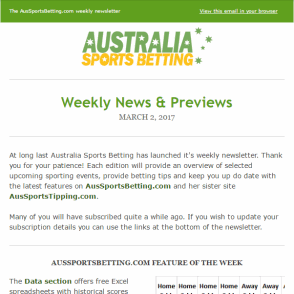 A weekly Australia Sports Betting newsletter has been launched with its first edition published today.
Each edition will provide an overview of selected upcoming sporting events, provide betting tips and keep you up do date with the latest features on AusSportsBetting.com and her sister site AusSportsTipping.com.
Click here to view the first edition.
You can subscribe to the newsletter using the form at the bottom of the page.