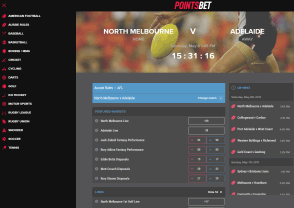 A review of the spread betting bookmaker PointsBet is now available. This comprehensive review is part of a series on betting agencies that are suitable for Australians. All reviews form part of the Bookmaker Reviews section on this website. A full survey of betting agencies can be found in the Betting Agencies section.
What is spread betting?
PointsBet is the only Australian-licensed bookmaker to offer spread betting. Spread betting is a form of wagering that pays a variable amount depending on the accuracy of your prediction compared to the bookmaker's spread. This in contrast to a fixed odds bet that pays a set amount if a certain criterion is met. Learn more about spread betting.
PointsBet review summary
In summary, PointsBet is an exciting new entrant to the Australian betting scene because since the departure of Sports Alive there have not been any Australian-licensed spread betting operators. Spread betting provides risk/reward elements that you simply don't get with typical bookmakers or exchanges, so betting enthusiasts will enjoy the added diversity of betting options that PointsBet brings. Because it is a spread betting website, PointsBet has a higher learning curve for betting novices and it's a high risk option for ill-disciplined punters, but for experienced, disciplined sports bettors, PointsBet will make a great compliment to existing bookmaker and betting exchange memberships.