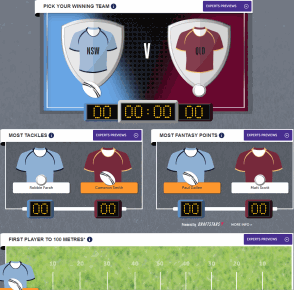 With the 2017 State of Origin series kicking off with Game 1 tonight, CrownBet has again launched its free King of Origin tipping competition.
The competition is free to enter and there are $5,000 worth of Crown Rewards points up for grabs for each Origin Test. No deposit is required to play.
Learn more about the King of Origin tipping competition
How to Play
To participate, you make picks for the following categories:
– the winning team
– most tackles
– most fantasy points
– first player to reach 100 meters
For each category you are given two selections to choose from. You simply have to pick the most likely winner.
The competition runs over three stages in line with the NRL State of Origin Series on the following dates:
– Game 1: 31 May 2017
– Game 2: 21 June 2017
– Game 3: 12 July 2017
Entries for the Competition are open as follows:
– Game 1: Monday, 29 May 2017 at 9am – Wednesday, 31 May 2017 at 8pm.
– Game 2: Monday, 19 June at 9am – June 21, 2017 at 8pm
– Game 3: Monday, 10 July at 9am – July 12, 2017 at 8pm
You are permitted to submit one entry into the competition per game. You are not able to change your selections once they are submitted.
The winner(s) of the competition will be all participants that make correct picks in all four categories. The winners will share equally in the total value of the prize for that game. If any of the Categories results in a draw both selections will be considered correct.
For the fantasy points selection the following point scoring system will be used:
Try = 8 points
Goal = 2 points
Field Goal = 5 points
Try assist = 5 points
Line Break = 4 points
Line Break assist = 2 points
Tackle = 1 point
Tackle break = 3 points
Missed tackles = -2 point
Offload = 2 points
Total Meters gained = 0.1 points
Kick Meters = 0.05 points
Error = -2 po
Prizes
15 Million Crownbet Rewards points will be awarded across the 3 State of Origin matches as follows:
– Game 1: 500,000 CrownBet Rewards Points (worth $5,000)
– Game 2: 500,000 CrownBet Rewards Points (worth $5,000)
– Game 3: 500,000 CrownBet Rewards Points (worth $5,000)