With the 2017/18 English Premier League season set to kick off on August 12, below is our lineup of betting resources to assist you with your EPL betting this season.
On AusSportsBetting.com
The following EPL betting resources are available on this website.
Team by Team Preview
A team-by-team EPL preview with futures betting tips has been published. Key scoring stats, betting stats, transfers, plus reasons for optimism and pessimism are provided for each team. The preview also contains third party table predictions and betting tips. This article is being updated daily leading up to the season start.
Weekly betting tips
Weekly EPL betting tips are provided in our weekly newsletter. You can subscribe to the newsletter at the bottom of the page. Featured EPL tipper James Bartman finished the 2016/17 EPL season on a nine-bet winning streak.
Form guides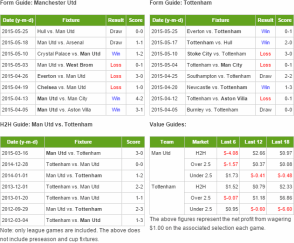 Weekly EPL form guides are available in the Data section. These provide recent results, head-to-head data and historical betting values for the upcoming round of fixtures.
The form guides also provide betting value guides for each team.
Bookmaker odds comparison
View and compare the latest EPL odds in the Bookmaker Odds section. Odds are provided for both fixtures and futures markets. Only bookmakers that offer Australian dollar accounts are listed.
Betting promotions
Active football betting promotions can be found in the bookmaker promotions section.
Betting tracker
We offer a free Excel betting tracker spreadsheet to help you track your bets and measure your betting performance. OpenOffice and Google Sheets versions are also available.
Beginner's Guide
Our Beginner's guide to sports betting provides a useful introduction to sports betting theory.
On AusSportsTipping.com
Our sister site provides the following EPL betting resources.
Interactive form guide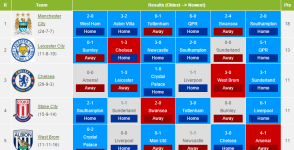 The Interactive EPL Form Guide enables you to filter each team's form by home/away and strength of opponent. Note that the form guide will take a few game weeks to become insightful, but you can view the NRL form guide to get a feel for how it works.
Home-field advantage analysis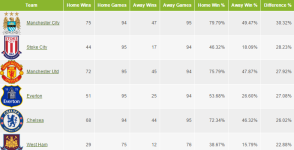 The EPL Home-field Advantage Analysis page ranks each team based on the difference between their winning record at home and their winning record on the road. The data can be filtered by date.
Betting value index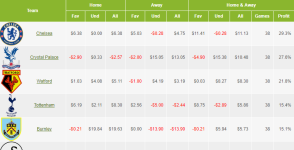 The English Premier League betting value index ranks each team based on their betting value in the head-to-head market. The data can be filtered by date.
Poisson distribution analysis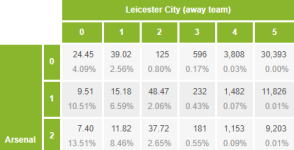 The English Premier League Poisson distribution tool enables you to apply the Poisson distribution to any pair of teams and chosen time-frame. Outcome probabilities predicted by the model along with their respective fair odds are provided.
Match Centres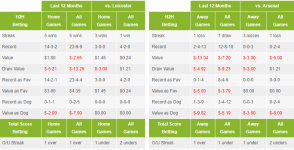 AusSportsTipping.com offers EPL match centres for every fixture. Each match centre provides bookmaker odds, member tipping tallies, form guides and in-depth performance guides for the game.
Elo Ratings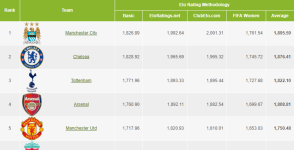 The EPL Elo ratings tool enables you to calculate the Elo ratings of each team using the parameters of your choosing. For football leagues the tool calculates ratings using four different Elo ratings systems.
Third Party Resources
The following resources are provided on third party websites.
Historical data
To assist with model building, historical EPL data, including game results and bookmaker odds, can be found at Football-data.co.uk. The data sets are provided in .csv format, which can be open in Excel and most other spreadsheet software.