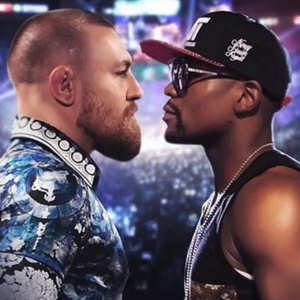 The following is a preview with pundit opinions, betting tips, odds comparison and betting promotions for the Mayweather vs. McGregor fight this weekend.
The Fight
Floyd Mayweather Jr. vs. Conor McGregor is being called "The Money Fight." It features eleven-time five-division professional boxing world champion Floyd Mayweather Jr. against current UFC Lightweight Champion Conor McGregor. The fight will take place at the T-Mobile Arena in Paradise, Nevada on August 26 (local), which equates to early to mid afternoon on Sunday the 27th for the east coast of Australia.
Mayweather and McGregor have agreed to box in 8-ounce gloves rather than the 10-ounce gloves usually required by the Nevada State Athletic Commission for boxing matches contracted over 147 pounds. They will fight in the super welterweight class, which is above 147 pounds and up to 154 pounds (66.7–69.9 kg).
In terms of earnings, Mayweather is reportedly set to earn at least $100 million while McGregor is expected to earn $75 million. Both men signed non-disclosure agreements barring them from publicly communicating the financial details of the fight.
Fox Sports will broadcast the official weigh-in at 8 AM on Saturday morning. The preliminary card will be broadcast live on Fox Sports Channel 501 from 9 AM AEST on Sunday.
The main card will be aired on Foxtel's pay-per-view channel, Main Event. The fight costs $59.95 to order, with coverage starting at 11 AM AEST on Sunday, August 27.
The event will also screen on Main Event at Village & Event cinemas in partnership with FOX Sports (learn more) and at selected pubs and clubs (find a venue).
The fight card for the night is as following:
Main Card (PPV)
Super welterweight (154 lbs.) Floyd Mayweather Jr. vs. Conor McGregor
Junior lightweight (130 lbs.) Gervonta Davis vs. Francisco Fonseca
Light heavyweight (175 lbs.) Nathan Cleverly vs. Badou Jack
Cruiserweight (200 lbs.) Andrew Tabiti vs. Steve Cunningham
Preliminary Card (FOX Prelims)
Welterweight (147 lbs.) Thomas Dulorme vs. Yordenis Ugás
Welterweight (147 lbs.) Juan Heraldez vs. Jose Miguel Borrego
Super middleweight (168 lbs.) Kevin Newman vs. Antonio Hernandez
Super middleweight (168 lbs.) Savannah Marshall vs. Sydney LeBlanc
Floyd Mayweather Jr.
Height: 5 ft 8 in (173 cm)
Reach: 72 in (183 cm)
Born: February 24, 1977 (age 40) in Grand Rapids, Michigan
Stance: Orthodox
Floyd Mayweather Jr. grew up in a boxing family. His father, Floyd Mayweather Sr., is a former welterweight contender and his uncles were also professional boxers. As an amateur Mayweather went 84–8, which included winning a bronze medal as a featherweight at the 1996 Atlanta Olympics. As a professional Mayweather has a 49-0 record, with 26 wins by knockout and 23 by decision. His last KO came in 2011 against Victor Ortiz. Mayweather's last seven bouts were won on decision, 5 by unanimous decision and 2 by majority decision.
Mayweather is renowned for his strong defensive techniques. From Wikipedia: "In his orthodox defensive stance Mayweather often utilizes the "shoulder roll," an old-school boxing technique in which the right hand is held normally (or slightly higher than normal), the left hand is down around the midsection and the lead shoulder is raised high on the cheek in order to cover the chin and block punches. The right hand (as in the orthodox stance) is used as it normally would be: to block punches coming from the other side, such as left hooks. From this stance Mayweather blocks, slips and deflects most of his opponents' punches (even when cornered) by twisting left and right to the rhythm of their punches."
View Mayweather's professional boxing record
Conor McGregor
Height: 5 ft 9 in (1.75 m)
Reach: 74 in (188 cm)
Born: July 14 1988 (age 29) in Crumlin, Dublin, Ireland
Stance: Southpaw
Conor McGregor is a mixed martial artist who is currently signed to the Ultimate Fighting Championship (UFC). In MMA McGregor has competed as a featherweight, lightweight, and welterweight. He is the reigning UFC Lightweight Champion and former UFC Featherweight Champion.
McGregor began boxing at the age of 12 at the Crumlin Boxing Club. In 2006, McGregor moved to Lucan, Dublin where he met future UFC fighter Tom Egan and started training in mixed martial arts. In 2007, at the age of 18, McGregor made his MMA debut in an amateur fight for the Irish Ring of Truth promotion in Dublin. Following the fight, he turned professional and was signed by the Irish Cage of Truth promotion. In 2008, McGregor began training at the Straight Blast Gym in Dublin under John Kavanagh. In 2013, with a 12-2 MMA record, he signed with the UFC and has since gone 9-1.
McGregor's MMA record is 21-3. Of his 21 wins, 18 came by knockout, 1 came by submission and 2 came by decision. All 3 of his losses were by submission. Prior to this weekend, McGregor has no professional boxing record.
View McGregor's professional MMA record
Pundit Opinions
Former former professional boxer 'Sugar' Shane Mosley (a four-time world champion in three weight classes) expects McGregor will be totally outclassed. He doesn't feel that the use of 8 oz gloves will make much difference because Mayweather has previously fought using both 8 oz and 10 oz gloves. Mosley feels that with the technique McGregor uses to punch he won't hit with enough power to hurt Mayweather.
South African professional boxer and the former IBO welterweight champion Chris van Heerden has worked as a sparring partner for McGregor. He doesn't rate McGregor's chances either:
The following statements have been sourced from FoxSports:
Former world heavyweight champion Anthony Joshua predicts Mayweather will likely win. "As a champion, the worst thing you can do is underestimate your opponent. So yeah, Mayweather's likely going to win. If you're a betting man, you don't bet against the house, but sometimes the number you didn't expect drops… Yeah (I give McGregor a chance). Everyone poses a threat, so I definitely give him a chance."
Former world heavyweight champion Mike Tyson predicts Mayweather will win easily. "McGregor's going to get killed. Boxing? I got mad because I thought they were going to use MMA rules against boxing, because that's what it's all about – can the boxer beat the MMA guy? But Conor put his dumb ass in a position where he's going to get knocked out, because this guy's been doing this all his life since he was a little baby, and Conor can't kick or grab and stuff. He not going to stand much of a chance."
USF light heavyweight champion Jon Jones feels Mayweather will be too good. "Floyd Mayweather is unquestionably great. To go 49-0 is such a special thing. He's 40 but I think Floyd takes care of himself, he's an advocate for living a clean life and you'd be surprised what you can get out of yourself, when you live the way Floyd does. He has all the resources to stay on top of his game. I think what makes this fight interesting is Conor McGregor's punching power, but at the same time all these guys like Miguel Cotto, (Oscar) de la Hoya, all these guys, have tremendous punching power. What they have that McGregor doesn't is years of experience and tightness, to back it up. I'm happy for McGregor to be in this position but if I were a betting man, I'd imagine you have to side on the side of greatness."
Eleven-time boxing world champion Manny Pacquiao predicts Mayweather will win. "I can say Floyd Mayweather will win, because the fight is in boxing and not MMA and that's an advantage with Floyd. I don't think McGregor is comfortable in boxing. Pure boxing."
Former boxing world heavyweight champion Tyson Fury believes McGregor has a chance. "I think Conor McGregor will knock him out in the first 35 seconds, like he did to Jose Aldo. I think he'll do him inside one round. It would be good for boxing wouldn't it, if McGregor chinned him?"
Former UFC lightweight champion Eddie Alvarez feels McGregor can win, but only if he knocks Mayweather out early in the bout. "Conor has about three or four rounds to get this done and when this comes down to being a technical boxing match, which is usually around round four – between rounds five and 12 – it usually goes to the more technical boxer. Within those first four rounds if you don't think Conor can knock this guy out, you're an idiot, or you just don't know fighting because it can very well happen. If he doesn't get it done by then, it could look very one-sided. There is a very real chance Conor can put him away."
Former boxing world champion Amir Khan feels Mayweather will win in a one-sided fight. "I think it is going be a s*** fight. It's all just talk at the moment. Mayweather will simply totally outclass him. I mean, if you look at it, it's not really a fight. McGregor has no boxing background and experience. I can safely predict a horrible knockout. Mayweather has not had a KO for the past six years. But with this one against McGregor he is bound to be an easy winner."
Bookmaker odds
Compare Mayweather vs. McGregor odds
Odds have been fluctuating all week, but at the time of writing the best odds on Mayweather were 1.27 (CrownBet / Marathon Bet) while the best odds on McGregor were 4.895 (Betfair) (5.10 before commission).
Some other popular Pinnacle markets are:
Will The Fight Go the Distance?
McGregor / Mayweather goes distance 3.500
Fight won't go distance 1.327
Will McGregor win inside distance?
McGregor wins inside distance 5.000
Not McGregor inside distance 1.192
Will McGregor win by 12 round decision?
McGregor wins by 12 round decision 22.720
Not McGregor by 12 round decision 1.022
Will Mayweather win inside distance?
Mayweather wins inside distance 1.689
Not Mayweather inside distance 2.240
Will Mayweather win by 12 round decision?
Mayweather wins by 12 round decision 3.750
Not Mayweather by 12 round decision 1.295
Will the fight be a 12 round draw?
McGregor / Mayweather draw 34.830
Fight not a draw 1.011
Betting Tips
Mayweather has the clear advantage in boxing experience, while McGregor has a slight advantage in height and reach to go with the fact that he's 11 years younger than the 40-year old.
The overwhelming majority of pundits believe that Mayweather, being the master of defence, will win this fight easily, but there is disagreement over whether he will win by knockout, something he hasn't done since 2011, or whether he will simply outbox McGregor and win on a points decision.
Word from the betting industry is that a McGregor win would be a terrible result for corporate bookmakers. The public have been backing him heavily, despite most professional boxers giving the Irishman little chance. When it comes to betting it's better to side with bookmakers rather than the public. "The masses are asses" as they say in Vegas. While the public do get it right occasionally, you'll make more money in the long-run by betting against them. It's worth noting that the sharp bookmaker Pinnacle is only offering 1.211 on Mayweather while offering 4.80 on McGregor, the most of any non-betting exchange surveyed.
At the end of the day Mayweather is 49-0 in professional boxing while McGregor is 0-0. It's unlikely Mayweather would have put his unbeaten record on the line if he thought his opponent had a genuine chance of winning. While the method of victory is in question – don't forget that disqualification is a possibility given McGregor's MMA instincts – the result doesn't appear to be.
Back Mayweather in the head-to-head at 1.27 (CrownBet / Marathon Bet).
Bookmaker Promotions
Below is a selection of bookmaker promotions for the Mayweather vs. McGregor fight. You can view all active promotions in the Bookmaker Promotions section.
IMPORTANT NOTICE FOR NSW RESIDENTS: as of January, 2016, NSW Regulation prohibits the publishing of any betting promotions in New South Wales.