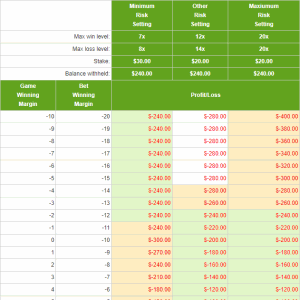 A free online PointsBet Spread Betting Calculator has been added to the Online Calculators area of the Tools section.
The spread betting calculator determines the impact of the maximum loss setting on payoffs for spread bets. The calculator is specific to the Australian-licensed spread betting bookmaker PointsBet.
Spread betting is a form of wagering that pays a variable amount depending on the accuracy of your prediction compared to the bookmaker's spread. This in contrast to fixed odds betting, which pays a set amount if a certain criterion is met. Learn more about spread betting.
Launched in early 2017, PointsBet is currently the only Australian-licensed spread betting operator. Read our PointsBet review.
View the PointsBet spread betting calculator
The Impact of Changing the Maximum Risk Setting
Increasing the maximum loss level also increases the maximum win level, so you receive a greater maximum potential payout to compensate you for the higher potential loss.
Decreasing the maximum loss level enables you to increase the stake because the balance withheld drops. With a higher stake, you win more money if the bet covers the line by a small amount, however you lose more money if the bet fails to cover the line by a small amount.
Note that many PointsBet markets only offer one risk setting. This calculator is designed for markets where the risk setting can be chosen from a range of numbers (e.g. 8x to 40x).
In PointsBet you can use the slider to change the selected risk level to a setting in-between the minimum and maximum risk levels offered.
View the PointsBet spread betting calculator