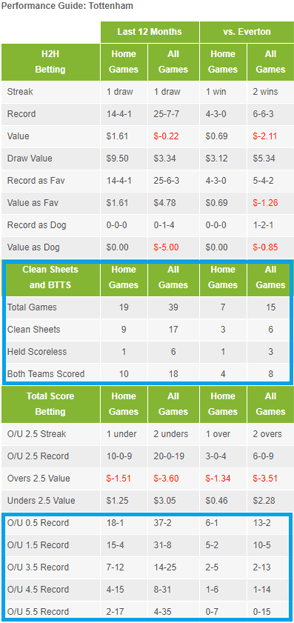 The Match Centres on our sister website Australia Sports Tipping now include additional statistics for football fixtures. Currently the A-League and English Premier League are catered for.
The number of clean sheets, times a side has been held scoreless and both teams to score (BTTS) statistics are now available. These figures are shown for head-to-head as well as general league form, home and away.
In addition to the over/under 2.5 goals data, over/under figures are now shown for 0.5, 1.5, 3.5. 4,5 and 5.5 goals.
In one other change to the match centres, the form guides now show the latest 12 fixtures rather than the latest 8. This change applies to all sports, not just football.
To illustrate the new statistics, the screenshot to the right shows Tottenham's performance guide for their upcoming fixture against Everton. The newly added statistics are shown in blue. The equivalent data is also shown for Everton, along with form guides and head-to-head statistics for each team. Each match centre also features bookmaker odds and member tipping data. View the Tottenham vs. Everton match centre.
Other features available for football fixtures are:
Interactive form guide – enables you to view overall as well as home and away form guides for the league. You can also filter the form guide by strength of opponent.
Betting value index – ranks each team based on their betting value in the head-to-head market. The data can be filtered by date.
Home-field advantage analysis – compares each team's winning records at home versus away. League averages and medians are also provided. The data can be filtered by date.
Poisson distribution tool – enables you to apply the Poisson distribution to any pair of teams and chosen time-frame. Outcome probabilities predicted by the model along with their respective fair odds are provided.
Elo ratings tool – enables you to calculate the Elo ratings of each team using the parameters of your choosing. A number of variant methodologies are also shown.
These are all linked to on each match centre.