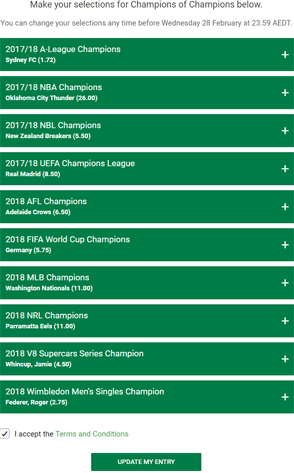 Unibet is giving its members the chance to win AUD $1,000,000 by correctly picking the winners of ten sporting events.
Entry is only open to all Australian residents (excluding SA residents) who are 18 years and over and have a Unibet account. No deposit is necessary.
How to Play
To participate, you select your predicted winner for each of the following sporting events for 2017/18:
2017/18 A-League Champions
2018/18 UEFA Champions League
2017/18 NBA Champions
2017/18 NBL Champions
2018 V8 Supercars Series Champion
2018 NRL Champions
2018 AFL Champions
2018 MLB Champions
2018 FIFA World Cup Champions
2018 Wimbledon Men's Singles Champion
To enter the competition, Sign up with Unibet, then go to the Promotions section and click on the "$1,000,000 Champion of Champions" link.
You can change your selections any time before Wednesday the 28th of February at 23.59 AEDT.
Prize
The entrant that correctly picks the winner of all ten events will win AUD $1,000,000 in cash.
In the case that two or more entrants correctly pick the winner of each of the ten events, then the prize will be equally split between those entrants. E.g. if there are two winners, each winner will receive AUD $500,000.
No prize will be awarded if no one successfully picks the winner of every sporting event.
Final results of each event as at 11.59pm AEDT on 25 November 2018 will be used to determine the winner(s).
Terms
In the event that a team/player is disqualified for any reason or any other issue occurs which results in a different winner for any Event after the aforementioned date/time, any revised results after this time will not be taken into consideration in determining the winner/s of this Promotion. If there are any delays with the first announcement of the results of an Event, which results in no official results being announced until after 11.59pm AEDT on 25 November 2018, the official results first announced by the Event organisers after this date/time will be used to determine the promotion winner.
The winner will be published on the Unibet website on 10/12/2018.