Fancy a bet on some NBA Futures?
There are some juicy odds on offer at Classicbet for the upcoming NBA season.
2018/19 NBA MVP
Lebron James is the Current Favourite paying $5.00 and came close last season. If the Lakers can win enough games to be near the top of the West, it would be hard for voters to justify putting anyone else but King James at the top of their ballots.
Reigning League MVP James Harden is paying $5.50 and is a good bet to be right in the mix once again if he can repeat the numbers he put up last season. However, if you're after a dark horse, the Golden State Warriors have some great value on offer. If they have a dominating season it could go to one of their stalwarts: Kevin Durant at $11.00 or Stephen Curry, paying a massive $15.00.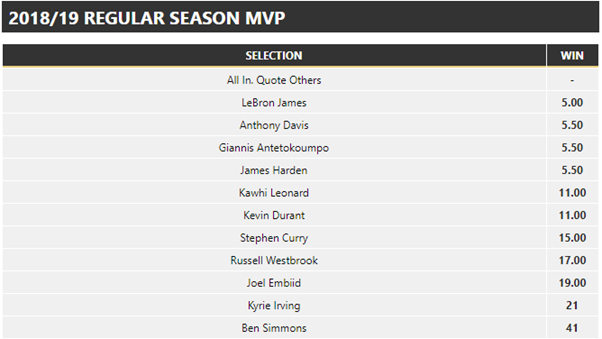 2018/19 NBA Rookie Of The Year
This looks set to be another amazing rookie class!
Luko Doncic, one of the most accomplished young European stars is making his debut in the NBA and is the current Classicbet favourite to win the award paying $4.50. Doncic will be running the show for the Dallas Mavericks
#1 Pick DeAndre Ayton offers some solid value at $5.00 odds, he will be playing for a run n' gun Phoenix Suns team that will be playing at a very fast pace and should be a shoe-in to put up very nice scoring and rebounding numbers.
If you're looking for great value picks, Marvin Bagley at a whopping $9.00 odds is a rookie with fantastic upside. Reminiscent of a young Kevin Garnett, he has the ability to put up big numbers as a rookie for a rebuilding Sacramento Kings franchise. Mohamed Bamba is an intriguing dark horse at $15.00 odds and could lead the NBA in blocks as a rookie!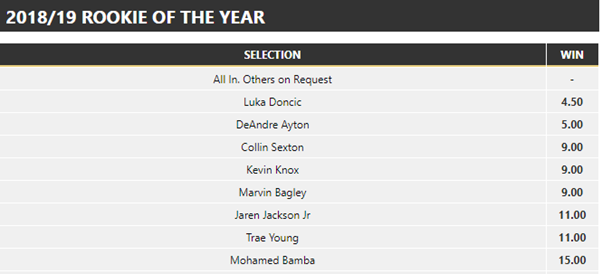 2018/19 NBA Championship
The upper echelon of teams in the NBA have been consolidating even more so during the offseason. With the Golden State Warriors adding Demarcus Cousins to an already ridiculously talented team. Their short price of $1.55 is warranted as they prepare to win their 3rd straight NBA title.
Their nearest competition according to the bookies is the Boston Celtics, paying $7.50 odds. With a healthy squad the defensive-minded Celts should reign supreme in the Eastern Conference, led by Kyrie Irving, Al Horford, Jason Taytum, and Gordon Hayward who will be making his return from that shocking leg injury.
The Rockets are next at $9.00, and they barely missed out on unseating the champs last season due to some ice-cold shooting in game 7, and the badly timed injury to Chris Paul. They will once again be right in the mix with a shooters chance, as long as the addition of Carmelo Anthony doesn't mess with their chemistry.
The Lakers, who made the biggest splash this off-season by adding King James to their squad, are in the double figures, paying $11.00 to win the title. It's funny to think there are 8 year old kids that haven't known a world where Lebron James didn't make it to the NBA Finals, and he will be aiming to extend that streak to 9-straight Finals appearances this season. It will be a tough ask as he's moved from the weaker Eastern Conference and now has much more competition. However, with a young and talented supporting cast surrounding the best player in the game anything is possible.
Rounding out the top 5 is the Philadelphia 76ers at $15.00 odds. The East will likely be a race to the top between the Celtics and the 76ers, and Philly may just have the tools to unseat them. "The Process" has paid off as the 76ers are one of the most talented young teams in the NBA, led by MVP candidate Joel Embiid, and Aussie Ben Simmons, they will be even stronger this upcoming season. #1 pick Markelle Fultz is reportedly looking fantastic heading into the next season, and they also have a pair of sharpshooters in Redick and Covington. Dario Saric does a bit of everything for them as well. So they could be a team to reach the NBA Finals (currently paying $3.75 to reach the finals from the East).