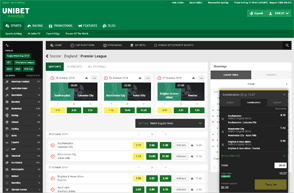 Our review of the bookmaker Unibet has been updated to incorporate our September 2021 bookmaker margins and markets survey.
The updated odds and markets details are as follows:
Bookmaker Margin
The bookmaker margin (overround) is a measure of the bookmaker's profit margin for an event and is a hidden transaction cost for punters. This profit is how bookmakers finance their services but bookmakers vary in the margins they apply. From a punter's perspective, the lower the margin, the better.
Unibet Australia recorded the second lowest racing margin and the lowest sports margin in our latest bookmaker margin survey. The average racing margin was 27.8% compared to the survey average of 29.8%, while Unibet's average sports margin was 5.0% compared to the survey average of 5.7%.
Unibet also topped the survey for the number of instances in which it offered uniquely the best odds for a particular sports selection.
The results highlight the fact that a Unibet membership is a must for those who like to shop around for the best odds.
View the full survey results
Learn more about bookmaker margins
Sports Markets
In our latest markets survey, Unibet Australia left the field for dead with a recorded 180 markets offered per fixture, compared to 112 for the next best competitor and 76 for the survey average. Unibet's offerings peak on Thursday and Friday for weekend fixtures. Taking the average of observed AFL, EPL, NFL and NRL markets, Unibet offered 237 markets per fixture on Wednesday, compared to 351 on Thursday and 358 on Friday.
Bottom Line
The combination of competitive bookmaker margins and industry-leading quantity of markets per fixture makes Unibet Australia one of the best bookmakers in the industry.
---
This review is part of a series on betting agencies that are suitable for Australians. All reviews form part of the Bookmaker Reviews section on this website. A full survey of betting agencies can be found in the Betting Agencies section.