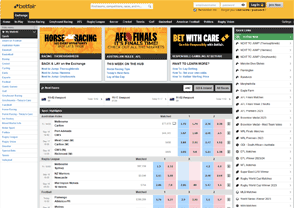 A review of the betting exchange Betfair Australia has been published. This comprehensive review is part of a series on betting agencies that are suitable for Australians. All reviews form part of the Bookmaker Reviews section on this website. A full survey of betting agencies can be found in the Betting Agencies section.
Below are the summary details.
What is a Betting Exchange?
A betting exchange is a marketplace where members can bet for or against specific outcomes in events. Rather than bet against a bookmaker, members bet against one another. Members set the odds for an event and others take up those odds. For every transaction, one member places a 'back' bet to play the role of the punter and the other places a 'lay' bet to play the role of the bookmaker.
Much like in a stock exchange, members can post odds and then wait and see if they're accepted by another member. The betting exchange earns income by charging small commissions on winning bets. Losing bets do not attract any fees.
Betfair is the largest betting exchange in the world and it is the only betting exchange that is licensed in Australia.
Learn more about betting exchanges.
Upsides
Can bet both for and against outcomes
Easy cash out feature to limit your losses or lock in a profit when the odds move for or against you
The minimum stake is $1.00, down from $5.00 originally
Competitive odds on the popular markets as well as for futures, correct score and other markets with numerous selections
Betfair boasts that their Betfair Starting Price (BSP) offers 12.5% better returns than Best Tote
The only Australian licensed betting exchange
Developer API available
Downsides
Not as beginner friendly as a standard bookmaker
Complicated commission structure for Australian racing
Smaller range of markets per fixture compared to leading bookmakers
Low liquidity on less popular leagues and markets
Complicated turnover charge fee structure for punters who wager heavily on NSW thoroughbred racing
Bottom Line
Betfair stands out because it's the only betting exchange with a licence in Australia. A betting exchange has a steeper learning curve than a bookmaker but it's well worth the effort. The ability to bet both for and against outcomes makes hedging incredibly easy and the most popular markets frequently offer better value than bookmakers. Betfair is brilliant for futures betting because the back/lay feature enables you to easily lock in profits and limit losses as the season or tournament progresses. Betfair also offers consistently better value in numerous selection markets, such as correct scores for football. Due to lower liquidity on less popular leagues and markets, Betfair wouldn't work well as a standalone membership, but it's an absolute must have as a pairing with a traditional bookmaker. Novice punters will enjoy the competitive odds on the popular markets, while experienced punters will revel in the ability to play the role of both the punter and bookmaker. We highly recommend Betfair as a complement to your existing bookmaker memberships.
Read the full Betfair Australia review
Visit the Betfair Australia website