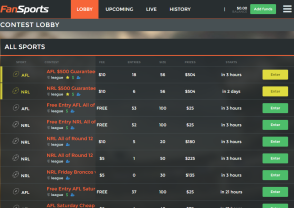 A review of the fantasy sports competition website FanSports is now available. This comprehensive review is part of a series on wagering services that are suitable for Australians. All reviews form part of the Bookmaker Reviews section on this website. A full survey of betting agencies can be found in the Betting Agencies section.
FanSports is an NRL & AFL fantasy sports platform with short form fantasy sports contests, including daily and weekly contests for real money. The objective of the game is to select your players from the relevant real life games, stay under the salary cap and then accumulate fantasy points. Cash prizes are awarded to the top contestants.
In summary, FanSports is a new and direct competitor of the Crownbet and Fox Sports joint venture, Draft Stars. A key difference is it offers AFL, NRL and Origin games as opposed to AFL, NRL and NBA contests. Because it's a newer gaming site and isn't backed by a large company, the prize pools are currently lower at FanSports, however because there are so few players at the moment it's well worth joining if you are an AFL or NRL aficionado. This is because the guaranteed prize pool games only have a modest number of entrants.