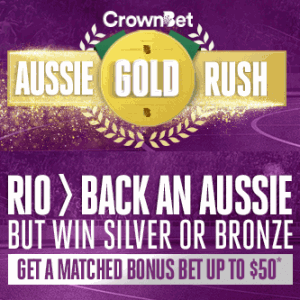 With the Rio Olympics due to kick off in a few days, CrownBet have launched arguably the most eye-catching Olympics promotion of any bookmaker.
Additional bookmaker promotions for the Rio Olympics can be found in the Promotions section.
Promotion Details
Place a bet on an Australian individual or team in any Gold Medal Winner market at the 2016 Rio Olympics.
If they don't win Gold, but do win Silver or Bronze, CrownBet will match your stake up to $50 with a Bonus Bet.
This promotion applies to your first bet on each Gold Medal Winner market.
IMPORTANT NOTE: this promotion excludes NSW and SA residents.
Australia's Best Gold Medal Chances
Our article on Rio 2016 Olympics Medal Tally Predictions is a perfect resource for selecting which markets to take advantage of this promotion. It surveys projections made by Gracenote, the Associated Press and Sports Illustrated for every event winner at the Rio Olympics. The article then compiles a list of events for which two or more of the projections have predicted gold for Australia.
All three services have predicted the following gold medal results for Australia, with the associated CrownBet odds at the time of writing.
Caroline Buchanan (BMX) – 2.75
Cate Campbell (women's 100m freestyle) – 1.33
Emily Seebohm (women's 100m backstroke) – 1.75
Emily Seebohm (women's 200m backstroke) – 2.20
Mitch Larkin (men's 200m backstroke) – 2.40
Men's field hockey – 3.30
Swimming – women's 4x100m freestyle relay – 1.14
Kim Brennan (rowing – single sculls) – 1.45
Promotion Terms and Conditions
This offer applies to a member's first bet placed on the outright (Gold Medal Winner) market for each event at Rio.
Your first bet must be placed on an Australian (individual or team), and that specific individual or team must win the silver medal or bronze medal according to the official results to qualify for the Bonus Bet.
For events with heats or group stages there must be at least 5 teams or individuals (as appropriate) left in the event at the time the bet to be eligible for the promotion. For example:
Bets must be placed before quarter-finals for events such as basketball, hockey, tennis, handball, volleyball, beach volleyball and football.
Bets must be placed before the final for events such as swimming, athletics, BMX, shooting and Kayak.
For events where there are no group stages or heats, bets must be placed before the start of the event (for example triathlon, marathon, modern pentathlon, heptathlon, decathlon, weightlifting).
The promotion applies to the outright market only. It does not apply to head to head markets.
Bets must be placed prior to the relevant cut off time for each event.
This Offer excludes:
NSW and SA residents.
Multibets.
Cashed out bets.
Wagers placed over the phone.
Wagers placed with Bonus Bets.
The bonus will match a members stake up to a maximum of a $50 Bonus Bet. Any stake greater than $50 will receive the offer maximum of $50 per event.
The Bonus Bet will be credited to a members account within 24 hours of the completion of the event.
Standard Bonus Bet terms and conditions apply. Winnings from Bonus Bets must be turned over at odds of 1.50 or more.