---
IMPORTANT UPDATE
As of September 2017 TonyBet no longer accepts customers who are residents of Australia or New Zealand.
---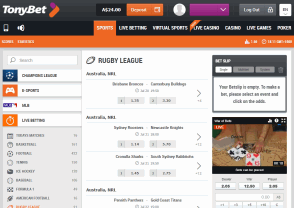 A review of the bookmaker TonyBet is now available. This comprehensive review is part of a series on betting agencies that are suitable for Australians. All reviews form part of the Bookmaker Reviews section on this website. A full survey of betting agencies can be found in the Betting Agencies section.
In summary, TonyBet is a good looking website powered by the well-known sportbook solutions provider, Microgaming. Its Australian/Lithuanian founder Tony G has a good reputation in Lithuania, however we know very little about the Estonian Gambling Authority with which TonyBet is licensed. One source of confidence is the fact that the website is strict with identity verification. We know of members who had their identity documents knocked back because the uploaded documents fell just outside the required validity date. Also in TonyBet's favour is the brand has been around since 2009, which is old by bookmaker standards, with the original company Omnibet dating back to 2003. Australian sports are well supported, it's just a shame they're not covered by the in-play service. Nevertheless, TonyBet would make a good complement to an Australian-licensed bookmaker membership due to its in-play offerings for football and other popular international leagues.