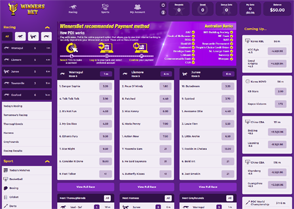 Our review of the bookmaker WinnersBet has been updated to incorporate our September 2021 bookmaker margins and markets survey.
The updated details are as follows:
Bookmaker Margin
WinnersBet had an average margin of 7.4%, which is higher than the surveyed average. Their margins for popular Australian sports were lower, however, with a 5.9% margin for AFL and 6.0% for the NRL. Line odds for the AFL and NRL were 1.89, compared to 1.88 for the NFL, 1.86 for the WNBA and 1.85 for the Rugby Championship.
On a few occasions WinnersBet did offer the highest odds of any surveyed bookmaker for a particular selection. This means that for odds shoppers this service can still be a useful addition to a portfolio of memberships, despite the higher margins.
From a punter's perspective, the lower the margin, the better. Learn more about bookmaker margins.
Sports Markets
WinnersBet offered 18-22 markets per game for the AFL and NRL, with the number of markets increasing leading up to each event. We observed up to 9 markets per NFL fixture and 11 markets per EPL game. If you're looking for a wider range of markets for weekend fixtures, the best time to visit is from Thursday onward.
Most other leagues had one to three markets per game: head-to-head, line and over/under total score.
---
This comprehensive review is part of a series on betting agencies that are suitable for Australians. All reviews form part of the Bookmaker Reviews section on this website. A full survey of betting agencies can be found in the Betting Agencies section.