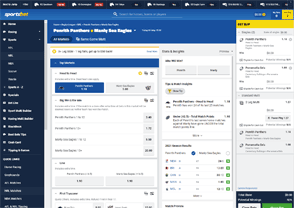 Our review of the bookmaker Sportsbet has been updated to incorporate our September 2021 bookmaker margins and markets survey.
The updated details are as follows:
Bookmaker Margin
The bookmaker margin (overround) is a measure of the bookmaker's profit margin for an event and is a hidden transaction cost for punters. This profit is how bookmakers finance their services but bookmakers vary in the margins they apply. From a punter's perspective, the lower the margin, the better.
Sportsbet was competitive with its fixed racing odds in our latest bookmaker margin survey. It recorded an average margin of 27.9% compared to the survey average of 29.8%. Sportsbet's biggest strength was thoroughbred racing, with only one other bookmaker recording a lower margin during the survey.
Sportsbet had an average sports margin of 5.6%. This wasn't a stellar result, however Sportsbet did perform surprisingly well for the number of instances in which it offered the best surveyed odds for a particular selection. This was particularly the case for horse racing, with only one other bookmaker finishing with a better figure for that statistic. This result highlights Sportsbet's independence when it comes to setting odds. Despite the average sports margins, Sportsbet is a vital addition to a portfolio of memberships for those who like to shop around for the best sports and racing odds.
View the full survey results
Learn more about bookmaker margins
Sports Markets
Sportsbet offered over 100 markets per fixture in our latest margins and markets survey. The range of markets that Sportsbet offers is more than adequate to make it work as a standalone membership for those who only want one bookmaker account.
One of Sportsbet's strengths is its ability to make markets available early in the week. To provide an example, you'll often see over/under total score markets offered for the AFL and NRL on Monday, which is rare. During our latest survey no other bookmaker achieved that.
---
This review is part of a series on betting agencies that are suitable for Australians. All reviews form part of the Bookmaker Reviews section on this website. A full survey of betting agencies can be found in the Betting Agencies section.