Introduction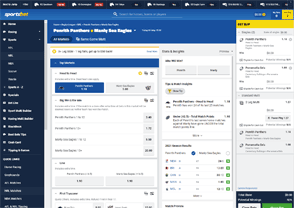 The following is an in-depth review of the betting agency Sportsbet. This review covers the history, features, interface, sports & racing markets, upsides and downsides of the service.
This review is part of our comprehensive Bookmaker Reviews section. The Betting Agencies page provides information and reviews for other sports betting agencies that are suitable for Australians. The following details are updated periodically to keep them up to date.
History, Location and Licence
Sportsbet is an Australian-licensed bookmaker that offers sports and race betting. Sportsbet commenced operations in Darwin in 1993, and is licensed in the Northern Territory. In 2005, Sportsbet was on the brink of bankruptcy when Matthew Tripp purchased the company for just $250,000. The bookmaker has since enjoyed a complete turnaround. In May 2009, Paddy Power, Ireland's largest bookmaker, acquired 51% of Sportsbet. In September that year Sportsbet acquired All Sports Ltd, the owners of IASbet. In 2010 it was announced that Paddy Power would acquire full ownership of Sportsbet. This process was completed in March 2011. In June & July of 2011 both the Sportsbet and IASbet websites were overhauled to employ the same website interface, but with different templates. In August 2014 the IASbet website was discontinued with IASbet memberships transferred over to Sportsbet. In 2016 the owning company Paddy Power was acquired by Flutter Entertainment plc, which is a Dublin-based company that is listed on the London Stock Exchange.1, 2, 3, 6
Sportsbet is often in the media. It advertises on TV and is occasionally in the news for its ad hoc betting promotions. For example, in 2009 Sportsbet paid out all bets on Federer to win Wimbledon before the tournament started. It also paid out bets on England to win the 2010-11 Ashes Series after Day One of the 3rd Ashes Test. Sportsbet always has a myriad of betting promotions on at any given time.
Services and Features
| | |
| --- | --- |
| Deposit options | Bank Transfer, BPay, Credit/Debit Card, Skrill (Moneybookers), PayPal, POLi 4 |
| Withdrawal options | Bank transfer, Skrill (Moneybookers), Paypal |
| Transaction fees | None. The only transaction fee Sportsbet may charge is AUD$15.00 for international electronic funds transfers. |
| Currencies | AUD, NZD, USD, EUR, GBP, HKD, SGD |
| Languages | English |
| Odds formats | Decimal |
| Minimum deposit | $5.00 |
| Minimum bet | $0.01 online, $50 by phone (cumulative amount in 1 phone call) |
| Maximum payout | Sportsbet sets a daily maximum win of AUD$500,000, unless otherwise negotiated. For sports and racing wagers the maximum betting limits depend on the event and bet type. Learn more. |
| Deposit turnover requirements | 1x |
| Bookmaker margin | 5.6%, which is above the median bookmaker margin of 5.2% in the latest bookmaker margin survey. From a punter's perspective, the lower the margin, the better. Despite the higher margins, Sportsbet did perform well in a survey of how often each bookmaker offered the best odds for a particular selection. Sportsbet is more competitive in futures markets. In our most recent survey it had an average margin of 14.7%, which is below the survey median of 16.2%. |
| Quantity of markets | Averaged 93 markets per fixture in the latest bookmaker markets survey. This is well above the median score of 61. |
| Forbidden Jurisdictions | Argentina, Armenia, Azerbaijan, Belarus, Bosnia, Bulgaria, Canada, Congo Republic, China, Costa Rica, Croatia, Denmark, Estonia, France, Georgia, Hong Kong, Hungary, India, Indonesia, Iran, Israel, Jamaica, Japan, Kazakhstan, Korea, Kyrgyzstan, Latvia, Lithuania, Macedonia, Malaysia, Moldova, Montenegro, Nigeria, Pakistan, Poland, Portugal, Romania, Russia, Serbia, Seychelles, Slovakia, Slovenia, Sri Lanka, Swaziland, Taiwan, Tajikistan, Thailand, Turkey, Turkmenistan, Ukraine, Vietnam, United States of America, United States Minor Outlying Islands, Uzbekistan, Wallis and Futuna, and Zimbabwe. |
| Mobile version of the website? | Yes, the website uses a responsive design that tailors the display to your device's screen size. Apple and Android Apps are also available. |
| Identity checks | You can quickly verify your identity online using Veda Advantage or edentiti. If you use a credit card you can make a maximum of 3 deposits up to $2,000 before you have to send a copy of the front and back of the registered card to fully activate it. |
| Dormant account fees | None |
Betting Interface and Website Layout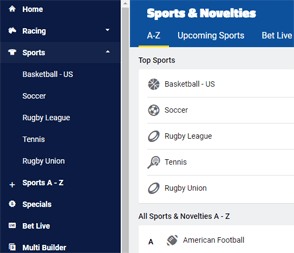 Sportsbet uses a responsive website design that tailors the display to the size of your screen. This review will focus on the desktop version of the website.
The Sportsbet interface uses a beginner-friendly three-column layout, with sports listed on the left, markets and odds in the centre and the betting slip on the right.
The navigation pane uses a dropdown approach. Quicklinks to the most popular upcoming events are displayed along with links to Racing and Sports. When Sports is selected only five or so popular leagues are displayed. To view the rest of the sports you then click on a secondary "Sports A-Z" link. When you click on a popular sport like Soccer the featured markets are displayed in the centre column. Links are displayed above these markets to view upcoming fixtures and a list of all available leagues. This approach results in a lot of clicks to get to the league of your choice, but it becomes fast to use once you get used to it.
Links to specials, live betting, results, the help centre and other website features are also displayed in the navigation column.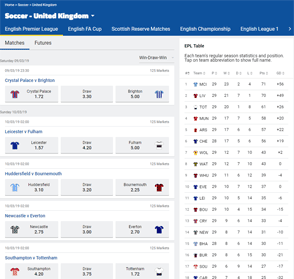 When you select a league the centre page is refreshed to display upcoming fixtures for that league and in some cases, a league table is displayed to the right of the odds.
For each fixture the head-to-head and, where applicable, also the line and over/under odds are displayed. You can either click on a fixture to view all available markets for that game or, where applicable, you can click on a dropdown menu at the top right hand corner of the box to view a different market (like alternative lines, winning margins) for every fixture.
Tabs are available at the top of the box to switch between matches odds and futures odds.
Above the odds are links to other leagues, where applicable, and above these are breadcrumbs to navigate to higher categories.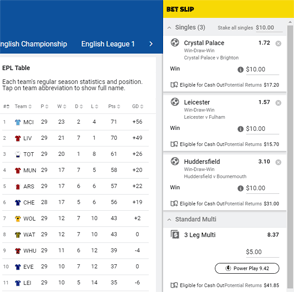 The betting slip is intuitive to use. It is split vertically into Singles, Standard Multi and, when more than three items are in the slip, Combo Multis (like doubles, trebles, 4 folds, Trixie, Patent, Yankee etc.) You can toggle on and off the display of each category.
The sports and racing sections of the website are seamlessly integrated so that racing and sports selections can be combined in multis and exotic multis.
Sports Markets
Sportsbet offers a fantastic range of sports markets and a good depth of betting options for each fixture. Its biggest strength is Australian sport. Sportsbet came out on top in our most recent bookmaker margins survey for the number of markets offered per fixture.
Horse Racing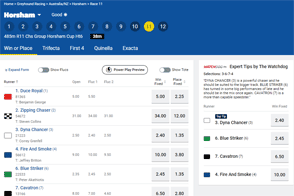 Sportsbet offers a strong racing line-up, with fixed odds made available in good time.
Expert tips are provided for most meets, which provide a commentary along with the top-rated selections for each race.
All of the usual exotics are available, and flexi betting is supported.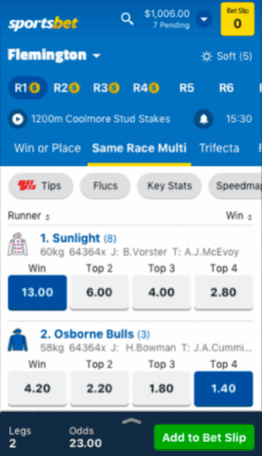 In October 2019 Sportsbet launched a same race multi feature, which as far as we're aware is a first for Australia.
The feature enables you to select multiple runners to win or finish in the top 2, 3 or 4 in the race. This enables you to select 1-4 legs for your multi.
Some examples are:
1 leg: Horse A to finish in the top 2
2 legs: Horse A to Win + Horse B to finish in the top 3
3 legs: Horse A to Win + Horse B to finish in the top 4 + Horse C to finish in the top 4
4 legs: Horse A to finish in the top 2 + Horse B to finish in the top 2 + horse C to finish in the top 4 + Horse D to finish in the top 4
The main drawcard of the same race multi feature is it gives you more selection flexibility.
The 1-leg option gives you two new opportunities for races where the top three place: to back a horse to finish in the top 2 or in the top 4.
Unlike standard exotics, you no longer have to rely on three runners to finish in the top 3 or four runners to finish in the top four. For example you can simply select 2 runners to both place or both finish in the top four.
Because the feature uses fixed rather than Tote odds you can play around with selections and immediately see the resulting odds. Any time you add a selection the updated odds are automatically displayed.
SKY Racing is available for members live on the website and the app.
Live Sports Betting
Due to Australia's Interactive Gambling Act 3, live online betting is not available for Australians. Australian customers must phone in to bet live. If live online sports betting is what you're after, be sure to check out our survey of betting agencies that offer live online betting.
Upsides
Established, well-known brand
Good selection of deposit and withdrawal options, including Paypal and POLi 4
Very low turnover requirements
Comprehensive help section with a search feature
Strong support for multi betting
Excellent range of sports markets
Quick to provide markets for upcoming fixtures
Excellent mobile betting service
Low $0.01 minimum online bet
Low $5.00 minimum deposit
Members can apply to receive a Sportsbet Cash card, which allows you to access your winnings using an EFTPOS card.
SKY Racing is available for members live on the website and the app.
Downsides
Live online betting is not available to Australian residents (due to Australian law)
Have been known to suspend or limit the accounts of successful punters
Higher than average bookmaker margins
Bottom Line
Sportsbet is an excellent betting service for modest stakes punters, however large stakes punters may become frustrated by Sportsbet's inclination to limit the accounts of successful members (a common practice in Australia, unfortunately). The betting selection is excellent, particularly for Australian sports, which makes Sportsbet suitable as a solitary membership for those who want only one betting account. One of the strengths of Sportsbet is its frequent promotions and competitions, which add a lot of value to an already good service.
Notes and Sources