Our review of the betting tournament operator SportChamps has been updated to incorporate their new racebook.
This review is part of a series on betting agencies that are licensed in Australia. All reviews form part of the Bookmaker Reviews section on this website. A full survey of betting agencies can be found in the Betting Agencies section.
Below is an excerpt from the review that covers the new racebook feature.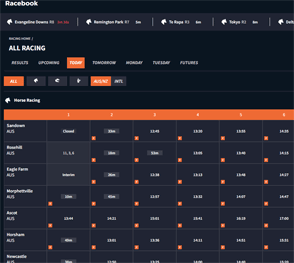 The Sportchamps racing interface is intuitive to use, simply because it feels so familiar for those who have wagered with other bookmakers. Navigation is easy. Breadcrumbs are provided and links to upcoming days and futures are easy accessible. Icons are provided to toggle on and off the display of the thoroughbred, harness and greyhounds racecards. You can also toggle the display of Australian and international venues.
Many overseas thoroughbred venues are covered in addition to the Australian and New Zealand racecards. Overseas greyhounds and harness racing are also offered.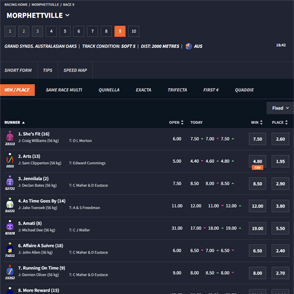 In addition to fixed odds wagering, the primary products for thoroughbreds are top tote for win markets and mid tote for place markets. The fixed odds are decently competitive and it was easy to find specific race selections that were offered at higher odds than other leading bookmakers.
Race comments and tips are provided for each race. Short form, odds fluctuations and speed maps are available.
Fractional betting is available for racing exotics and same-race multis are supported.
Review Summary
SportChamps is the latest entrant into the tournament betting scene in Australia. While the service is still young, it is growing fast, with a reported 50% increase in membership each month.2 At the time of writing SportChamps offers over 500 tournaments per week with $300K+ in monthly payouts. We really like the provision of 200 free tournaments weekly, which provide an opportunity for newcomers to learn the ropes without having to commit to making a deposit. The main drawback is SportChamps doesn't offer sports betting in addition to its competition betting and racebook. SportChamps is definitely worth a look for those who enjoy tournament betting and given the provision of free tournaments, it is also worth a look for those who are simply curious. Racing enthusiasts who like to shop around for odds should also give SportChamps a look.