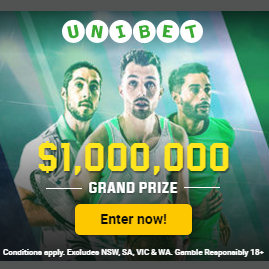 With the 2017 Super Rugby, NRL and AFL seasons due to kick off over the coming weeks, Unibet has launched a Champion of Champions Promotion where you can win $1,000,000 by correctly picking the following ten winners:
AFL 2017 winner
A-League 2016/2017 winner
English Premier League 2016/2017 winner
ICC Champions Trophy 2017 winner
MLB 2017 winner
NBA 2016/2017 winner
NRL 2017 winner
Super Rugby 2017 winner
US Masters 2017 winner
Wimbledon 2017 winner
This competition is available to ACT, QLD, TAS and NT residents only. You need to be 18 years and over and a Unibet member. No deposit is required.
Click here to enter the Champion of Champions competition
Suggested Strategy
Given that the A-League, EPL and NBA seasons are in full swing and the Super Rugby season starts on the 23rd, you might want to bookmark the entry page and then place your entry on the 28th of February, which is the final day that you can enter. This will give you the opportunity to submit your selections with the most information available about the leagues in progress.
Terms and Conditions
Promotion start date: 00:01 AEDT on 01/02/2017
Promotion end date: 23:59 AEDT on 28/02/2017
To enter the Promotion, you must select your predicted winner for each of the 10 listed sporting events from 2017: 2017 AFL Premiers; 2017 World Series Major League Baseball Champions; 2017 NBA Champions; 2017 NRL Premiers; 2017 Super Rugby Champions; 2016/2017 English Premier League Champions; 2016/2017 A-League Champions; 2017 ICC Champion's Trophy Winner; 2017 US Masters Golf Champion; 2017 Wimbledon Men's Single's Champion
Only one entry permitted per person.
The entrant who correctly picks the winner for each of the ten events will win AUD $1,000,000.
In the case that two or more entrants correctly pick the winner of all ten events, then the prize will be equally split between all winning entrants. E.g. if there are two winning entrants, each winning entrant will receive AUD $500,000.
If there are two or more victors for any given Event, any person/s who successfully guessed any of those two victors would still be the winning entrants for this Promotion.
No prize will be awarded if no one picks successfully the victor of all of the Events.
The winning entrants, if any, will be notified via email and called on the mobile number that is registered to their Unibet account. The winner will be published on the Unibet website on 18/10/2017.