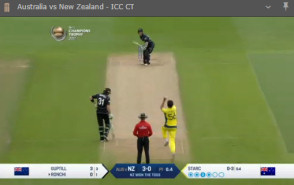 With the 2017 ICC Champions Trophy Live running from the 1st to the 18th of June, bet365 is streaming every game of the tournament live online through the In-Play section of its website.
When we tested the feed on Friday it was almost 30 seconds ahead of the coverage on Foxtel Play!
Note that the tournament streaming is blocked in New Zealand and the United States.
No betting is required to view the feeds, but you must have some funds in your account. For Australian residents the minimum deposit amounts are:
Credit/debit card: $10, Neteller: $20, Skrill (Moneybookers): $10, Paypal: $20, POLi: $5, paysafecard: $10, BPAY: $20, Entropay: $20, Wire transfer: $100.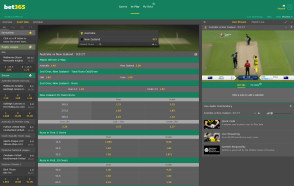 The live feeds are part of the In-Play betting section of the bet365 website
If you do opt to bet live and you reside in Australia, add a selection to your betting slip and the phone in instructions will be provided. The betting slip will show a telephone number to call, a reference numbers for your selections and an account number to quote.
At the time of writing bet365 was offering 34 in-play markets for the Australia v New Zealand fixture.
Under Australian law, we are required to inform you that Live Streaming on bet365 is exempt from Parts 3 and 4 of the Broadcasting Services (Online Content Service Provider Rules) 2018.
About the ICC Champions Trophy
The ICC Champions Trophy is a one day international cricket tournament organised by the ICC. In terms of prestige it is second in importance only to the Cricket World Cup. It was inaugurated as the "ICC Knock Out Tournament" in 1998 and has been played approximately every two years since. The tournament name was changed to the Champions Trophy in 2002.
The 2017 tournament is hosted by England and Wales between the 1st and 18th of June. It features the top eight teams in the ICC ODI Championship rankings as on 30 September 2015. The eight teams are divided into two groups of four.
Group A
England
Australia
New Zealand
Bangladesh
Group B
India
South Africa
Sri Lanka
Pakistan
The winner of Group A will play the runner-up from Group B and the winner of Group B will play the runner-up of Group A in the semi-finals.
The schedule is as follows. All times are local (GMT+1).
Group stage:
1 June 2017
10:30
Bangladesh 305/6 (50 overs) v England 308/2 (47.2 overs)
England won by 8 wickets
The Oval, London
2 June 2017
10:30
Australia v New Zealand
Edgbaston, Birmingham
3 June 2017
10:30
Sri Lanka v South Africa
The Oval, London
4 June 2017
10:30
India v Pakistan
Edgbaston, Birmingham
5 June 2017
13:30 (D/N)
Australia v Bangladesh
The Oval, London
6 June 2017
10:30
England v New Zealand
Sophia Gardens, Cardiff
7 June 2017
13:30 (D/N)
Pakistan v South Africa
Edgbaston, Birmingham
8 June 2017
10:30
India v Sri Lanka
The Oval, London
9 June 2017
10:30
Scorecard
New Zealand v Bangladesh
Sophia Gardens, Cardiff
10 June 2017
10:30
England v Australia
Edgbaston, Birmingham
11 June 2017
10:30
India v South Africa
The Oval, London
12 June 2017
10:30
Sri Lanka v Pakistan
Sophia Gardens, Cardiff
Semi-finals:
14 June 2017
10:30
A1 v B2
Sophia Gardens, Cardiff
15 June 2017
10:30
A2 v B1
Edgbaston, Birmingham
Final:
18 June 2017
10:30
The Oval, London
Source: https://en.wikipedia.org/wiki/2017_ICC_Champions_Trophy