This page lists active sports betting, tipping and fantasy competitions. Scroll down the page or use the quick links below to view each promotion.
---
FanSports NRL & AFL Fantasy Contests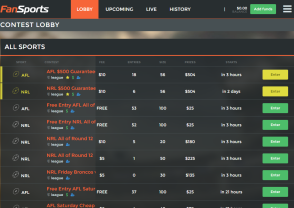 FanSports is a fantasy sports website with daily & weekly real money contests.
The games involve selecting players for upcoming fixtures while staying under a salary cap. Prizes are awarded to the members that accumulate the most fantasy points based on their players' on-field performances. Each competition has a prize pool, which is based on the number of participants. There are also marquee games with larger guaranteed prize pools as well as free contests.
The sports currently offered by FanSports are the AFL, NRL and State of Origin.
Return to Top
---
2016 AFL & NRL Million Dollar Tipping Competitions
With the 2016 NRL and AFL seasons fast approaching Sportsbet has again launched its free Million Dollar Tipping competition. The NRL and AFL competitions combine for $1,000,000 in total cash prizes.
The top tipsters for each code will win $100,000 at the end of the season and the top tipsters each round will receive $10,000. There are also three jackpot rounds in the AFL & NRL seasons. The weekly prize during those weeks will double to $20,000.
The weekly cash prizes total to $260,000 for the AFL and $290,000 for the NRL. The end of season cash prizes total $225,000 for each code, so the total prize pool for the competition is $1,000,000.
There is no obligation to bet when tipping. The competitions are open to all Sportsbet account holders and they are free to enter. No deposit is required.
You can sign up midway through the season. While this will make your chances of winning end of season prizes unlikely, you will still have as good a chance as anyone for the weekly prizes. The official closing dates for entry are 05/09/2016 for the NRL and 29/08/2016 for the AFL.
To participate, simply pick the match winners each round. Your ranking will depend on how many games you pick correctly. For a selected game each week you will also input your best guess for the winning margin. Your cumulative accuracy for the winning margins serves as a tie-breaking rule. The NRL and AFL competitions are separate, so you can join one or both. Entry is free.
Return to Top
---
2016 CrownBet Rewards NRL Tipping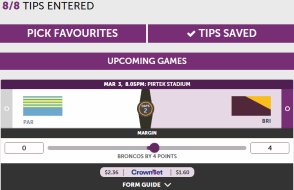 With the 2016 NRL season due to kick off this Thursday, CrownBet has launched an NRL tipping competition with $250,000 in cash prizes (or 25 million CrownBet Rewards Points) to be won.
The competition is open to CrownBet Rewards members. Becoming a Rewards member is free for all CrownBet members and no wagering is required to participate.
Note that while a CrownBet Rewards membership is required to enter the competition, you can sign up to CrownBet Rewards without having a CrownBet wagering account.
How to Play
Each week you submit your tips for who will win each NRL fixture. For the opening game of each round you also enter your predicted winning margin. Your cumulative winning margin score (the difference between your predicted margins and the actual margins) is used as a tie-breaking rule.
If you forget to tip, you will automatically be allocated the away teams. You can only score a maximum of 6 points per round for matches where you forgot to tip.
If you join the competition late you will be awarded one correct tip for all of the winning away teams for the year up until the point of your registration. This will be limited to a maximum of 4 correct tips per round up until the round that you joined. Note that this will have no bearing on your ability to win weekly prizes.
If a game is a draw then all members will receive credit for submitting a correct tip.
Prizes
Winners can opt to receive their prizes in cash or in CrownBet Rewards Points.
Below is a breakdown of the prizes:
| | | |
| --- | --- | --- |
| | Cash | CrownBet Rewards Points |
| Rounds 1 – 4 (each round) | $25,000 | 2,500,000 Pts |
| Rounds 5 – 26 (each round) | $5,000 | 500,000 Pts |
| Mid-Season Leader (after round 13) | $15,000 | 1,500,000 Pts |
| End of season Champion (after round 26) | $25,000 | 2,500,000 Pts |
| TOTAL | $250,000 | 25,000,000 Pts |
If there is more than one winner for any of the prizes, then each of those participants will be declared winners and will share in the total value of the relevant prize in equal proportions.
Return to Top
---
TopBetta Racing and Sports Tournaments
In addition to its standard bookmaker service, TopBetta offers sports and race betting tournaments where the "TopBetta" is the player who makes the most profit from their bets. There are both free and paid tournaments. The paid tournaments pay cash prizes while the free tournament winners receive free entry into paid competitions.
In each tournament punters are given 1,000 "Betta Bucks" – a TopBetta fantasy currency – to bet with on the nominated fixtures or races. Participants are ranked based on the profit they achieve using the fantasy money. Participants can place as few or as many wagers as they wish using the funds. The smaller tournaments have a winner takes-all-prize while the bigger competitions award lesser prizes to the runners up. The actual payouts are based on the size of the pot, which is based on how many people entered the competition.
For the paid tournaments the entry fee is taken from your account balance, with tournament winnings paid back to your balance. This same balance is used for standard sports and race wagering. Typically for a tournament with a $6 entry fee, $5 is allocated to the prize pool with $1 kept as a service fee by TopBetta. Entry fees vary between tournaments. The paid tournament entry fees ranged between $1.25 and $55 at the time of review.
A typical sports tournament consists of one round of fixtures for a particular league, e.g. NFL Week 6. You can spend your fantasy money on any of the markets for any of the fixtures in that round. A typical racing tournament consists of all races at one venue on a particular day. The tournament betting interface is identical to that used in the regular sports and race betting service.
Return to Top
---
Monthly Sporting Event Tickets Giveaway
Sport Survey is giving away 2 tickets to sporting events every month in 2016.
To enter the competition, head to www.sportsurvey.com.au and complete the short 5 minute survey. Once you finish the survey you will automatically be entered into every draw.
Here is a list of the monthly prizes to be won:
February: 2 Premium Tickets to Hyundai A-League Finals
March: 2 Tickets to any NRL Match
April: 2 Tickets to NRL State of Origin Game 1
May: 2 Tickets to NRL State of Origin Game 2
June: 2 Tickets to NRL State of Origin Game 3
July: 2 Tickets to Bathurst 1000
August: 2 Tickets to the AFL Grand Final
September: 2 Tickets to the Melbourne Cup
October: 2 Tickets to an NBL Basketball Match
November: 2 Tickets to a Cricket Match
December: 2 Tickets to the 2017 Australian Open Final!
Make your opinion known on a variety of topics and you could win a fantastic prize.
Winners are randomly selected and prizes will be emailed in the form of Ticketek vouchers, see full T&C's on website.
Return to Top