This page lists active sports betting, tipping and fantasy competitions. Scroll down the page or use the quick links below to view each promotion.
---
Unibet Streak – Free Tipping Competition
NOTE: regulation prohibits the publishing of promotions or inducements in New South Wales. Based on your IP address it appears you are not in NSW so we can display the following competition details to you.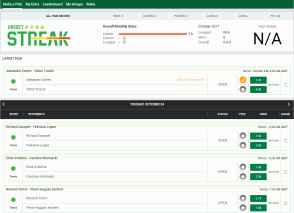 Unibet has launched a free monthly tipping competition where the goal is to build the longest winning streak. Various monthly cash prizes are available.
The competition is open to all Unibet members located in Australia. No deposit is necessary to be eligible for the main prize. Only players who have placed 1+ real bet in the month are eligible to receive any monthly consolation prizes.
Due to regulatory reasons, customers who reside in South Australia are ineligible to win any prizes.
How to Play
Each day Unibet publishes a list of fixtures covering a variety of sports.
From this list you select the winner of any of the daily listed match-ups. You can only select one pick at a time and will only be able to make a new pick once that event concludes. The aim is to build the longest winning streak. The winning streak doesn't have to be active at the end of the month to count. The longest streak you can build during the course of the month counts as your entry.
At the end of each month prizes are awarded and the competition resets.
The competition is scheduled to run until the end of September 2018.
Visit Unibet Streak to learn more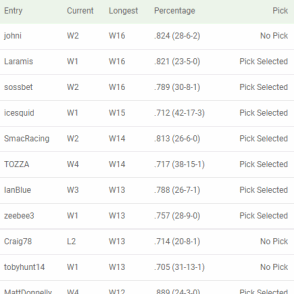 Prizes
The main prize is $5,000 in cash each month for the participant who has created the longest winning streak.
If two participants share the longest streak, then the tie breaker will be determined by the highest percentage winning rate during the course of the month. If two or more members are still tied then the prize will be equally split between them.
Below is the full prize list:
1st (Longest Winning Streak) – $5,000 Cash
2nd – $500 Risk Free Bet
3rd – $400 Risk Free Bet
4th – $300 Risk Free Bet
5th – $200 Risk Free Bet
6th – 10th – $100 Risk Free Bet
11th – 20th – $50 Risk Free Bet
21st – 30th – $40 Risk Free Bet
31st – 50th – $20 Risk Free Bet
51st – 100th – $10 Risk Free Bet
101st – 150th – 25% Profit Boost
All players who obtain a W10 Streak (10 wins in a row) – 25% Profit Boost
Visit Unibet Streak to learn more
Private Competitions
You can create a private competition of your own and if there are 10 or more active participants in it, the winner each month will receive $100 in bonus bets.
AusSportsBetting has created a group called
AusSportsBetting.com
. To join, sign up to
Unibet Streak
, go to My Groups, select Join Group and search for AusSportsBetting.com. The password to join is
letmein
.
Visit Unibet Streak to learn more
Return to Top
---
2018 AFL & NRL Million Dollar Tipping Competitions
NOTE: regulation prohibits the publishing of promotions or inducements in New South Wales. Based on your IP address it appears you are not in NSW so we can display the following competition details to you.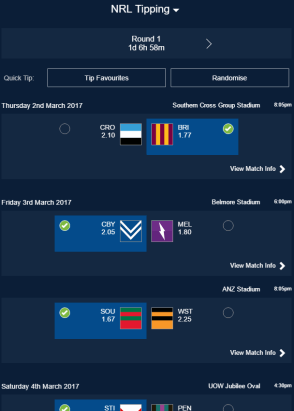 Sportsbet has again launched its free Million Dollar Tipping competition for the 2018 NRL and AFL seasons. The NRL and AFL competitions combine for $1,000,000 in total cash and bonus bet prizes.
The top tipsters for each code will win $50,000 at the end of the season and the top tipsters each round will receive $5,000.
There is no obligation to bet when tipping. The competitions are open to all Sportsbet account holders and they are free to enter. No deposit is required.
You can sign up midway through the season. While this will make your chances of winning end of season prizes unlikely, you will still have as good a chance as anyone for the weekly prizes. The official closing dates for entry are 30/08/2018 for the NRL and 24/08/2018 for the AFL.
To participate, simply pick the match winners each round. Your ranking will depend on how many games you pick correctly. For a selected game each week you will also input your best guess for the winning margin. Your cumulative accuracy for the winning margins serves as a tie-breaking rule. The NRL and AFL competitions are separate, so you can join one or both. Entry is free.
Return to Top
---
TopBetta Racing and Sports Tournaments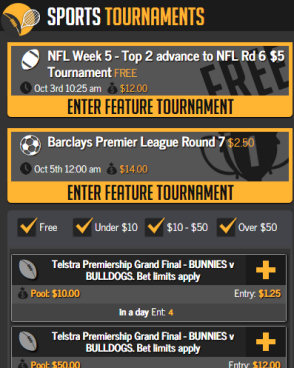 In addition to its standard bookmaker service, TopBetta offers sports and race betting tournaments where the "TopBetta" is the player who makes the most profit from their bets. There are both free and paid tournaments. The paid tournaments pay cash prizes while the free tournament winners receive free entry into paid competitions.
In each tournament punters are given 1,000 "Betta Bucks" – a TopBetta fantasy currency – to bet with on the nominated fixtures or races. Participants are ranked based on the profit they achieve using the fantasy money. Participants can place as few or as many wagers as they wish using the funds. The smaller tournaments have a winner takes-all-prize while the bigger competitions award lesser prizes to the runners up. The actual payouts are based on the size of the pot, which is based on how many people entered the competition.
For the paid tournaments the entry fee is taken from your account balance, with tournament winnings paid back to your balance. This same balance is used for standard sports and race wagering. Typically for a tournament with a $6 entry fee, $5 is allocated to the prize pool with $1 kept as a service fee by TopBetta. Entry fees vary between tournaments. The paid tournament entry fees ranged between $1.25 and $55 at the time of review.
A typical sports tournament consists of one round of fixtures for a particular league, e.g. NFL Week 6. You can spend your fantasy money on any of the markets for any of the fixtures in that round. A typical racing tournament consists of all races at one venue on a particular day. The tournament betting interface is identical to that used in the regular sports and race betting service.
Return to Top
---
SportChamps Racing and Sports Tournaments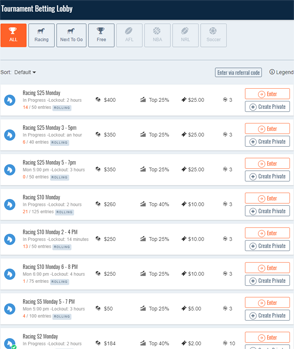 SportChamps offers betting competitions on Australian racing as well as popular sporting events.
For any given competition you are allocated virtual currency called ChampCash. Most tournaments give you $10,000 to spend, with the requirement that you spread those funds among at least 5 bets of $250 or more.
The profit you achieve from your virtual bets determines your place on competition the leaderboard. Your placing determines your competition winnings. The competition winnings are linked to your ladder standing only, not to your actual ChampCash profit amount.
Most tournaments have multiple places that are paid out. There are three types of payout structures:
Top % tournaments: These have a pre-determined percentage of participants that will be paid out some prize money. The two most common percentages are 25% and 40%. The higher your standing, the more prize money you will receive.
Double up Tournaments: In these tournaments, the top 45% of participants will receive double their entry fee as a payout. Everyone who receives a payout will receive the same amount.
Winner takes all: In these tournaments there is only one winner, who receives the entire prize pool of the completion minus the SportChamps commission.
Purchasing an entry to a tournament gains you one initial allocation of ChampCash. If you lose this ChampCash, and the tournament rules allow it, you can purchase a "rebuy" which gains you another allocation of ChampCash. To remain eligible for a payout, you must place a 5 bets per rebuy upon re-entry into the tournament. The number of times you can rebuy for any given tournament is determined on a tournament by tournament basis. These details are displayed on the competition info page.
You can purchase more than one entry into any given tournament. Each entry is treated separately and is displayed with a number next to your name in the leaderboard. For example: your first entry would be "username", your second entry would be "Username (2)", etc.
There is also a social element to the competitions where tournament participants can communicate with each via chat and instant message. There is also the ability for a group of friends to create their own private tournaments.
SportChamps makes money by taking a cut of the stakes raised and distributes the rest as prize money.
In terms of scale, the paid competitions range from $2 entry fees to $100 fees. The prize pools range from $50 for free tournaments to $5,000 for the $100 competitions.
Return to Top