You are here: Home >> Beginner's Guide >> Betting Agencies >> Bookmaker Margins
---
The bookmaker margin is a measure of the bookmaker's profit for an event, and can be regarded as a hidden transaction fee for punters. For example, in a coin toss where heads and tails each have a probability of 50%, a bookmaker won't offer 2.00 odds on each outcome. Instead it will offer odds of, say, 1.95. If even amounts are placed on heads and tails, the bookmaker will secure a profit regardless of the result. This profit is how bookmakers finance their services. Obviously from a punter's perspective, the lower the margin, the better.
When using the decimal odds, calculating the bookmaker margin is easy. The margin simply equals the sum of the reciprocals of the the odds. Below are calculation examples using two-outcome and three-outcome events.

How to interpret a bookmaker margin
The margin measures the bookmaker's profit in the case where the bookmaker receives bet amounts on each outcome that are in proportion to the bookmaker odds. Suppose the bookmaker offers odds a on outcome A and odds b on outcome B. If proportion b/(a+b) is placed on A and a/(a+b) is placed on B, then the bookmaker will receive the same profit regardless of the result, which is measured by the margin. This margin is amount by which the actual 'book' exceeds 100%. For this reason, you will always get a value of at least 1.00.
Let's look again at the bookmaker margin for the two-outcome event above, which is 1.035, or 103.5%. Suppose $100,000 in total is wagered on the market, with [1.64/(1.64 + 2.35)] * $100,000 = $41,102.76 in bets placed on Oklahoma City and [2.35/(1.64 + 2.35)] * $100,000 = $58,897.24 placed on Denver. Depending on the outcome, the bookmaker will pay out one of the following two amounts:
If Oklahoma City wins: $41,102.75 * 2.35 = $96,591.48

If Denver wins: $58,897.24 * 1.64 = $96,591.48
Recall that the bookmaker took $100,000 in bets, but only has to pay out $96,591.48. If we divide the intake by the outgoings we get $100,000/$96,591.48 = 103.5%, as calculated earlier.
To give some perspective on how odds relate to margins, the table below compares various equal line odds (bets with a 50% chance of winning) to their respective margins. Note that 2.00 odds equate to a margin of 1.00, where the bookmaker makes no profit on the market.

Obviously the bookmaker will rarely receive bets that are perfectly in proportion to the odds, but over the countless number of markets offered, the margin will equate to the average profit margin across all events.
Bookmaker margin survey
Australia Sports Betting has conducted a survey of margins used by popular bookmakers. The summary table is shown below. View the full margin survey results.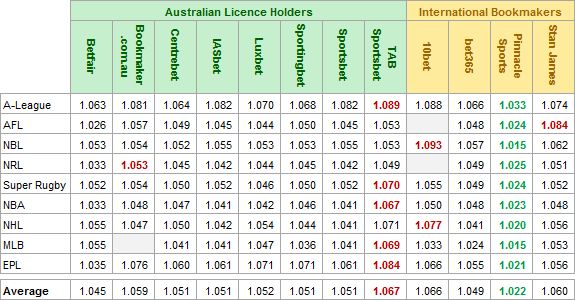 ---