One downside of the betting industry at the moment is the tendency for bookmakers to ban or limit the accounts of successful punters. Most bookmakers have a "recreational gamblers only" policy and are quick to react to punters who win consistently – either through their own betting acumen or through the acquisition of tips from professional tools and services. Obviously, this is frustrating for punters who have put a lot of work into gaining an edge, only to find they're unable to exploit it.
Fortunately it's not all doom and gloom, because there are betting agencies that do not ban or limit the accounts of winning punters. This article surveys the bookmakers and betting exchanges that support winners. It's worth noting that every service listed here also supports arbitrage betting – something that is typically frowned upon by the rest of the industry.
For those of you who are new to betting, it should be noted that the majority of punters do not get their accounts limited or suspended. This is because they don't win consistently or they don't place high enough stakes to concern the bookmaker. This article is aimed at the minority among punters who find their betting activity limited or frozen by bookmakers.
---
Bookmakers
---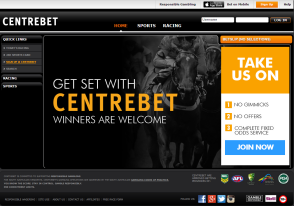 Centrebet originated in Alice Springs in 1992. It was the first bookmaker to be licensed in Australia and in 1996 became the first bookmaker in the Southern Hemisphere to offer online betting. Centrebet was acquired by the SportOdds Group in 2003. In 2005, SportOdds merged its Centrebet, SportOdds.com and SuperOdds.co.uk businesses into a single entity, branded as Centrebet. In June 2011 the company was purchased by Sportingbet. In March 2013 Sportingbet Group sold its Australian business – consisting of Centrebet and Sportingbet – to William Hill, one of the largest bookmakers in Britain. This was followed by the acquisition of Tom Waterhouse in August 2013. The three websites were then modified operate with identical markets and odds.
William Hill re-branded Sportingbet as William Hill in February 2015. The parent company merged William Hill with Centerbet and Tom Waterhouse in 2016. The brand William Hill may be unfamiliar to Australians, but the publicly listed giant has been around since 1934 is well known in the UK for its 2,300 betting shops around the nation. The company employs over 17,000 people.
After previously announcing that Centrebet would not be accepting new customers in June 2016, William Hill relaunched Centrebet in January 2017 as a higher-stakes service that offers better odds and doesn't limit winners.
Upsides
Low minimum deposit for most methods
Good range of deposit options, including Paypal and POLi
Low turnover requirements
Strong betting selection
Fantastic user interface
New members can opt to pre-commit to deposit and/or loss limits.
Downsides
Live online betting is not available to Australian residents (due to Australian law).
No sign up bonuses or odds promotions
Uncertainty over how the new business model will work out
View our full Centrebet review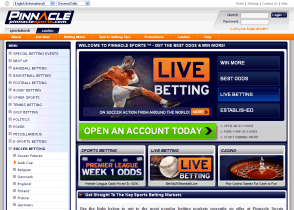 Founded in 1998, Pinnacle Sports is located on the island of Curaçao in the Caribbean and is licensed by the Government of Curaçao. The company has a good reputation within the betting community and boasts customers from over 100 countries.
The biggest draw card of Pinnacle Sports is its odds. Our bookmaker margin surveys have found it to offer the lowest margins (best value odds) of any bookmaker surveyed. For example, Pinnacle Sports offers 1.952 line odds, compared to 1.90-1.92 with most other bookmakers. The Pinnacle Sports business model is centred on low margins and high turnover.
Pinnacle Sports has a reputation for offering higher limits and accepting arbitrage betting. Crucially, it also has an explicit 'Winners Welcome' policy. Pinnacle Sports actively identifies successful punters and then uses those clients to its own advantage by shifting lines and odds based on their wagering activity.
Upsides
Excellent reputation in the betting community
Best odds of any bookmaker we've surveyed
Accepts arbitrage betting
Policy of not banning successful punters
Good selection of deposit and withdrawal options, including POLi
Claims to offer the highest maximum limits for Internet betting in the industry.
They have an Australian bank account, which enables Australians to deposit and withdraw funds without incurring bank fees.
Credit and debit card deposits are processed in Australian Dollars
Live online betting
API for odds and automated betting
Downsides
Basic interface
Limited betting selection for each event, with a focus on head-to-head, line and total score markets
No exotic multi betting
Website sometimes slow
No racing markets
Not licensed in Australia
Website uses American betting terminology (moneyline, parlay, etc.)
No sign up bonuses or odds promotions
Instead of choosing a username, members are assigned a Client ID for logging in
Failure to meet their deposit roll-over threshold (three times deposit amount) will incur a 3% processing fee on the deposit and any applicable withdrawal fee
View our full Pinnacle Sports review
---
Betting Exchanges
---
For those who are not familiar with the differences between a bookmaker and a betting exchange, a bookmaker offer odds on event outcomes and you bet against the bookmaker. Your win is their loss, and vice versa, however they typically hedge themselves by accepting a balanced amount of wagers on each possible outcome, inversely proportional to the odds.
With exchanges, the odds are determined by fellow users within a marketplace. The betting exchange earns its revenue by charging commissions on either member winnings or member turnover. Unlike a bookmaker it never has any exposure to the outcome of the sporting event. Exchange memberships are popular with serious enthusiasts because they support wagering both for and against outcomes. The other key benefit is that, unlike most bookmakers, betting exchanges welcome successful high stakes punters. In fact, they need high stakes wagerers to improve liquidity in their betting markets. Learn more about exchange betting.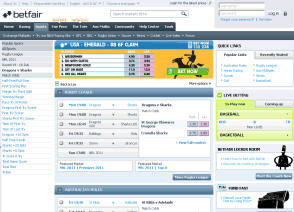 Launched in the UK in 2000, Betfair has enjoyed a meteoric rise and is now the world's largest Internet betting exchange. The service currently has over four million customers and employs around 1,800 people. Betfair is listed on the London Stock Exchange and is based in West London. It is licensed in Gibraltar as well as in Tasmania, making it the only betting exchange to hold an Australian licence. Betfair earns its revenue through charging commissions of between 2% and 5% on net winnings for sports and up to 6.5% of net winnings for Australian racing.
Unfortunately, while Betfair members are never banned or limited for winning consistently, they may become subject to additional fees. In 2008, Betfair introduced a Premium Charge for punters whose winnings are deemed to be disproportionately high compared to commissions paid. Betfair insists that the charge impacts less than 0.5% of its members. In 2011, Betfair announced a Premium Charge of 60% for some customers (reportedly 500 of their 3.8 million users at the time). In 2012, Betfair introduced a turnover charge on customers who frequently wager on Australian racing markets. This is to cover the fees it pays to the Australian racing industry.
Upsides
Can bet both for and against outcomes, which is excellent for hedging
Excellent tournament betting and correct score odds
A broad range of sports are covered
The best liquidity of any betting exchange
The only Australian licensed betting exchange
The only betting exchange to offer Australian racing markets
Odds are often made available before bookmakers
Access to community forum
Developer API for the sports exchange
Low turnover requirements on the sign up bonus
Downsides
Live online betting is not available to Australian residents (due to Australian law)
Not as beginner friendly as a standard bookmaker
Complicated commission structure
High $5.00 minimum stake for exchange wagering
6%-8% market base rate commission for Australian racing
Complicated turnover charge fee structure for punters who frequently wager on Australian racing
Premium Charges for Betfair's most successful customers (around top 0.5%)
Matchbook was launched in 2004 and has been under the new ownership of Triplebet Ltd since 2011. The transfer of ownership decimated participation in the exchange because the change in licence forced Matchbook to close all US member accounts. The service is currently rebuilding liquidity by expanding into the European and Asian markets. Matchbook now is licensed by the Alderney Gambling Control Commission in the Channel Islands (UK), having previously been licensed in Antigua and Barbuda.
Unlike Betfair, which charges commissions of up to 5% on winning wagers (6.5% for Australian racing), Matchbook charges a flat 1% commission on all bets. This commission rate is applied to the Win amount on winning bets. For losing bets, it is applied to the lesser of the stake or potential Win amount.
Since we first reviewed Matchbook in March 2013, the service has been given a complete overhaul including a brand new interface. Liquidity has improved, particularly in football markets, with Matchbook offering 0% commissions on all football Asian handicap markets (excluding API users).
Matchbook currently sponsors the English Football League Championship club, Brentford FC.
Upsides
Online in-play (live) betting in an exchange environment
Highly competitive results in our most recent bookmaker margin survey
Lower commissions than Betfair
Lower minimum stake than Betfair ($2.00 vs. $5.00)
Excellent liquidity for football and tennis
No premium charges for winning punters
Good betting interface with easy navigation
Support for POLi deposits through Skrill/Moneybookers
Downsides
Narrow range market covered for each fixture
Few futures markets offered
Commissions charged on losing bets
Not licensed in Australia
View our full Matchbook review
---
Notes:
BETDAQ is reported to be the second largest betting exchange after Betfair, however it is not discussed here because it doesn't accept Australian customers.